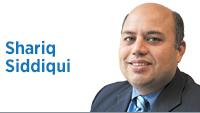 This year saw the longest government shutdown in history. America was unable to pay its federal employees because President Trump realized he cannot fulfill his promise of building a wall paid for by Mexico. His hope is that, if he builds a wall, his base will forget who was supposed to pay for it.
But the real questions are, what immigration challenges do we really face and what are some real common-sense solutions? Most studies suggest our real challenges are people overstaying their visas, employers needing to fill jobs, and extremely long waits within the existing immigration system.
We need bipartisan consensus on some real solutions to those challenges. Our elected officials are so distracted by partisan politics that they seem to have lost the ability to brainstorm potential solutions. To get this debate started, I figured I would suggest some ideas taken from different sides of the aisle.
First, let's increase the number of immigration judges, so we can quickly adjudicate cases. Currently, cases that appropriately require due process under U.S. law wait years before they come before an immigration judge for final adjudication. During that period, these immigrants are part of American society but cannot fully, legally participate. Having more immigration judges would allow us to reduce the backlog.
Second, let's increase the number of work visas available for U.S.-based employers. We can provide a legal pathway to fulfill employers' needs for workers by increasing the number of H1B1 visas (used for temporary work assignments in the United States) and by similarly creating a non-skilled immigration visa category that allows employers to legally hire immigrants when local talent is unavailable. The current system is bureaucratic and doesn't provide enough visas to fulfill the needs of American employers.
Third, let's grant students who receive a degree from an accredited American university work authorization upon graduation. The current work authorization for optional practical training permits lasts only one year. This period should be increased to a minimum of three years.
By increasing the number of work visas and allowing international students to work after graduation, we can reduce the number of people overstaying their visas.
Fourth, let's require that all employers check that their employees are legally authorized to work using eVerify.
Fifth, let's increase the number of border-security professionals and use technology to reduce the flow of illegal drugs and illegal entries. The majority of both come through borders that lack security personnel.
Sixth, let's increase the number of visas in all categories. It would take 14 years for me to sponsor my siblings to come here. It could take five years for a U.S. citizen-parent to sponsor an adult or married child to immigrate here. This is simply too long for families to be kept apart.
Remember, all immigrants go through legal background checks and health screenings, and family members must provide financial guarantees. To become U.S. citizens, immigrants have to learn English and pass a test about the U.S. Constitution.
Finally, let's not forget the children who were brought into the country as undocumented immigrants. They have known nothing but this country as their home. We need to provide them the legal protections that allow them to study, get jobs and have families without fear.
These solutions to our broken immigration system will accomplish more than a wall and will likely cost much, much less. In fact, most studies suggest that increased legal immigration will result in a positive impact on our economy. Rather than leading with bigotry and fear, why don't we lead by embracing real solutions to immigration?•
__________
Siddiqui is an attorney, has a doctorate from the Lilly Family School of Philanthropy at IU and leads the Association for Research on Nonprofit Organizations and Voluntary Action. Send comments to ibjedit@ibj.com.
Please enable JavaScript to view this content.