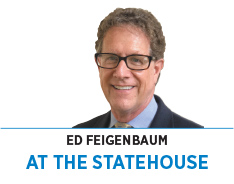 We've reached that awkward point in the long-session schedule when the Super Bowl has been played but pitchers and catchers have yet to report for spring training. That means lawmakers are closing in on the first meaningful milestone of the year: the deadline for bills to be heard in committees in their chamber of origin.
Bills must clear committee by Feb. 19 in the House and Feb. 21 in the Senate to proceed. And with no more than two weeks—and potentially as few as two more meetings of some committees before the deadline—it's understandable why some solons are hearing that whisper in their ears from Yogi Berra that "it's getting late early" this year.
While a few important issues have moved through committee, many high-profile matters—abortion restrictions, bias crimes, school funding and teacher pay raises, gun licensing and carry provisions, and expanded gambling—are just beginning to gain committee attention.
Even though there are many new committee chairs this year (and many new members free of preconceptions as to how the process should work), no one has attempted to address changes in how committees approach their work: whether more—or even less—time should be devoted to hearings and how priorities should be determined.
New Senate leadership has not generated any conceptual changes, although Senate President Pro Tem Rodric Bray, a Republican, did hold back the bias-crimes bills in the Rules Committee he chairs to ensure a bit more control over their direction once his caucus had largely agreed on how they should be handled.
First-year legislators, some of whom ran while suggesting to their constituents that members of the General Assembly could walk and chew gum at the same time, are still marveling—at least back home—at just how much work can be avoided … until it can't be put off any longer. Then they will find that other, less pressing, issues will be cast aside in a last-minute rush to move legislation to and through the floor.
While they are still coming to grips with this, don't spoil their dreams by telling them they will largely only be afterthoughts between the end of all committee hearings in the second chamber (around tax filing day) and end-of-session votes. That's because the big issues will be worked out in conference committee without their help, and their input won't be critical in caucus. And unless a vote is surprisingly close on a nonpartisan issue, their votes will be superfluous.
That can be quite a letdown for someone who expected to actively participate in activities that count, but an opportunity remains to do so—and to have an impact—in imminent committee action and again after the bills switch chambers.
Some issues are not being decided on party lines in committee, and each vote by anyone on either side of the aisle counts.
For example, a bill authored by Sen. Jean Leising, R-Oldenburg, would have allowed teens under age 18 to seek prenatal care, medical care during normal labor, and postpartum care. SB 352 failed to receive a constitutional majority on its first try following an emotional floor debate. But Democrats teamed up with a minority of Republicans to get it to 25 votes (after it cleared committee 10-1).
That showed the minority can have some impact on intraparty battles among the majority.
So there are areas where minority-party and rank-and-file solons can contribute. But it's still a frustrating place to work. As one veteran Statehouse reporter observed after he retired, it seemed lawmakers spent most of the session telling Hoosiers they didn't have enough time to accomplish what people wanted—instead of actually trying to do it.•
__________
Feigenbaum publishes Indiana Legislative Insight for Hannah News Service. He can be reached at EDF@hannah-in.com.
Please enable JavaScript to view this content.