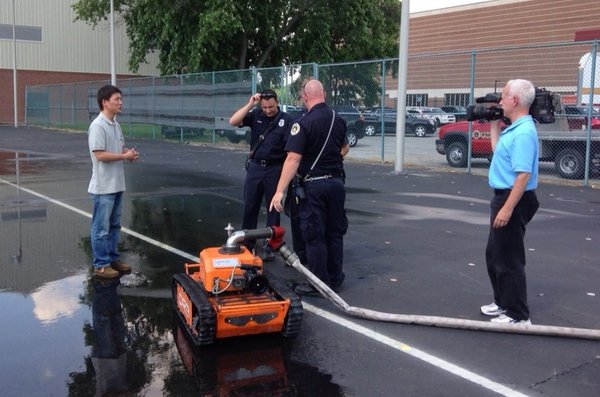 Purdue University researchers are developing firefighters that look more like R2-D2 than anyone in an Indianapolis Fire Department uniform.
Purdue researchers have been working on firefighting robots since 2011. In 2015, they rolled out significant improvements, with a robot that had better optics and was nearly indestructible.
Now, researchers have moved a step further, giving the lawnmower-sized, tank-shaped robot even more features. Purdue officials said the improved robot already has been successfully tested in the field, and they are looking for partners for continued research and to take the technology to market.
The Purdue Office of Technology Commercialization has filed a patent to protect the new technology, which they say will make firefighters' jobs less dangerous and give robots more ability to maneuver in a burning structure. The new technology is an automatic T-valve system that can remove water from the fire hose when the robot moves to a new location, making it substantially easier to more the hose from place to place.
"This discharge valve invention could be the next transformation of the fire service that saves lives," said Eric Dietz, director of the Purdue Homeland Security Institute and a professor of computer and information technology in the Purdue Polytechnic Institute. "This invention further enables the firefighting robot by adding to the robot mobility and saving lives within the fire service and, most importantly, with the public. With this improvement, the firefighting robots are better able to save lives and protect property."
Dietz said in a statement that the Purdue invention improves the efficiency of a firefighting robot by reducing the weight and power consumption while improving the mobility of a robot.
The addition of the automatic T-valve design also means the robot is lighter and has a larger battery capacity. Dietz said robots with the T-valve system might be used in conditions not stable or safe enough for a human firefighter.
The Purdue team developed the T-valve system through work with the Purdue University Fire Department.
Dietz previously served as the executive director of Indiana's Department of Homeland Security.
"During my time in this position, we had a number of firefighter deaths in structure fires where the structures were not occupied," Dietz said in a statement. "We also struggled to maintain youth volunteer firefighter numbers sufficient to protect the public. This enhancement to the firefighting robot concept can solve those issues while saving lives."
Purdue is celebrating its 150th anniversary with a Giant Leaps celebration. Artificial intelligence, including the use of public safety robots, is one of the four themes of the yearlong celebration's Idea's Festival, which the school said is designed to showcase Purdue as an intellectual center solving real-world issues.
Please enable JavaScript to view this content.