Our waiter kept referring to the kitchen boss as "Chef." "This evening, Chef has prepared … ." That sort of thing. And he described each ingredient in every dish in loving detail, making sure to highlight the fact that the restaurant uses locally raised pork, beef and poultry.

Before you combine the above description with the photo, below, and form a picture in your head of some posh center-city eatery, I should point out that our waiter was sporting jeans and a T-shirt. There was a large group of leather-clad bikers on the patio (there are cycles mounted on the walls in the bar area). And the meal in question was happening just steps from a desolate intersection in downtown Whitestown.

Examples abound of quality restaurants outside of urban areas. But that doesn't lessen the pleasure when I find one that exceeds expectations. Nor does it diminish my desire to encourage others to make the effort to patronize them.

The aforementioned chef at L.A. Café (4 S. Main St., Whitestown, 769-7503) is Reid Craig, from Peterson's and Eddie Merlot's. He's co-owner, with Deano Vino Wilson, of Fountain Square's Deano's Vino. And, on our visit, the duo was firing on all cylinders, starting with an impeccable Shrimp Cocktail Martini ($9.95) featuring a quartet of plump monsters in an attention-getting-but-not-overwhelming sauce garnished with zucchini strings.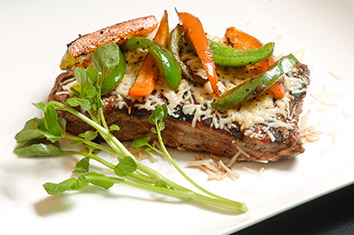 The dressed up flank steak highlights a creative menu at L.A. Café in downtown Whitestown. (IBJ Photo/Robin Jerstad)

A cup of French Onion Soup ($2 with entrée) may initially leave purists balking thanks to its grated rather than solid cheese topping. But the subtle taste proved as unexpected as its look.

L.A. Café, in its previous incarnations, was best known as a place for steaks. The new version was equally adept, accenting its Marinated Flank Steak ($18.95) with a parmesan crust and topping it with red and green peppers. The result was greater than the sum of its parts. An Open Face Pulled Pork ($9.95) barely earned its way onto the sandwich menu, not because it lacked quality (it was outstanding), but because it consisted of a mound of Makers Mark-sauced shredded pork atop, rather than encased in, thick bread. "Sandwiches" come with a side and our wise-in-hindsight choice was fresh Sauteed Green Beans.

Desserts are house-made, so we gave into temptation with a merely good Crème Brulée ($5.95) and a Triple Delight Martini ($5.95). The creamy latter was a mix of mousses that was intoxicating. Thank you, Chef. Whitestown is now a restaurant destination.•

—Lou Harry

__________

Last in our month-long series of review of reborn cafes.