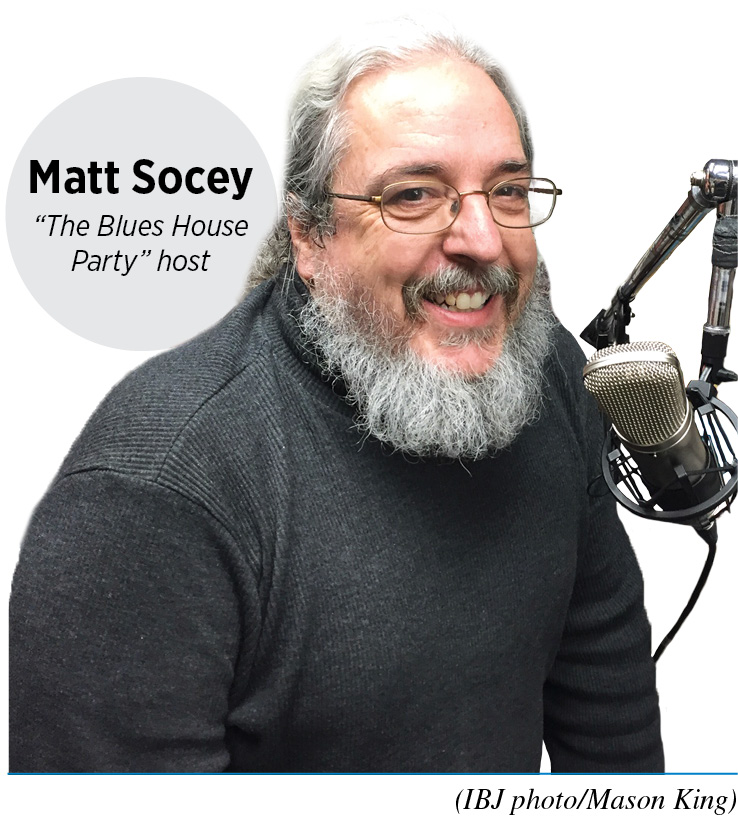 For more than 15 years, Matt Socey has ushered listeners into his broadcast home for "The Blues House Party." Socey, 49, plays several on-air roles at WFYI-FM 90.1, but from 8-10 p.m. on Saturdays, he spins blues tunes from near the advent of recorded music to fresh releases. Between songs, he evokes scenes from a typical house party with the rug rolled up for dancing and cold drinks in the bathtub. To add a dash of homespun realism, his teenage daughter, Emma, voices every week's introduction.
Where does your affinity for the blues come from?
I grew up in Flint, Michigan, and there was a little 1970s rock station, where at 10:40 p.m. every night, they would play one blues song. It was hosted by "Bone Daddy," who was a white guy doing a really bad, old raspy black man voice. And the music was Howlin' Wolf. Or Lightnin' Hopkins, him and a guitar. Or John Lee Hooker, just him and a guitar. That caught my attention.
And there was a jazz station I would listen to on my little Snoopy radio. There was just something oddly comforting about hearing jazz and hearing blues. … And later I had a blues show at WCRD, the student-run station at Ball State University.
The vibe of the show isn't what people would consider "bluesy." Is that a conscious decision?
[Former Indianapolis Star critic] Jay Harvey once said to me, "You make NPR sound unbuttoned." It's called "The Blues House Party," so it should be festive. I've had people tell me what they think is in the bathtub—not just the liquids but the brands. People have told me what the house looks like. They've told me what Emma looks like. … And it's fun to connect with listeners—people telling me, "I'm grilling this," and "I'm making that." It's fun to be a part of somebody's Saturday night.
It seems like every week you do a tribute to a recently deceased musician.
People joke, "If nobody dies, you don't have a show." But I feel that if somebody's music moved you in some way, then you should celebrate them. Like when Katharine Hepburn died, I grabbed a bunch of her movies and sat down and watched them. I'm that type.
But do you feel like you're presiding over the death of an art form?
I try not to. There's a term that's used a lot: "keeping the blues alive." Some people take offense to it because that implies it's on its deathbed. But you have people like Shemekia Copeland and Gary Clark Jr. And even though he's not young, folks like Keb' Mo' are still out there doing it. It's gonna be different. It's not gonna be your father's blues, but it evolves.
How did Emma become part of the show?
She started doing intros when she was 4. I'd bring her in once a year to do a recorded intro, and I'd pay her every time. When she was younger, I'd sometimes have to take her to work with me. She would be in the studio with me to do it live. She would also have her hand out, waiting for me to pay her.
Which blues song should be played at your funeral?
"Boogie Chillen," by John Lee Hooker. It's him and a foot and a guitar. It's bare bones and basic.
How long do you plan to keep doing this?
As long as they let me do it. A musician will say, "I was at The Slippery Noodle the other night and somebody said they heard about us because of your show." That means the world to me. That's major mission accomplished—capital M, capital A.•
Please enable JavaScript to view this content.