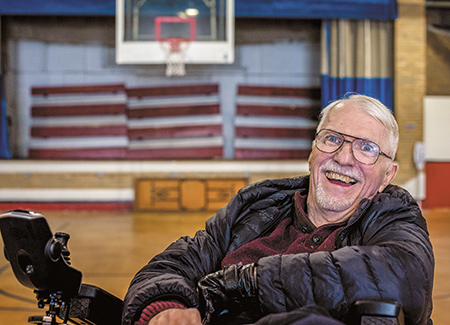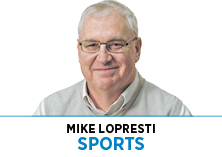 NEW CASTLE—This is about life and death, and two high school boys in one basketball game. This is about teenagers who were strangers, until the night so long ago—60 years on Feb. 20, to be exact—when they shared 90 minutes in a packed and steamy gym that would forever bond them as Indiana legends. And more important, as friends.
Jimmy Rayl is gone now, taken last month by failing kidneys. Ray Pavy is here, in his 78th year of life and 58th year in a wheelchair. It is not easy for him to get around in the snow, but he comes through the door of the old gym with a purpose on this wintry day.
It was here. Right here. He gazes around at this quiet and empty place, which was known as the Church Street gym but is now part of a community center attached to the office of the Henry County township trustee. A lot has changed in 60 years, since the Friday night he scored 51 points for New Castle, Rayl scored 49 for Kokomo, and an entire basketball-loving state jumped up and exclaimed, Whatttttt?
But there are still goals here. Still a court. The long-abandoned ticket windows, the platform where the band director stood at one end, the stage at the other, a few rows of seats. There was room for only 1,800 that night. Ray Pavy takes it all in. It is Feb. 20, 1959, again. He is young, and he can walk, and he is ready to go against Jimmy Rayl.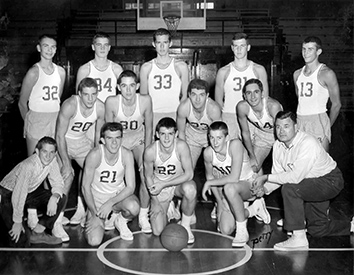 Ray Pavy (No. 23) and the New Castle Trojans­ beat Kokomo 92-81 on Feb. 20, 1959.
"Our dressing room was downstairs," he begins. "On that end was the girls' cheer block, and on this end was the boys' cheer block. When you were downstairs, and the boys were banging their feet, it was loud. It was loud from the minute you got here. Then when you came through that door from downstairs, you could smell the popcorn. You remember that. You knew it was time to play.
"On the wall outside, every year they would put the schedule up on the Fourth of July weekend. I don't know why. If you came by here on July 4, you'd find all kinds of people standing outside looking at that schedule. You didn't get a full-season ticket—you got A or B—and they were all here to see what games they got to see.
"If you were here at 3 [on Feb. 20], there were people standing out there waiting so they could get standing-room-only spots. They'd get about eight-deep. I know this to be true—there were people in the Army at Fort Leonard Wood in Missouri, they drove all night and were out there to get the first standing-room-only tickets.
"You remember crazy things. It had snowed a little bit that night, and I always walked to the gym. I lived about six blocks away. I got here, went downstairs and put the coat up, and sat out on the stage with the middle-school kids."
The shootout
He had played against Rayl before, so they were acquainted as opponents. "Enough to say hello. That about covered it all," Pavy says.
Then the game started.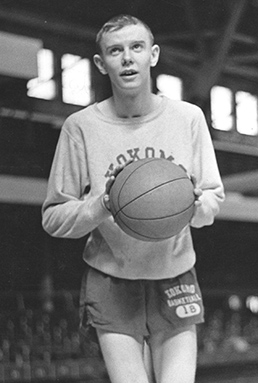 Jimmy Rayl was a star at Kokomo High School, before going on to play at Indiana University and with the Pacers.
"I didn't have a good first quarter. I was awful. I think I missed seven layups. You've got to remember, at that period of time, people in this area were with Chrysler in New Castle, Chrysler in Kokomo, or General Motors in Anderson and General Motors in Muncie. In the factories, who won on Friday night was important. There was a lot of money that was bet. One of the things I remember about that night, right up there in that corner, about five rows up, was this little red-haired kid. A senior. As we were going out the door for halftime, he yelled, 'You've got to do a better job of shooting. I bet $5 you'd beat Rayl.'"
At halftime, Rayl had 27 points, Pavy 25, including 21 in the second quarter. By the end, Pavy had his 51 on 23-of-38 shots, Rayl his 49 on 18-of-23.
Pavy: "I'm standing right there on that line, we're talking maybe two minutes to go, ready to shoot a free throw. They're getting ready to hand me the ball and [a teammate] comes over and says, 'Well, you've got 50.' I thought he was just lying. I thought maybe I had 25."
New Castle won 92-81, but that ended up being something of a footnote. It was the game's "High Noon" feel that put it on the short list of greatest events in Indiana high school basketball history—maybe the most memorable regular-season game ever played. The muscular, hard-driving Pavy against the rail-thin, bombs-away Rayl.
Pavy: "Jim really believed when he hit that center line, it was time to shoot. I could shoot, but I'd take you into the basket. If you were down here [by the standing-room-only fans at one end], if I could, I'd run you right into those people."
Moxie and muscle, and 100 points by two players (with no 3-pointer). The news bounced around the state. The Church Street Shootout was born.
Pavy: "I just remember going home and being on cloud nine."
It was the last regular-season game ever played in the Church Street gym, with the famously enormous Chrysler Fieldhouse ready to open the next season. Matter of fact, had not a collapsed beam delayed its completion, the fieldhouse would have been the site of the Pavy-Rayl game. More fans, but not as much enduring charm. The Chrysler Shootout? Nah.
'Joined at the hip'
But it is the postscript that makes the moment even more special.
Rayl wore No. 1 as Mr. Basketball that spring. Pavy wore No. 2. The friendship deepened, and they felt no need to one-up each other during the All-Star series with Kentucky. A story in The Indianapolis Star quoted Indiana All-Star Coach Angus Nicoson as good-naturedly complaining, "I've got the two best shooters in the state and all they do is pass the ball back and forth to each other."
They went to Indiana University, roomed together, joined the same fraternity. Both were fans of Loyola of Chicago—a national power then—and with radio reception not great in Bloomington, they would jump in Rayl's car, ride together to the top of a nearby hill, and listen to games on a Chicago station.
They were expected to share the same Hoosiers backcourt in the 1961-1962 season. But then came Sept. 2, 1961. It was mid-morning, and Pavy was driving in the rain in Benton County, on his way to a fraternity brother's wedding, with his fiancee by his side. There was a curve and an oncoming truck, and then the awful crush and terrible aftermath. Pavy would never walk again. His fiancee was dead.
He fought his way back into life in a wheelchair, returning to a campus unaccustomed to serving anyone with his challenges. "I was the handicapped student at IU," he says now. But a man named Herman B Wells stepped in to help, and since he was the president of the university, Pavy had a pretty effective advocate.
And there was also Rayl. They would still occasionally head for the top of the hill for broadcasts, Jimmy helping Ray in and out of the car. When Rayl's career blossomed and he traveled to college all-star games, he would sometimes take Pavy along.
Eventually, Rayl headed off for professional basketball. Pavy went into education and coaching. The years went by, but they never parted. Not really.
Pavy: "All of a sudden, you'd pick up the phone and say, 'Something happened to remind me of you.' People would say this exact same thing more than a hundred times to me—'You two are joined at the hip. They won't say Pavy without saying Rayl.' And my guess was, with Jim, they couldn't say Rayl without saying Pavy."
And when That Night came up? "Most of the conversations were, 'What could we have done if there was a 3-point shot?'"
A lucky man
Rayl lost a son in an auto accident in 1997. Who could understand the heartbreak from the horrendous twist of fate of a crash more than Pavy? "From that point on," he said, "Jimmy was never the same."
It was sometime in the past few years that both men were in different hospitals, and got on the phone one day and talked for two hours, heart to heart and hospital bed to hospital bed. Rayl joked that even his surgeon wanted to chat basketball with him. Pavy understood.
Last month, that day became even more special to Pavy.
"When I found out he was in bad shape, I called [Rayl's wife] Nancy immediately, and she said then, 'He really can't talk anymore.' And you think how lucky you were to have had time to have those conversations with him."
The phone started ringing later that day from the media, seeking Pavy's thoughts. Rayl was gone. Pavy attended the funeral, of course.
Now he sits in the gym where the two once crossed paths as teens, to play a game that has stayed alive as the years rolled by. The irony is not lost on him. He was the one who lost the use of his legs—and nearly his life—so long ago, while his healthy friend played on to great glory. But now, he is the one left.
"Doctors would have said I should have been dead 40 years ago," he says. He calls himself lucky. Lucky? A man six decades in a wheelchair?
"I was pretty lucky. Now given my choice, I'd love to be walking. I guess if I had one wish, what I would really like in my life is that my kids could have seen me play one game. They've never seen me walk."
He doesn't usually really notice when Feb. 20 comes around, but says he will this time. After all, 60 years. He won't drop by Church Street for the occasion. "It's my wife's birthday. I'd better scoot off to another venue."
But he can sit here and understand what Feb. 20, 1959, meant, and always will.
"People who had never known Ray Pavy, it pretty much spread throughout the state of Indiana, whether I wanted it to or not. Because of one basketball game.
"I was born into a great family. You don't need much more than that. I had great friends because I played basketball. If I hadn't played basketball, I would not have known Oscar Robertson. And I wouldn't have known Jim Rayl."•
__________
Lopresti is a lifelong resident of Richmond and a graduate of Ball State University. He was a columnist for USA Today and Gannett newspapers for 31 years; he covered 34 Final Fours, 30 Super Bowls, 32 World Series and 16 Olympics. His column appears weekly. He can be reached at mjl5853@aol.com.
Please enable JavaScript to view this content.