What should be done to encourage more people to vote?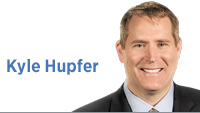 To have a strong republic, you need active voter participation. And when you have voters actively engaged in elections and the political process, you'll get better leaders and better government service.
The benefits are clear.
The Indiana Republican Party has long committed itself to growing the number of Hoosiers who call themselves voters. It's why we host voter registration drives, and it's why we put our time, talent and treasure behind encouraging absentee, early and Election Day voting. In fact, each election, we spend millions of dollars informing voters of the issues at hand and where and how they can cast their vote.
We are committed to increasing voter participation and giving voice to all citizens willing and able to participate in the process. But we need to do more, and we understand that.
As I stated in testimony to the U.S. Commission on Civil Rights' Indiana Advisory Committee last year, we recognize the dire role civic education must play in this equation. In fact, it is essential to inspiring in Hoosiers from every locale and of every demographic a sense of duty and responsibility to themselves and their neighbors to get involved—and by involved, we mean vote.
For that reason, we join with those leaders here in Indiana and across the country who are calling for enhanced civics education in both secondary and post-secondary schooling.
We need to ensure that every student, before he or she enters adulthood and the rigors of daily life, has a basic understanding of our form of government. Why would you watch football or basketball if you didn't understand the rules of the game? Likewise, why would you participate in the civic process if you didn't understand how citizens are the employers—and our representatives merely the employees?
Without this understanding, without this basic knowledge, how are we to expect increased voter participation?
That's why our team has made it a priority to visit classrooms across the state to engage with those who can't yet vote, and those who recently turned of age, in the hope of inspiring them to see how government impacts their lives. We know that young Americans are forming and hardening their political views as early as age 15, and it is our responsibility to engage with them and begin a life-long dialogue geared toward strengthening our communities.
Beyond supporting enhanced civics education and interacting with young people, though, we are also actively taking our engagement to areas and communities that have long been ignored by our party. These conversations have grown and developed into meaningful relationships that are already bearing the fruit of increased participation both in turnout at our events and in the vote on Election Day.
Our message is clear: Our doors and ears are always open. We want to meet our fellow Hoosiers and listen to them and their needs. There is only one way we can truly take Indiana to the next level, as Gov. Eric Holcomb says, and strengthen the American experiment, and that's together.•
Click here for more Forefront columns.
__________
Hupfer is chairman of the Indiana Republican Party. Send comments to ibjedit@ibj.com.
Please enable JavaScript to view this content.