What should be done to encourage more people to vote?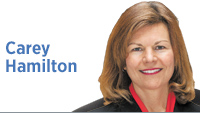 The numbers tell a grim story. Indiana ranked 40th among 50 states in voter turnout in the 2018 general election. In 2016, we ranked 36th. In 2014, our voter turnout was the second worst in the nation. By any standard, this is not acceptable.
Indiana boasts more than 3 million working Hoosiers, but our voting laws are best suited to the unemployed and retired. Why do we make it hard for working people to vote in Indiana? There are three simple ways to make voting more accessible to working Hoosiers.
No-excuse absentee voting. Make it easier for Hoosiers to vote by absentee ballot. Everyone should get the same opportunity we provide to anyone over age 65: to vote by mail without providing an excuse.
As it is, a working voter is asked to affirm he or she will be out of the county, ill or injured, or scheduled to work all 12 hours the polls are open, among other things. Most workers don't know weeks in advance their work schedule on that first Tuesday in November and no one can predict if they will be home sick on Election Day. Most states allow residents to vote absentee without excuse. Indiana should, too.
Longer voting hours. Make it easier for Hoosiers to vote on Election Day. Currently, Indiana polls are open 6 a.m. to 6 p.m. There are countless reasons this 12-hour window is not sufficient, especially for working Hoosiers with long days that include family responsibilities before and after work. We now have some early voting options, which is a step in the right direction. But many voters are busy and don't think about voting and/or researching candidates until the last minute. Hoosiers should join the majority of Americans who have more than 12 hours to cast a ballot on Election Day.
Automatic voter registration. Automatically register Hoosiers to vote (with an opt-out provision) when they interact with the Bureau of Motor Vehicles. This would make it easier to participate in our most basic democratic responsibility. Though just introduced in the United States in 2015, one-third of Americans already reside in states with automatic voter registration. States taking this approach have seen significant increases in voter registration while also realizing cost savings from a streamlined, electronic registration system.
These proposals are not revolutionary, but we have a ways to go to see them in Indiana. Last month, I proposed no-excuse absentee voting, which was defeated by my Republican colleagues across the aisle on a party-line vote. Two weeks later, I offered a plan to keep polls open until 7:30 p.m. My colleagues across the aisle shut down this debate on a procedural ruling.
This is disappointing. But I go to work every day to find practical solutions and opportunities for Indiana—regardless of party. If voters demand sensible, responsible leadership, I'm optimistic we can overcome reflexive partisanship.
I ask my colleagues in the Legislature to join me in implementing these three simple ideas. Let's make it easier for hard-working Hoosiers to vote.•
Click here for more Forefront columns.
__________
Hamilton represents District 87 in the Indiana House of Representatives. Send comments to ibjedit@ibj.com.
Please enable JavaScript to view this content.