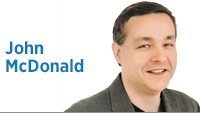 At the start of the 2017-2018 school year, I stepped into a classroom at Fishers High School to teach, and it was the most terrifying, thrilling and eye-opening experience I'd had in a long time.
I was invited to be an instructor for a dual-credit college course in information technology as part of a program run by Purdue Polytechnic Institute. My students, if they passed, would receive high school credits as well as three credit hours toward a Purdue University degree. I agreed to do it, in large part, because I felt as if my argument for reforms in education and workforce development to better prepare students for the data-driven digital economy would be stronger and more informed if I walked the walk.
As a technology CEO, I've long believed that one of the biggest challenges facing our education system is a lack of collaboration with real-world employers and connection to the 21st century workforce. My experience as an instructor underscored the problem.
On my first day, I discovered the school's network was set to block traffic to anything but a specific set of websites, which put the lab exercises on Purdue servers out of reach. As a result, our first few weeks of class were spent "playing computer" using whiteboards and markers. I also quickly realized the textbook we were using was hopelessly out of date, forcing me to rebuild many of the lectures and most of the labs myself.
Most important, even though I wrote and graded all the exams and quizzes, built most of the labs, delivered the lectures, answered the questions, and drew from my quarter-century of experience in the IT industry, I was officially listed only as a "teaching assistant" for Purdue and as "adjunct existing faculty" for Hamilton Southeastern Schools.
Unfortunately, Indiana's strict teacher-licensing requirements effectively keep many industry professionals, like me, out of the classroom, when we should be encouraging the opposite.
Our state is desperate for teachers. A recent study by Indiana State University found that 91 percent of Indiana school districts surveyed are experiencing a teacher shortage. This problem is certain to get worse as the wheels of our education system slowly reorient themselves toward the future.
Yesterday, we needed to train farm workers and factory workers, but tomorrow we have to train data workers in skills like individual entrepreneurship, design thinking, software coding, blockchain, machine learning and the gig economy. These concepts are already familiar to our hyper-connected kids, even though there are few academic courses available to them and even fewer qualified teachers to take on the task. Moreover, as automation displaces factory workers, truck drivers and warehouse employees, we will need our educational institutions to adapt accordingly to the changes in the labor market and train Hoosier students for these new jobs.
The only way to do that is to bring industry into the classroom. Thankfully, the Indiana General Assembly is considering several legislative proposals this session to encourage partnerships with employers. In addition to expanding career and technical education in our schools, House Bill 1002 would ease licensing requirements and allow those with industry experience to teach these courses.
I encourage policy leaders to embrace these changes, help our education system adapt to the future, and expand the definition of "teacher" in Indiana.•
Click here for more Forefront columns.
__________
McDonald is the CEO of Fishers-based ClearObject and chairman of the Indiana Technology and Innovation Policy Committee. Send comments to ibjedit@ibj.com.
Please enable JavaScript to view this content.