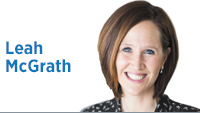 I was attending Mayor Scott Fadness' Mental Health Task Force meeting in Fishers this month, and among the sobering statistics as well as stories of success, one comment stayed with me. The Fishers Police Department's lead school resource officer was sharing how the department has retooled some education to better fit the needs of our students.
As an example, the topic identified by our teachers for third-graders that was most pressing: how to manage stress. Think about that for a moment. The topic our 8- and 9-year-olds need the most help with is how to manage stress.
Every day, we hear about kids who are hurting. The silent suffering so many endure is not a problem of only inner cities or socio-economics. It's a problem for everyone. The good news is, there is more discussion about how to help. On one spectrum is the debate around school safety. On another is a discussion around mental health. It all falls under the same umbrella: How do we keep our kids safe? How do we prepare them better for whatever life might throw their way?
The debate around how to keep our kids safe cannot focus solely on how to respond in a moment of crisis. That approach won't lead to systemic change. That approach won't change lives. The hard question is how to help before it gets to a point of crisis—before a teen attempts suicide, a child bullies another, or a 13-year-old enters a school with plans to shoot.
We need to shift our conversation in education to focus on the whole child. We need to work on developing our youth's conscience. We need to help kids find their moral compass, that voice in your head that tells you to stop when you are going too far. We need to help teach kids coping skills so they can manage the stress in their lives before it becomes inhibiting or manifests itself into something far more serious.
Somewhere in time, we separated morality and mindfulness from academics in schools. We are developing young adults who can get straight A's but don't know how to live. Preparing our youth for adulthood is an all-of-us job. But we must help our teachers and give our schools the support they need to help our kids.
Two bills proposed in the Legislature do just that. Senate Bills 266 and 359, offered by Sens. Michael Crider, Randy Head, Ed Charbonneau and Vaneta Becker, would help address mental health in our schools for our youth. These bills deserve our consideration.
And we cannot trade prevention for "easy" fixes. A legislator was quoted saying that we could conduct one-time gun training with 45 teachers for the cost of one school resource officer's salary. He doesn't get it. He doesn't get that it isn't just about the moment of crisis. It is about everything that happens leading up to that situation and the moments we have to change that child's mind and life.
Student resource officers are police officers and incredible individuals who spend their livelihoods in schools working alongside students and teachers to identify gaps and build relationships. They identify problems before they escalate. They are partners in the classroom helping educate students on digital citizenship, prescription pills, consequences, school safety and, yes, stress management.
There is no single answer to the question of how to keep our kids safe and how to prepare them best for what life might bring. It is a pursuit without an end, but I cannot think of a more worthy pursuit.•
__________
McGrath is deputy mayor of the city of Fishers and is vice chairwoman of the Indiana Republican Party. Send comments to ibjedit@ibj.com.
Please enable JavaScript to view this content.