Community Achievement in Health Care
Initiative for Empowerment and Economic Independence, Eskenazi Health
University students with physical disabilities graduate at higher rates than students who aren't disabled. Yet the disabled students often have a harder time finding meaningful work after college.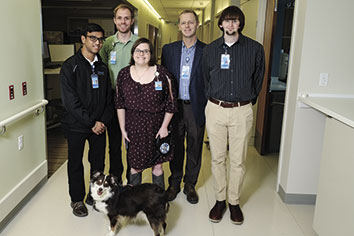 Initiative for Empowerment interns and staff, from left, Gunjan Parmar, intern; Bart Upah, program manager; Leslie Marsh (with service dog Pepper), intern; Program Manager Larry Markle; and intern Michael Balkevicius. 
Larry Markle saw these statistics repeatedly in his more than 15 years as director of disability services at Ball State University. But he wasn't surprised. The challenges of finding post-graduation employment were a continuation of what was happening when disabled students were in school: They had a hard time winning internships, and some became so discouraged they didn't even try.
Lawyer Greg Fehribach, a Ball State alum and former trustee who is a champion for equal rights, saw the same thing and wanted to do something about it.
"In my 32 years of practice, there have seldom been other professionals with disabilities around the corporate tables or involved in the civic discussions—just me," Fehribach said. "I started to think, 'If I retire or if, God forbid, something happens to me, there was no bench.' We needed to change that so people with disabilities become business and community leaders."
Fehribach and Markle put their heads together and forged a partnership with Eskenazi Health six years ago to match disabled college students with paid internships, an alliance that blossomed into the Eskenazi Health Initiative for Empowerment and Economic Independence. 
Markle, who recently left Ball State to lead the initiative, has visited every college campus in the state to promote the program, which now draws intern applicants from more than 15 colleges in Indiana and places students at some of the area's top employers. Eli Lilly and Co., Old National Bank and Hirons & Co. are among those that have joined Eskenazi in offering internships. 
The initiative—open to any Indiana resident no matter where he or she attends college—has now worked with 44 student interns, many of whom have served more than one internship and converted their experience into post-graduation careers.
For its effectiveness at integrating disabled college graduates into the workforce and creating a pipeline of leaders, the Initiative for Empowerment and Economic Independence is the top honoree in the Health Care Heroes Community Achievement in Health Care category.
Leslie Marsh, now employed as a patient access specialist at Eskenazi Health, is among those who've benefited from the initiative. She interned in Eskenazi's senior care department in 2016, which led to full-time employment. 
"I can honestly say that I would not be where I am today without the IEEI," Marsh said. "It helped to make my physical disability a non-issue. I was able to show I could do the work just the same as someone without a physical disability."
Another former IEEI intern, Dustin Gilmer, now leads the Office of Disability Affairs for the city of Indianapolis. Gilmer appreciated the opportunity he and the other city interns were given to do meaningful work, in some cases interacting with Mayor Joe Hogsett and his predecessor, Mayor Greg Ballard.
A recent $75,000 grant from the Fifth Third Bank Foundation will be used to expand the program, which Markle expects will offer more than 30 positions next summer. Among the employers joining the cause are Cummins and the Indianapolis Motor Speedway.
IEEI's role isn't over after it recruits employers and encourages students to participate. The program offers housing at IUPUI and help with transportation and other barriers that arise during the eight-week summer internships. It also puts on weekly lunch-and-learn sessions for interns, sponsors networking events and helps participating employers cover any extra expenses associated with employing a disabled intern.
But other than certain logistical accommodations, the interns are treated the same at work as non-disabled interns, which is important in demonstrating the students are up to the task.
Low expectations, which can start early in life and put disabled students on the wrong course, is one of the issues Markle hopes can be addressed by the Gregory S. Fehribach Center for Empowerment and Economic Independence, which will launch later this year.
Funded by a $1.5 million Lilly Endowment grant, the center will incorporate the IEEI and broaden its mission. Rather than just facilitate internships, the new organization, which Markle will lead, will take a larger public-policy role in advocating for the disabled.
The center will reach out to disabled students, their families and K-12 educators to change mindsets about what physically disabled students are capable of. 
On the public-policy front, the center will work with legislative bodies and government agencies to tackle disincentives that discourage disabled people from pursuing careers. Chief among those disincentives are Social Security and Medicaid rules that jeopardize benefits for anyone who makes too much money in a given year.
In the long run, helping disabled students find meaningful work benefits everyone in an era when workplace diversity is increasingly seen as a strength, Fehribach said.
"The workplace is changing," he said, "and people with disabilities need to be a part of that culture."•
Please enable JavaScript to view this content.