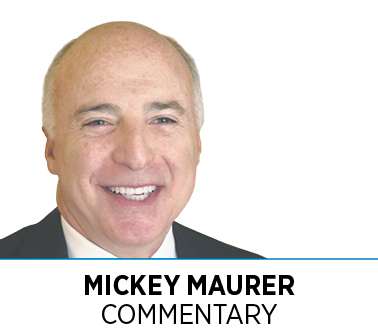 "There are problems with impeaching Donald Trump. A big one is the holy terror waiting in the wings."
Frank Bruni, New York Times opinion columnist, July 28, 2018
If you want testimony as to why many would-be candidates for public office decline to subject themselves and their families to the gauntlet thrown down by the press, witness that column by Bruni. Bruni trashes Vice President Mike Pence with a despicable scramble of truths, half-truths, hearsay, innuendo and gossip. The Bruni column paints a picture of someone you would not vote for nor even invite to your quilting bee. Remember when Gov. Mitch Daniels refused to run for president. OK, Mitch, I get it.
Bruni quotes from a book, "The Shadow President: The Truth About Mike Pence," by Michael D'Antonio and Peter Eisner, published last August, that paints Pence as that nice guy in an Alfred Hitchcock movie until the chilling reveal. The authors rationalize their inquiry with the supposition that Pence could end up in the White House either through Trump's impeachment or his decision not to run.
Bruni calls Pence "self-infatuated, bigot, liar, cruel and religious zealot." I can accept religious zealot, but, oh my God, Frank, the rest of that is not Mike Pence. Let me offer a more balanced account of this ambitious warrior of the Christian right.
Bruni labeled Pence a liar who "says whatever Trump needs him to say regardless of the truth." Pence is behaving like his predecessors. A vice president typically lends unconditional support to the President or keeps his mouth shut. Pence has done both.
Citing the book, Bruni chastises Pence for "cozying up to the Koch brothers, Betsy DeVos and other rich Republican donors. Thanks to our Supreme Court (see Citizens United) politics has turned green—not eco-green. Our political system is corrupt, but there is nothing wrong with mollycoddling fat contributors. Raise it or go home. Pence can raise it.
Bruni points to the failure of Pence to pardon a felon and implies that because the convicted man was African-American, Pence is probably a racist. The lawyers for the prisoner made a convincing case for pardon and Pence's successor, Gov. Eric Holcomb, promptly did that. Nonetheless, bad judgment does not equal racism. Would Pence, a would-be racist, choose Supreme Court Justice Clarence Thomas to swear him in?
Pence is an intense Christian whose views on some social issues are offensive to Bruni and to me. Because of his positions on these issues, I did not support Pence when he ran for governor. As governor, he attempted to deny not only civil union but the other benefits of marriage to loving couples just because they did not meet classic gender expectations. Against a rising state and national tide, he advocated for a state constitutional amendment to deny marriage rights to gay couples, saying little more than "Faith is the basis of my politics." He also signed one of the most restrictive abortion laws in the country. At expense to Indiana taxpayers, it was declared unconstitutional in federal court. I offer no defense for these behaviors.
Like most of us, Pence is a complex figure. He has admirable qualities. He loves his wife and family. He loves his country and pursues his governmental responsibilities with no financial self-interest. Mother Teresa or Adolph Hitler aside, passing judgment is not binary, as Bruni would have you believe.•
__________
Maurer is a shareholder in IBJ Corp., which owns Indianapolis Business Journal. To comment on this column, send email to mmaurer@ibj.com.
Please enable JavaScript to view this content.