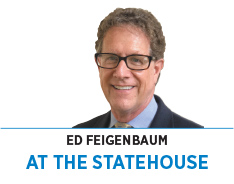 Your General Assembly couldn't delay initial committee debate on bias crimes beyond last week due to the session schedule, but even the extra time didn't help to find the sweet spot; indeed, everyone was left with bitter feelings.
The week started with the feeling that new Senate President Pro Tem Rodric Bray, R-Martinsville, had passed the first test of his nascent leadership tenure.
Bray had held SB 12 in the Senate Committee on Rules he chairs and then assigned it to a substantive committee. SB 12, as it left Rules, added as a sentencing aggravator "the intent to harm or intimidate an individual or a group of individuals because of a perceived or actual characteristic of the individual or group of individuals." The bill included the explicit "list" of the victim characteristics encompassing the LGBT universe—as sought by Republican Gov. Eric Holcomb, major businesses and the Indiana Chamber.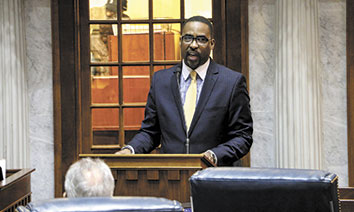 Pastor John Girton of Christian Missionary Baptist Church told lawmakers at a Senate committee meeting that it is beyond time for Indiana to have a hate crimes law. (Photo by Andrew Longstreth, TheStatehouseFile.com)
Presumably, Bray had fully taken the temperature of his majority caucus and only then chose the bill's path. The panel he selected, the Senate Committee on Public Policy, happened to be chaired by the bill's author, Sen. Ron Alting, R-Lafayette, and on which its co-author, Sen. Mike Bohacek, R-Michiana Shores, serves. He could have sent it to other committees (as in the past), where its fate might have been less friendly.
Message communicated and received, right?
No new ground was covered in three hours of two-minute chunks of testimony before the bill sailed through committee 9-1. The concept had passed assorted Senate panels in three of the last four years, but never so easily.
But when SB 12 hit the Senate floor for amendment on Feb. 19, it was obvious the real debate had played out behind closed doors in the Senate Republican Caucus.
Sen. Aaron Freeman, R-Indianapolis, proposed an amendment to remove "the list" and permit judges to consider "bias" writ large as an aggravating circumstance when considering sentences—covering everyone. Solution found.
That touched off a Democratic firestorm featuring fiery and personally emotional speeches seeking to leave the bill intact. There was no debate—only speeches from some Democrats—as Republicans other than Freeman remained silent and didn't even defend the amendment.
Bray called an unusual 30-minute timeout before the vote, which both parties used to caucus.
When they returned, the amendment passed 33-16, with no Democrats supporting it, and seven Republicans—including authors Alting and Bohacek—voting against it. While Bray voted for the amendment, two other top members of GOP Senate leadership, Senate Majority Floor Leader Mark Messmer, R-Jasper, and Senate Majority Caucus Chair Jim Merritt, R-Indianapolis, voted against it. So the caucus appears divided, with Bray becoming the latest in the line of many leaders unable to thread the proverbial needle.
Did Bray actually complicate matters for his caucus? The governor and business leaders were displeased with the amendment (social conservative groups praised the change). Holcomb chided the Senate for taking the step back, but the undercurrent from the social rights and business communities suggested that allowing the list to be removed was as much a black eye for Indiana as the Religious Freedom Restoration Act flap a few years ago.
Expect a fascinating House fight. House Speaker Brian Bosma, R-Indianapolis, long ago cautioned that "the list" would be a hard sell with his caucus. Still, what emerged from the Senate could afford Bosma additional negotiating room with his own supermajority caucus.
Key now: How the governor plays the role of the heavy in calling in chits. He will likely now have to testify before a House panel for his preferences. Since shaming isn't his style and social conservatives have their message heard clearly in the House, his options are limited.•
__________
Feigenbaum publishes Indiana Legislative Insight for Hannah News Service. He can be reached at EDF@hannah-in.com.
Please enable JavaScript to view this content.