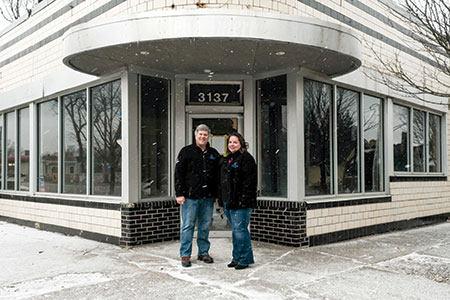 A new, $4.3 million Lilly Endowment grant is poised to spark the transformation of a one-mile stretch of East 10th Street into a hotbed for the arts.
Neighborhood groups, led by the John H. Boner Community Center, have high hopes for the newly established 10 East Art + Design District, which runs roughly from Beville Avenue east to Olney Street. Their goals include seeking new public spaces, new arts uses for vacant buildings, improved infrastructure, and increased arts programming for residents.
They also will use part of the grant to fund improvements to the facade of the historic-but-shuttered Rivoli Theatre, 3155 N. 10th St., including a restoration of its marquee.

Longer term, the groups want to create affordable rental and single-family housing geared toward artists.
James Taylor, CEO of the Boner Center, said the grant and other investments are helping the neighborhood realize a long-held vision.
"The near-east side has always had a history revolving around the arts," Taylor said.
"It has faded as our community has struggled with issues of poverty, job loss and population loss," he said. "This gave us an opportunity to accelerate the work that the community has long desired."
But neighborhood improvement is complicated. And some artists and residents in the area said that, while they want increased funding for local artists, they fear the investments will lead to gentrification.
In short, some neighbors said they don't want the groups to use local artists' talents to create the next hot spot for developers to turn into any area that is no longer affordable.
"As an artist, I'm fully understanding and aware of apprehension whenever any community development corporation uses the word 'arts' to develop an area," said Justin Brown, an artist and founder of Hoy Polloy art gallery, 2121 E. 10th St.
"It's interesting to label an area an arts district when there's only one gallery on the street," Brown said. "But as a professional, I'm in theory in support of anything that brings patronage money to artists."
Star Adita, an artist and singer who lives in the area, said she doesn't want the arts district to become "a forced vision."
"Will the art reflect the time, or just reflect a grant?" Adita said.
"I'm optimistic, but I'm still going to be cautious," she said. "They have the money. Let's make sure that it's spent well and maintained."
Leaders of the effort said they are sensitive to the concerns, and want to expand and amplify the neighborhood's existing arts culture while bringing in new players.
"We think of this as a tool of being able to … make our neighborhood vibrant and healthy for those that are currently here," Taylor said, "and attractive to those that might want to choose to make the near-east side their home."
Short- and long-term
The $4.3 million Lilly Endowment grant—part of $50 million the organization awarded in December to fund arts and culture initiatives in Marion County—will be spent in three primary areas.
One-third is for capital improvements to public spaces and buildings; one third is for grants for artists and arts groups; and one-third is for a variety of investments, including community relations, marketing and a reuse study for the Rivoli.
Melissa Benton, community development officer for the Boner Center, said she wants to tap the "rich talent" already in the area to create installations, exhibitions and events.
"There are so many people that aren't formally trained and come from a wide variety of underrepresented groups," she said.
"It could be from the minority community, the formerly incarcerated, the formerly homeless, people who have experienced trauma, and giving an opportunity for those voices to be heard and expressed and generate conversation around important social issues."
Creating and sustaining the 10 East Art + Design District is likely a 10-year project, Taylor said, even though the Lilly Endowment grant is for just three years.
Other federal and community investment will be needed to complete all the desired projects, including the housing and a full-scale renovation of the Rivoli, which is estimated to cost at least $11 million.
The building, which opened in 1927 as Universal Studios' first Indiana theater, has been shuttered since 1992.
Taylor said the Lilly Endowment grant is about being a catalyst to "create a vibrant, thriving corridor that will thrive on its own."
"Community development work doesn't happen with just one investment. It's multiple layers of effort intertwining and building upon each other," Taylor said.
The initiative will include the renovation and reuse of several underused or vacant buildings and lots, many of which are owned by an entity associated with the not-for-profit Boner Center.
Inspire 10th Street LLC, formed in 2017, has acquired nine properties, including the Rivoli. The entity is 40 percent owned by the Boner Center, and 30 percent owned each by Near East Area Renewal and the Englewood Community Development Corp.
Project variety
Community groups plan to infuse small public spaces along the corridor with art, in some cases drawing on grants they hope to dole out to local artists with the help of the Arts Council of Indianapolis.
Neighborhood leaders view the Rivoli Theatre and the lot next door as a passion project that will restore some much-needed civic pride.
They plan to spruce up the alleyway next door to the theater, creating a "biergarten-like feel," Benton said. She envisions using the alley for movie nights, with films projected onto the side of the Rivoli.
About One City, Worlds Apart
This is the latest story in an occasional series examining the growing gap between the affluent and poor in Indianapolis and ways to address the problem. Read the earlier stories 
here
.
A former ice cream shop at 3137 E. 10th St. will become the Art + Design District Hub, a central gallery and gathering space. The space had also been used as a laundromat for years.
A parking lot in front of Brookside Elementary School, 3150 E. 10th St., will receive a face-lift, with the goal of eventually creating a large public gathering space called Legacy Park.
The project was supposed to have been completed as part of the Super Bowl Legacy Project in 2011, but has been sitting untouched.
"That's a bit of unfinished business we want to get to in the first phase," Taylor said.
A multi-tenant retail site at 3328 E. 10th St. will become what Taylor calls "Airbnb for artists"—temporary space for artists to work, conduct classes, and showcase their art.
A former automotive bay and storage facility at 10th and Beville will become a new home for the Indianapolis Museum of Contemporary Art, known as iMOCA, and the second location for Hoy Polloy.
Cat Head Press Printshop and Artist Cooperative hopes to open a commercial print shop and curated store in first-floor retail space at Clifford Corners Apartments, 3101 E. 10th St., later this spring. It also has a space at 2834 E. Washington St. that it's keeping.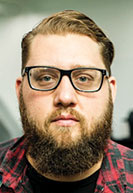 Senibaldi
Dominic Senibaldi, executive director of Cat Head Press, said he is excited to "be a conduit and liaison to help the arts thrive in the area." He said he is encouraged that the corridor will include affordable studio space for artists.
"We're a grassroots non-profit arts organization" that is happy to be "heavily involved in this development to make sure that it remains cognizant of what artists need and what the community needs," Senibaldi said.
'Accessible and affordable'
Affordability is also a focus for the housing piece of the project that will need to be funded outside the grant.
The Boner Center hopes to work with partners including the Englewood CDC and Indiana Neighborhood Housing Partnership to create a 30-unit affordable apartment building, geared to artists, on the site of a vacant lot at 10th and Dearborn streets.
And NEAR is taking the lead on creating 25 affordable single-family homes targeted to artists, mostly in the Rivoli Park neighborhood, starting in 2020.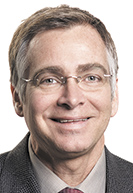 Hay
John Franklin Hay, NEAR's executive director, said the homes will be permanently affordable because they will be created using a community land trust model that allows only people who meet certain income limits to buy them.
NEAR anticipates homes would sell for about $100,000 and would be available to people who make up to 80 percent of the area median income, which is about $43,000 for a single person.
"It limits the equity that develops in a property, but it's an effort to ensure permanent affordability and a mixed-income makeup of a particular area or neighborhood," Hay said.
"We can't control what happens with the market-rate properties," he said. "The idea we've had is to make what we do control accessible and affordable."
Hay added: "Our concern is that some other arts districts have lost much of the income diversity and accessibility and affordability for the artist community. Typically, the artist community is not a community that generates much income, and many artists struggle."
Andy Beck, a board member of the Cottage Home Neighborhood Association, which represents the neighborhood west of the project's target area, said he's excited about the approach.
"The details are important to me," Beck said.
"The community land trust model is the best thing that we know of," he said. "It preserves affordability forever so that housing units will not be lost to the market and flipped."
Beck said he also is pleased to hear about the emphasis on affordable rental units.
"I believe we need to be developing for our very-low-income neighbors," he said. "They're the first ones to be forced out or have their lives destroyed by increased rent. That is absolutely the way to go to alleviate some of the dangers of development."•
Please enable JavaScript to view this content.