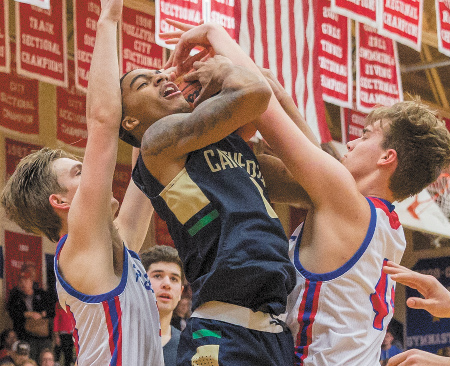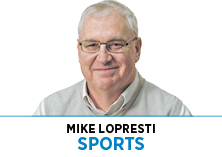 They're just about ready for sectional 10. Otherwise known as the Lawrence North Meat Grinder.
Four of the top seven teams in Indiana, according to the latest Sagarin computer ratings, all crammed into one bracket—and one gym. No. 1 Warren Central, No. 2 Lawrence Central, No. 6 Lawrence North, No. 7 Cathedral. Four heavyweights, coached by four men who have all won state championships. How do you even describe something like that?
There seemed only one way to find out. Take a day, and visit one after another. The Meat Grinder Tour.
10 a.m., Lawrence Central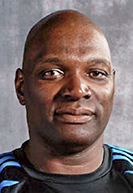 Gooden
"I don't know what kind of word I can use to describe it," Coach Al Gooden says, sitting in his office. He was a Ball State player nearly 40 years ago, helping the Cardinals to their first-ever NCAA Tournament. So he knows about big deeds in March.
Lawrence Central has won 16 of 17 and recently stopped Warren Central's 46-game winning streak. Dreams are big. Dreams of what? Gooden need only look up from his desk, at the huge photo on the wall of his 2001 Harding team, the 2A state champions. He won a gaggle of sectionals there, too.
But Lawrence Central hasn't gotten past the first week in seven years, and only once in 20. "This is the first group I've had for four years, they're my guys" Gooden says. "That's what's driving me right now, to get them there so they can feel it."
He wasn't in front of the television Feb. 17, anxiously following the IHSAA draw. "In the 30 years I've been coaching, I have never watched the show. My son told me the route." But the Bears hit the pairings jackpot. A bye to Friday, then the winner between North Central and Tech, both with losing records. Lawrence Central will see no fellow juggernauts until the championship game.
But danger is everywhere. Maybe other teams at other sites get smooth roads to their dreams. Sectional 10 has more potholes than Meridian Street.
"They don't understand our world, do they?" Gooden says. "They don't understand what we're going through."
10:45 a.m. Warren Central
No school. President's Day, and the Warren campus is so quiet, geese are walking across the empty parking lot outside the arena. Inside, Criss Beyers is watching his Warriors practice.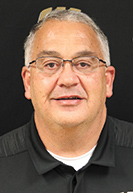 Beyers
They barnstormed to the state title last March with a 32-0 record, and have been No. 1 most of this season. But their karma has taken a hit. First, the streak-busting loss to Lawrence Central in January, then another to Carmel on Feb. 15. And now, this sectional shark tank.
"I think we've got four teams that could win the state championship," he says. "It is what it is. There's nothing you can do to change it; there's nothing the state's going to do to change it. You've got to beat the best to be the best, anyway."
Beyers spent much of his life as a Bloomington South assistant. "You always wonder as an assistant coach if you can be a head coach or not," he says. Well, he can. This is his fourth season at Warren Central and the past three years have been magical: 73-5.
"But the losses we've had this year I'll probably remember a whole lot more than any of our wins. You lose a game and it just eats you alive. Maybe 10 years down the road, I can look back and think, 'Yeah, we did some good things.' But right now we're focused on trying to correct what we did Friday night."
Clearly, a perilous challenge awaits the defending champions, but Beyers mentions, "I can't tell you how good that is, as a competitor." Well, he's in the right sectional.
12:30 p.m. Lawrence North
See the red letters on the court? Jack Keefer Gymnasium. This is where sectional 10 will be played. The only coach Lawrence North has had—all 43 years—owns four state championships and a career that has witnessed nearly everything. But four teams in the top seven in the same sectional?
"Yeah, and they're all on my side," Keefer says of the bracket, before practice starts.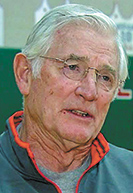 Keefer
Lawrence North has a brutal draw. Cathedral on Tuesday, then Warren Central, then probably Lawrence Central. "It's my gym, it's my sectional this year," he says. "I think one of the papers said it was the worst draw possible, and I would agree with it."
Keefer is not happy when he looks at the path of teams in other sectionals. "Very unfair … it's really disgusting. They may have four losing records and they're the only winning record in the sectional. You've just got to take what you've got, I guess."
When you've won 792 games, you understand what March means.
"I almost feel sorry for the kids today and the coaches today who don't know what basketball was in the '60s and '70s and '80s. They don't have a clue. But it's still a game of its own. Nobody watches the draw [for other sports]. Even football. It still doesn't have the same tournament mentality.
"If we go back over the sectionals we've won, we've probably come out better when we pulled a draw that was hard than when we pulled a draw that was easy. Sometimes, you're better off if you just keep at it. You've got a flow going."
What does Keefer's wisdom and experience tell him about four state championship coaches in the same bracket?
"We're all stupid for taking a job in this sectional."
1:15 p.m. Cathedral
The Irish went to a Fishers restaurant to watch the draw together. Jason Delaney's reaction when he saw it:
"The sense of overwhelmed."
All they have to do is beat Lawrence North, then Warren Central, then probably Lawrence Central. Piece of cake.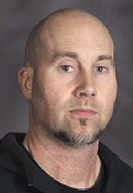 Delaney
"The players had smiles on their faces," Delaney says. "They've embraced it; they've never ran from it."
Still, it's sobering, the task ahead.
"You win your first game and usually you're excited, because you just beat a great team, but you've got to turn around and start preparing for another great team. If you get two, you've got another one. There's no time to celebrate. If you look at it overall, it's very overwhelming, so you've got to bring it down to one game at a time."
Delaney believes the talent of this sectional should be spread out to other sites, preventing so many top-echelon teams from being sent home the first 96 hours of the tournament.
"Last year, we went 19-5 and lost on the very first night of the sectional and it didn't make that 19-5 any nicer. It sticks with you.
"It's not like this is some freak accident. It's been this way year after year, since they put it all together. … I think the rest of 4A is thanking us in sectional 10, because it does open up some avenues for others."
Tour's over. We've visited four coaches, with eight state titles, nearly 1,600 victories, and one tough week ahead.
"When you look at the wins, the rings, the experience in this sectional," Delaney says, "as the players have got to really step up their game because of the talent, the coaches have got to really step up theirs, too."
And the sense of accomplishment for the guy still standing on Saturday night?
"You've won a mini-state championship, just in a week."•
Please enable JavaScript to view this content.