Advancements in Health Care
Stem Cell Transplant and Cellular Therapy Team, IU Health and Riley Children's Health
Discovering a new drug or therapy and getting it commercially approved doesn't guarantee it can be delivered quickly to those who need it.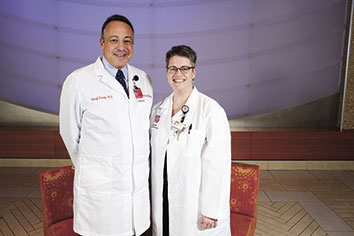 Drs. Sherif Farag and Jodi Skiles led the effort to quickly make life-saving CAR-T therapy available in Indianapolis after it received regulatory approval.
Sometimes, the advancement is so complex that getting it to the patient's bedside—even after approval—requires a herculean effort on the part of hundreds of people across a number of disciplines. 
Such was the case with CAR-T therapy, a life-saving treatment for certain types of cancer that became available at IU Health in July 2018, four months after approval by the Food and Drug Administration.
CAR-T therapy's relatively quick availability in central Indiana—in spite of its complexity—is thanks to the stem cell transplant and cellular therapy team at Indiana University Health and Riley Children's Health, which began preparing to deliver CAR-T even before it was approved.
"It required countless hours of collaboration between physicians, nurses, nurse practitioners, pharmacists, laboratory technicians, quality/safety specialists, and even patient families to make it possible for Hoosiers to have access to this therapy in their home state," said Jodi Skiles, Riley Children's Health stem cell transplant program director.
The transplant team had to train 200 IU Health and Riley personnel and create new patient procedures for each step in the CAR-T process.  
For its quick work to bring CAR-T to patients and its ongoing efforts to build upon what has been accomplished, the IU and Riley team is the top honoree in the Health Care Heroes Advancements in Health Care category.
CAR-T is used as a treatment of last resort for certain pediatric leukemia patients and a subset of adult lymphoma patients.  The treatment was developed primarily at the University of Pennsylvania and commercialized by Novartis and Kite Pharma, which got FDA approval in early 2018 for their CAR-T products.
CAR-T infusion therapy involves harvesting the T-cells of the sick patient and shipping those cells to the pharmaceutical company. The company re-engineers the cells so that they can seek out and destroy the patient's cancer cells without doing harm to other cells and then ships them back for infusion into the patient. 
Compared to traditional chemotherapy and stem cell transplants, the toxicity associated with CAR-T infusions is short-lived—on the order of a couple of months—compared with sometimes years of toxicity with more traditional treatments, Skiles said. This improves chances for survival and allows patients to feel better faster.
At IU and Riley, five adult lymphoma patients and three children with leukemia have undergone the CAR-T infusion therapy since the procedure was first performed here last July. Skiles said seven of the eight patients have had a good response to treatment.
One of those patients is Jill Trinkle, whose battle against an aggressive form of lymphoma seemed to be lost by the summer of 2018. After months of chemotherapy, radiation and a stem cell transplant, her cancer returned with a vengeance. But her doctors at IU Health were ready for CAR-T and quickly determined that she was a candidate for the therapy.
"It is hard to share my story without tears," said Trinkle. "I can honestly say my life has been saved because of the IU Health and Riley Children's Health Stem Cell Transplant and Cellular Therapy Team, and their expeditious timing in acquiring certification. I have been in remission almost five months now."
Key to that expeditious timing was the team anticipating that the treatment would get FDA approval and working ahead to prepare. 
"This is uncharted territory," said Sherif Farag, IU Health's stem cell transplant program director. "The Indiana University School of Medicine is very committed to this."
In the first quarter of 2019, IU will be a host site for clinical trials involving the use of CAR-T infusions to treat multiple myeloma and sarcoma. And Riley is trying to put itself in a position to host trials for the use of CAR-T for neuroblastoma and brain tumors. Additional trials here and elsewhere might also result in CAR-T becoming available earlier in the treatment process, rather than as a treatment of last resort. 
Eventually, the IU School of Medicine's Brown Center for Immunotherapy intends to engineer its own CAR-T cells with the goal of targeting a variety of cancers.
The Brown Center also has the goal of reducing the three weeks it takes to reengineer the cells, Skiles said. For patients with advanced disease, every day counts, so compressing the time frame can be a game-changer, she said.  
Farag anticipates that offering CAR-T will result in an additional 40 to 50 patients per year seeking treatment at IU Health.
Denice Loveless' niece, Kylee, battled leukemia for six years before receiving the first pediatric CAR-T infusion at Riley. Now Kylee is cancer free.
"We are blessed beyond measure to have had this opportunity," Loveless said.  "Introducing this procedure and working diligently to bring it to Riley has been nothing short of a miracle for us."•
Please enable JavaScript to view this content.