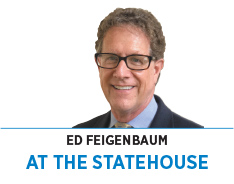 You can breathe a sigh of relief now. We've made it to the midpoint of the 2019 session without serious evidence of bad faith, bad legislation or bad weather ahead. That portends well for an efficient and effective session benefiting all Hoosiers.
Until it doesn't.
Yes, typically something does arise in the final third of deliberations that threatens a derailment, but there is cause for optimism today.
The measure invested with the greatest potential for division was the Senate bias-crimes bill.
Even though no one seems satisfied with where it stands, it heads over to the House for more surgery, more secretive deliberations (largely among Republican leaders and then their respective caucuses), and public and private gubernatorial intervention. The business community is also poised to unleash its collective clout for a comprehensive measure.
Until now, the bill's brief public debut felt like Kabuki theater, with the Senate result largely predetermined. Everyone was playing their respective roles and saying the right things for their respective constituencies as they kept it alive for the heavy lift ahead.
To be sure, there is no guarantee that any version of this bill will pass—loaded up or stripped down.
Senate Majority Floor Leader Mark Messmer, R-Jasper, doesn't sense urgency to pass something, even after three previous tries (typically, the legislative threshold for acting on a major issue). He tells his constituents, "If we don't deal with it this year, we'll deal with it next year or the year after, or the year after," because "sometimes those things take a while."
As bills now cross the rotunda from their respective chambers of origin, much of the real work (on non-budget matters) to date has occurred in the Senate. Four senators stand out for their achievements thus far.
Messmer and Senate Public Policy Chairman Ron Alting, R-Lafayette, joined forces with Sen. Eddie Melton, D-Gary, on a set of bills overhauling gambling laws. Even with all the moving parts that ordinarily should have proven sufficient to derail it, it kept moving without major concessions.
The bill offers economic development hope for Gary—and a last-minute northwestern Indiana peace treaty among Hammond, East Chicago, Michigan City and Gary convinced lawmakers that government units there were not individually nor collectively dysfunctional and there is potential for cooperation.
That there is something positive in the package for every player in the gambling industry needed to bring lawmakers representing their facilities on board was the clincher. And those three senators—plus Sens. Lonnie Randolph, D-East Chicago, and Mike Bohacek, R-Michiana Shores—deserve credit.
Some of those same senators were standouts on the bias-crimes bill—Alting and Bohacek for standing firm on the hate crimes "list" in the face of opposition from their own caucus and Randolph for defending "the list" and the broader need for the law against the successful amendment offered by Sen. Aaron Freeman, R-Indianapolis, to strip the list heading to the House.
Freeman deserves credit for taking the slings and arrows on behalf of his caucus, whose individual members didn't help much in his floor defense. He earned big-time chits from his caucus—and grudging respect from Democrats—for his work. Freeman also is a firm believer, as he tried to convince amendment opponents, that his work kept the bill alive for further refinement.
On the House side, direct credit to Rep. Todd Huston, R-Fishers, for effectively taking ownership of the budget process as Rep. Tim Brown, R-Crawfordsville, continues his recovery from a motorcycle accident.
While Department of Child Services budget hikes are baked in, assorted education and workforce-alignment issues will see some finagling, as will the Indianapolis sports stadium funding package. Those will be the key fiscal issues over the final eight weeks.•
__________
Feigenbaum publishes Indiana Legislative Insight for Hannah News Service. He can be reached at EDF@hannah-in.com.
Please enable JavaScript to view this content.