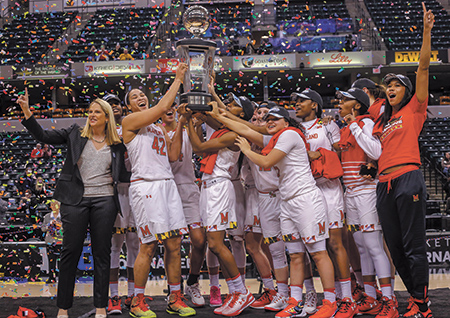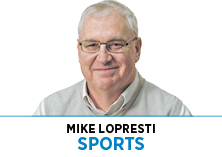 It's March, meaning the hills are alive with the sound of tournament basketball. But just wait till next year.
One year from today, Indianapolis will be on the brink of an absolute hoops-a-palooza. A month of near-nonstop jump shots the likes of which we've seldom seen, even around here. As Ryan Vaughn, president of the Indiana Sports Corp., was saying, "We love March, and we love basketball. For us, it's about creating an opportunity for Indianapolis to host folks. We'll be doing what we do in March."
So slap on your Nikes—let's just hope they're sturdier than Zion Williamson's pair at Duke—and we can preview what 2020 will be like.
Bounce … bounce … bounce …
Feb. 29. It's leap year, so we can start a day early. The girls' high school state finals at A Fieldhouse To Be Named Later. That's Bankers Life, but it's due for a new sponsor by then. Anyway, Hamilton Southeastern just stormed to the 4A championship, not losing to an Indiana team all season, with only three of its 27 wins by single digits. And star Sydney Parrish, who scored 30 points in the state championship game, is back. Just mentioning it.
Bounce … bounce … bounce …
March 4-8. The Big Ten women's tournament at Bankers Life Fieldhouse. Usually, that means Maryland against somebody. History says Purdue is often a possibility. There have been 25 of these tournaments, and the Boilermakers have been to the final game 14 times. Indiana once, by the way.
Bounce … bounce … bounce …
March 9-10. The Horizon League men's and women's semifinals and finals at the State Fairgrounds. The conference is moving the tournament here after spending its time in downtown Detroit. Not often Indy can call itself a warmer-weather option.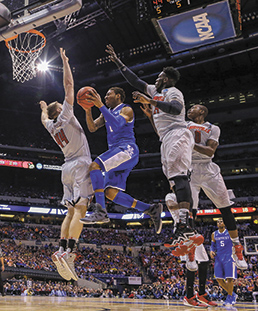 Kentucky and Louisville battle during a 2014 Midwest Regional game at Lucas Oil Stadium. (AP photo) (IBJ photo/Eric Learned)
Anyway, this will be good for the league office at Pan-Am Plaza—sharing the same building with the Indiana Sports Corp.—since it'll be a 20-minute drive from its tournament championship. And good for IUPUI, since the Jaguars could be playing at home. Of course, they have to first get to the semifinals. There's always fine print in the contract.
"I think it's going to be amazing," IUPUI coach Jason Gardner said the other day. "The good thing about it is, you're going to have a lot of family and friends who can make this drive. It'll be extra motivation for our guys. You know if you can be there, the crowd is going to be on your side."
Bounce … bounce … bounce …
March 11-15. Big Ten men's tournament in Bankers Life Fieldhouse. Out with the ladies, in with the guys. Now might be the time to mention IU's rather modest showing in this event—no championships, one title game appearance, and only 12 wins in 21 years. Michigan State, by instructive contrast, has 29 wins and five championships. But let's face it: At the moment, the conference tournament is the least of the Hoosiers' worries.
Bounce … bounce … bounce …
March 26-28. Midwest Regional at Lucas Oil Stadium. Put this down as a get-reacquainted session with March Madness, since the Final Four will be back in town in 2021. "A little bit of a dry run is a good way to put it," Vaughn said.
A brief history of the three past regionals in Lucas Oil: Michigan State, Louisville and Kentucky won them; Louisville was in all three; and none of the scores get remembered nearly as much as the Cardinals' Kevin Ware shattering his leg in the 2013 championship game.
Bounce … bounce … bounce …
March 28. Boys' state finals at Bankers Life Fieldhouse. Parking could be a little dicey downtown that day. At one end of Georgia Street, four boys' state championships will be decided. At the other end, a college team will be making its way to the Final Four. And if you're tired of round orange balls by then, the men's NCAA Division I swimming championship will be going on at the Natatorium.
"When we focus a lot of strategy on collegiate and amateur sports, then it's not uncommon for us to have multiple events happening at the same time," Vaughn said. "You're talking about Olympians at the Natatorium—the swimmers will literally be Olympians in the Games that summer. And I think people will be excited to be downtown, excited to be in the buzz of basketball. I think it'll be extraordinary."
Bounce … bounce … bounce …
So let's do some adding for next March. That makes 43 high school state finals or college tournament games played in three locations in Indianapolis in 29 days.
Did we forget anything? Oh, yeah—the Pacers. Their place will be kind of busy, but presumably the Pacers can squeeze in a few home games. They have six this March.
There will be a special occasion to mark, too. It'll be the 40th anniversary of the first Final Four in Indianapolis, at the late, great Market Square Arena. Louisville won it—the Cardinals have spent a lot of time in this town, haven't they? Purdue was in the field, and the guess is few Boilermakers out there need to be reminded that was their last Final Four appearance.
Round-numbered anniversaries seem to be in vogue. "This year is the 20th anniversary of the NCAA in Indianapolis; it's our 40th anniversary as an organization," Vaughn said. And next year, 40 years since Indy went diving into the Final Four pool. "I think it speaks to the longevity and the commitment to sports as a strategy."
Bounce … bounce … bounce …
Next March will also serve as something of a tipoff to one of the most dramatic periods Indianapolis has ever seen as a sports host. "From 2020 through the spring of 2022 is a pretty exceptional time for Indianapolis," Vaughn said.
For just over the horizon is an Indy-as-host epic in three acts: the NBA All-Star Game and Final Four in 2021 and the college playoff championship game in January of 2022. Eleven remarkable months. But before that will come a month-long monsoon of basketball next spring. Like the man said, it's March. It's what Indiana does.•
__________
Lopresti is a lifelong resident of Richmond and a graduate of Ball State University. He was a columnist for USA Today and Gannett newspapers for 31 years; he covered 34 Final Fours, 30 Super Bowls, 32 World Series and 16 Olympics. His column appears weekly. He can be reached at mjl5853@aol.com.
Please enable JavaScript to view this content.