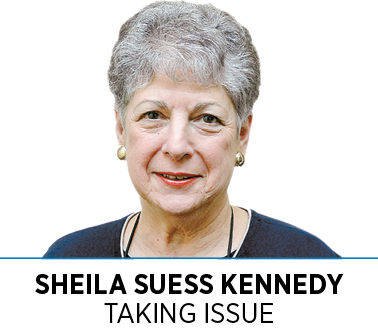 This is the fourth year Indiana's legislators have been asked to enact a bias-crimes bill.
As proponents have pointed out, ours is one of only five states without such a law. As the business community has testified, the impression that Indiana is a state unfriendly to minorities—an impression that "went viral" during Gov. Mike Pence's RFRA debacle—is reinforced by the repeated rejection of hate-crimes legislation and is an obstacle to recruitment of talented employees.
This year, in the aftermath of the anti-Semitic vandalism of an Indianapolis synagogue, and with strong support from Gov. Eric Holcomb, the prospects looked good. The bill emerged from committee with a 9-1 vote.
Then the Senate Republicans eviscerated it. Again.
Some versions of hate-crimes legislation give free-speech purists like me pause. This wasn't one of them. This bill simply added bias against marginalized groups to a list of aggravating factors that judges already use when determining sentences. It did not criminalize motive.
In fact, there was absolutely no justification for gutting the measure—no fiscal or economic argument, no evidence that states having laws with similar language had encountered any problems with enforcement. To the contrary, there was evidence that two states with bills that eliminated the enumeration of targets have had enforcement problems due to vagueness, and judges have told the bill's authors they aren't likely to aggravate penalties without a specific list in the statute.
As one Statehouse observer opined, opposition is based on the same homophobia that gave us RFRA.
Doug Masson's blog, "A Citizens' Guide to Indiana," had what was perhaps the most cogent critique of the Senate's action. Masson—who used to work for the Legislative Services Agency—wrote:
There is no guidance in the amended legislation as to what constitutes bias. In other words, it deliberately and disingenuously misses the point of the original legislation. After extensive behind-closed-doors discussion in the Senate Republican caucus and a floor debate where Democrats spoke passionately against and Republicans mostly kept silent, the amendment passed by a vote of 33-16. Notably, the bill's Republican author (Sen. Ron Alting) voted against.
Ultimately, I think the significance of Sen. Alting's bill, as it passed out of committee, was as a recognition that groups have often been excluded from society's definition of "us" based on the criteria in his list (e.g. race, sexual orientation, etc.). By passing Alting's legislation, we as a people would be saying to these historically discriminated against and excluded groups, "that's not how it is any more. You are one of us, and the people who persecute you are no longer us. If they come for you, we're coming after them." By dispensing with all of that and mumbling something non-specific about bias, the Freeman version of the bill cuts out its heart and makes it worse than doing nothing.
Both the Indiana and Indianapolis chambers have made passage of bias-crimes legislation a priority, and business and civic leaders throughout the state formed an organization, Forward Indiana, to support Alting's bill. The Indiana Chamber released a poll showing 84 percent of Democrats, 75 percent of independents, and 63 percent of Republicans support passage of an effective hate-crimes bill.
In a state where lawmakers actually represented their constituents, passage would have been a no-brainer. But thanks to gerrymandering, Indiana lawmakers are free to ignore the wishes of the public they ostensibly serve, and they do so with some regularity.
We deserve better.•
__________
Kennedy is a professor of law and public policy at the School of Public and Environmental Affairs at IUPUI.
Please enable JavaScript to view this content.