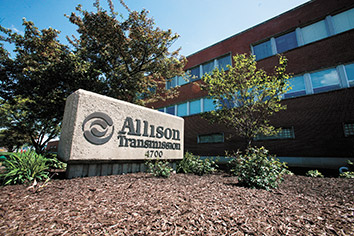 Allison Transmission Holdings Inc. announced Thursday that it plans to build a multimillion-dollar vehicle-testing facility in Speedway that will be the only one of its kind in the Midwest.
The Vehicle Environmental Test facility is expected to open in 2020 on the campus of Allison's global headquarters, south of Indianapolis Motor Speedway.
"Industries around the globe depend on Allison Automatics to power highly specialized vehicles that must perform under all kinds of extreme conditions," Allison CEO David Graziosi said in written comments. "The Vehicle Environmental Test facility will provide Allison engineers with enhanced capabilities to conduct testing replicating vehicle environments and duty cycles."
Melissa Sauer, executive director of corporate affairs and communications for the company, said the 60,000-square-foot center will not replace an existing facility.
"It will allow us to expand our vehicle-test capabilities at our headquarters and perform that testing in a much shorter time frame," she said. "This facility will also further support testing for a wide range of propulsion systems, including conventional powertrains, alternative fuel, electric hybrid and fully-electric vehicles."
The company declined to provide an exact amount for how much the facility would cost. It did not say how many jobs would be created by the project.
Allison is in talks with the Indiana Economic Development Corp. to receive tax incentives for the project.
When the facility is not in use by Allison, third parties will be able to utilize the chamber for their own testing, the company said.
This facility will include two environmental chambers capable of simulating temperature extremes, altitude, and on-road conditions that will allow testing for regulatory compliance, on-board diagnostic development, and performance improvements for vehicle functional optimization.
Allison, the world's largest manufacturer of fully automatic transmissions for medium- and heavy-duty commercial vehicles, was founded in 1915. It employs about 2,900 people worldwide, including 2,400 in Indiana.
Please enable JavaScript to view this content.