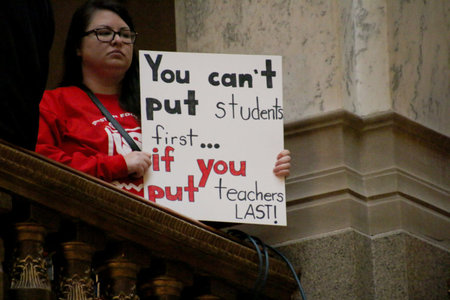 Above a sea of red shirts, handmade signs and impassioned chants demanding respect and fair wages, 26-year-old Hillary Kolter stands.
Kolter holds up a white cardboard sign. Its sharp, black-and-red letters spell out a call to action to the state of Indiana: "You can't put students first … if you put teachers last!"
The fourth-year teacher traveled from Fort Wayne to attend a "Red for Ed" rally sponsored by the Indiana State Teachers Association Saturday.
She wasn't alone, as hundreds of educators, administrators, students and community members flocked to the Indiana Statehouse to show the state their raw passion, sacrifice and increasingly, demonstrators said, frustration with Indiana's treatment of public education.
ISTA President Teresa Meredith, alongside the protestors, pointed to several issues in lawmakers' current two-year budget proposal.
While the proposal, outlined by House Ways and Means Committee Chair Todd Huston, R-Fishers, in House Bill 1001, devotes 65 percent of its expenditures to K-12 initiatives, it doesn't earmark dollars for a teacher pay raise.
Republican lawmakers, however, hope some mechanisms in the budget, including a one-time payment of $150 million to pay off liabilities in the state's teacher retirement fund, will free up additional funds that districts can put toward teacher salaries.
A separate measure—House Bill 1003—also would create new guidelines for schools that would ask districts to devote no more than 15 percent of their annual budgets to operations, such as building maintenance and repair. The remaining dollars would go to the school's education fund, which covers costs for classroom instruction. However, HB 1003 doesn't specifically direct school districts to increase teacher salaries.
As a young teacher, Kolter said the outcome of today's debates will lay the foundation for her future work. That mission convinced her to attend the rally and lobby legislators at the Statehouse this week, who she said were largely unresponsive to her requests.
Already, she said, teachers face the consequences of inaction.
"I pay $800 a month in college loans and I still have to live at home with my parents," Kolter said. "And I'm at the bottom of the pay scale. I only make $40,000 a year."
Kolter teaches students in the second grade and special-needs classes for Fort Wayne Community Schools. But the salary she received in compensation, she said, isn't going to help her pay off her $150,000 student debt from the University of Saint Francis, also located in Fort Wayne.
"I would love to have a family, but right now I can't even support myself," Kolter said.
Similar challenges face teachers farther along in their careers, too.
Rachel Overberg, 45, is a teacher at Clarksville Elementary in Mount Vernon. After spending 16 years as a corporate travel agent for Kindred Healthcare, Overberg decided to return school to pursue a career change in teaching.
When she found a position at Clarksville, Overberg's annual salary was less than $40,000. Over time, however, the school started to award her bonuses for high performance through state funding.
But seven years into the job, Overberg again makes less than $40,000 a year. After five years, she said her district stopped awarding the bonuses and cut her salary by nearly 20 percent. To make up for the decreased salary, she now works in four separate positions. She is a math coach for area teachers and an e-coach for her colleagues, where she shows other teachers how to integrate technology in the classroom on top of her role as a math, science and writing teacher.
After school, Overberg said she provides additional reading instruction to students in kindergarten through the fourth grade.
Rachel Overberg said her son, Calvin Overberg, often has to step up in her place to help lead family life instead of preparing for his last year in high school.
"In southern Indiana, we often have to take on more jobs than just our normal teaching job, which in itself is a hard job," she said. "It involves more than just teaching. We're social workers. We're administrative assistants."
Beyond teacher pay, protesters said public education deserves more attention across the board, adding that an influx of charter schools in local communities is drawing resources away from traditional public schools.
Tamara Allison, also a teacher in the Mount Vernon area, is a third-generation educator. The 56-year-old said she's taught students at West Elementary School for 28 years.
On top of earning only $500 more than her salary in 2010, Allison said the state's increasing efforts to fund charter schools and the state voucher program, which helps qualified families attend local private schools, are leaving traditional public schools behind.
"I came in when Indiana still valued public education," Allison said. "For me, this isn't necessarily about teacher pay, because I plan to retire soon…. This is about public education. That is what's made the United States great."  
The demonstrators rallied while Gov. Eric Holcomb and representatives for the Indiana Economic Development Corp. attended business meetings in France, according to an IEDC press release distributed the afternoon of the event.
The governor cites his administration's efforts to increase K-12 funding in the next budget.
"I hope they don't walk out," Holcomb said in a press conference held at the legislative session's midpoint. "We're not walking out on them. We're walking to them."
But as the rally at the Statehouse carried on, and as a few scattered protesters shouted they would strike, Meredith said Holcomb hasn't gone far enough to listen and respond to teachers' needs.
"Well, I'd say, governor, come closer." Meredith said.
Erica Irish is a reporter for TheStatehouseFile.com, a news website powered by Franklin College journalism students.
Please enable JavaScript to view this content.