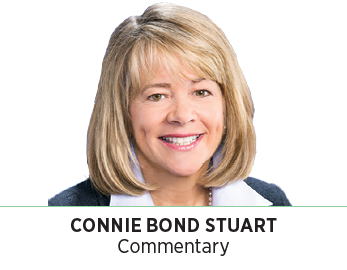 When children attend high-quality preschools, something magical happens.
In quality pre-K classrooms, children use top-notch resources to experiment with nature and astronomy. They use blocks to explore how to build. They engage in vocabulary-rich conversations. All of this could help produce future scientists, novelists or architects.
While it might seem like a far reach to correlate preschool learning to successful adulthood, research demonstrates that high-quality early education helps children's cognitive learning and social/emotional development, builds a foundation for lifelong learning, and improves skills for the workforce of tomorrow. Quality preschool programs are also critically important to reducing dropout rates, remedial job training, criminal behavior and costly services that are a drain on economic growth.
For every $1 invested in high-quality preschool, society reaps as much as $16 in long-term savings, according to a cost-benefit analysis of the Perry Preschool Study, a research project that spanned 40 years.
It's hard to ignore such compelling evidence.
That's why PNC has made it a priority to support high-quality early childhood education through PNC Grow Up Great, our multiyear $350 million initiative to help children from birth to age 5 develop a lifelong love of learning. With support from the PNC Foundation, the program creates opportunities for our employees to help the communities in which they live and work, by encouraging volunteerism, participation through public advocacy, and awareness building.
In fact, we provide employees with up to 40 hours of paid time per year to volunteer at high-quality early education centers as a way to introduce them to civic engagement. To date, our teams have volunteered over 822,000 hours.
Locally, our commitment to early education compelled PNC to invest in the Indy Pre-K Program, a five-year, $41.4 million initiative created to increase the number of 3- and 4-year-old children in Marion County with access to high-quality early childhood centers. Expiring in 2020, this program was intended as a bridge to sustainable state support.
In addition to preparing children for success in school and life, having access to high-quality pre-K also enables parents to focus on improving their own skills to secure better jobs to support their families. This is critically important in Indiana, where half of all families with young children are considered low-income, and one-fourth of these children live in poverty.
While all children benefit from high-quality pre-K, children from low-income families often make the most significant gains. That is why we have stood alongside our regional business peers, such as Eli Lilly and Co. and Cummins Inc., as well as United Way, Indy Chamber, Early Learning Indiana and many more, to actively advocate for the state to expand access to quality preschools for at-risk children.
I have spent time testifying before our legislators to help them understand why this issue is critical for our region's success. The state has been supportive, through the On My Way Pre-K program, but needs to do more. Through the combined state and Indy Pre-K programs, we are serving 3,525 4-year-olds. Clearly, we can do better.
We currently have 40,000 4-year-olds living in poverty in Indiana. We need to combine our efforts if we are to reduce that alarming number and position them for success.
While Indiana continues to work on ways to compete in a global economy and attract high-quality jobs, we need a parallel effort to create a pipeline of educated, skilled employees. Giving children a strong start will make an enormous difference for Indiana's economy today and for generations to come.
We tell our customers that the choices they make right now matter tomorrow. But these words would ring hollow if we didn't live by them ourselves. I urge you to join us and advocate for those who do not have the opportunity or means to speak for themselves.•
__________
Stuart is the PNC regional president for central and southern Indiana. She is vice chairwoman for the Indy Chamber and treasurer of the Central Indiana Corporate Partnership and was recently chairwoman of the United Way of Central Indiana.
Please enable JavaScript to view this content.