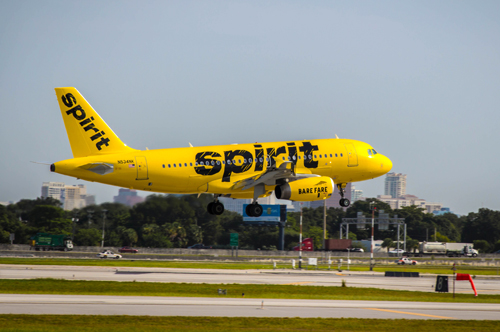 Indianapolis International Airport newcomer Spirit Airlines announced Thursday that it plans to begin daily service between Indianapolis and two additional Florida cities this fall.
The Miramar, Florida-based low-cost carrier will launch year-round nonstop service to both Tampa International Airport and Southwest Florida International Airport in Fort Meyers beginning Nov. 14, said John Kirby, Spirit's vice president of network planning.
Spirit's began service in Indianapolis on Thursday with the start of daily flights to Las Vegas' McCarran International Airport and to Orlando International Airport. 
Seasonal service to Myrtle Beach begins May 2, with three-times-a-week flights to that destination running through September.
When Spirit announced in December it would enter the Indianapolis market, Kirby said, the airline had Tampa and Fort Myers in mind as additional destinations.
"We already had in the back of our mind that we would start with additional markets if we saw strong demand out of the gate," Kirby said.
That turned out to be the case, Kirby said—most of the Las Vegas and Orlando flights from Indianapolis for the next few weeks are already fully booked. 
When it enters a new market, Spirit's strategy is to start with its strongest destinations, Kirby said. Orlando and Las Vegas are Spirit's No. 2 and No. 3 markets, respectively.
Spirit's top market is Fort Lauderdale, Florida, Kirby said, but the airline decided not to launch Indianapolis-to-Fort Lauderdale service because that Florida city is on the East Coast, which is not as popular with Indianapolis travelers.
"The Indianapolis marketplace really likes the west coast [of Florida]," Kirby said. 
 
Spirit, the eighth largest commercial airline in the United States, offers more than 500 daily flights to 70 destinations in North America, Central America and South America.
Spirit offers some of the cheapest fares in the industry, though it uses an "a la carte" pricing model in which passengers pay extra for everything from in-flight beverages, assigned seats and printing boarding passes at the airport.
The airline had been plagued by low customer satisfaction ratings in recent years, but it partnered in 2017 with the Walt Disney Co.'s corporate training arm, the Disney Institute, and has improved its service metrics.
The Airline Industry Achievement Awards, an international awards program run by industry publication Airline Transport World, named Spirit as its 2019 Value Airline of the Year. The winner of this award is chosen based on cost controls, innovative and motivational practices, safety and operational performance, growth and customer loyalty.
 
Please enable JavaScript to view this content.