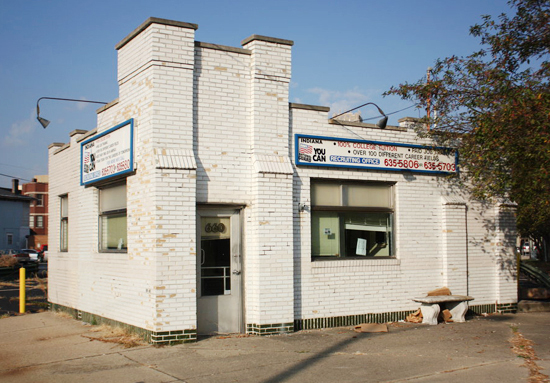 The vacant downtown building at 660 Fort Wayne Ave. where White Castle began serving Hoosiers its signature sliders back in 1927 has a new lease on life.
Local resident Jason Hartman purchased the one-story, 600-square-foot building—a brick burger shack, if you will—from Indiana Landmarks in January for $70,000. The historic preservation organization took title to the building in 2017 in hopes of finding an owner willing to put it back in service.
Hartman plans to fix up the turreted building—one of White Castle's first generation of fast-food restaurants—and lease it to a new user. Its zoning classification allows retail operations, office space or a live-and-work arrangement—although, weirdly, it can't be used as a restaurant.
"I really didn't see this coming in my crystal ball," said Hartman, who works remotely for a Seattle tech company and rehabs and leases residences as a sideline. 
"I always noticed [the White Castle building] and I loved the location downtown and by the Cultural Trail," he said. He learned the building was available on Landmarks' Instagram account and arranged for a tour.
"I loved that it was perfect square box. I could see how you could renovate it and make the interior into a blank slate for someone," he said.
The most troublesome aspect of the project is restoring its exterior. Its white bricks are coated in a baked-on, porcelain-like glaze. Hartman is required to replace the damaged bricks, which number well past 1,000, he said.
Hartman hopes to keep the cost of the exterior and interior renovations close to $60,000. Architectural work is expected to begin almost immediately, and the best-case scenario for completion of the project would be July.
He initially was interested in a purely residential use for the structure, but that would require a zoning variance that for the moment seems prohibitive in terms of expense and time required, he said. He's open to retail, office or live-and-work uses.
The building's most obvious use—as a restaurant—is off-limits. When White Castle sold the building, it attached a covenant that forbids an active commercial kitchen, Hartman said.
The building is believed to be the third-oldest restaurant constructed by the White Castle chain, founded in 1921 in Wichita, Kansas. When it served its last burger in 1979, the location was the oldest continuously operating White Castle in the country.
It later was used as a real estate office and National Guard recruiting center. And although quite small, the building is highly visible—sitting at the three-way intersection of Fort Wayne Avenue and Delaware and Walnut streets, just south of the Indianapolis Public Schools headquarters.
Indiana Landmarks first waged a rescue campaign in the early 1980s to save the building from being demolished for a six-car parking lot—an indication of the building's diminutive size.
When the National Guard no longer needed the building, the state transferred ownership to the city of Indianapolis. The city sold it to Landmarks for $1.
Hartman has hired Indianapolis-based FS Houses as property manager and to field inquiries from potential tenants.
Please enable JavaScript to view this content.