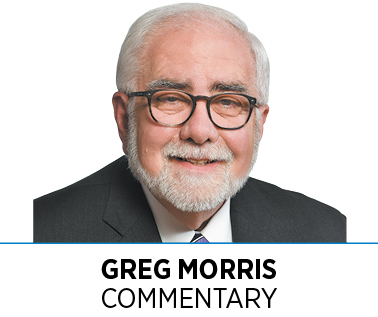 As you might have read in IBJ, we recently moved our office into new space in the IPL building on Monument Circle after more than 20 years at the corner of Pennsylvania and Washington streets.
I don't want to exaggerate the positives of the experience, but I found it to be a transformative moment for our company that will pay many dividends in the future for our customers and staff. And I won't downplay the disruption to conducting the day-to-day business at hand—it was extremely challenging. But with thoughtful vision, great planning and nearly flawless execution we've come out on the other side a stronger company better positioned for innovation and growth.
While our move was a great team effort with several star players, I want to recognize the extraordinary efforts of 35-year IBJ veteran Kim Howell. It was her vision, planning and day-to-day supervision and execution of this project that made this move such a terrific success. She did all of this without shedding any of her many important regular responsibilities and I will always be grateful for her sacrifices for the betterment of the company.
During the planning process, I realized our staff had done an excellent job of compensating for all the deficiencies of our old space. We were able to grow into a modern, tech-enabled company operating at a level exceeding many of our peers. However, if you were to walk into our old office, you would think we were stuck in a time warp. We had to up our game, and it was clear that a well-designed, efficient and modern workspace was just one piece of the puzzle.
Our previous office was designed for the way work was done 20 years ago. Structured and segmented work areas created communication and workflow silos within the company. Everything looked tired, and outdated "stuff" was piled everywhere. With half our staff eating lunch in the office, we didn't have adequate areas for staff members to store their food and conference room became temporary lunch rooms. And the building's physical barriers made keeping up with technology a challenge.
The good news is our new office is the complete opposite. We have about 15 percent less square footage, but the open design makes it feel as though we've increased the size. We made room for all the improvements we needed and did it in an attractive space that's smaller and more efficient.
On a personal note, I feel energized and appreciative. I'm thankful to work with great people who deeply care about what they do and who approach their work in such a professional manner. Great companies are made up of great people. And everyone seems energized and positive, which I'm pleased to see.
I'm also appreciative of the local ownership that makes everything we do possible: Mickey Maurer, Bob Schloss and Nate Feltman. I don't just consider them my bosses, but also mentors and friends.
To that point, while I was sorting through my old office in preparation for the move, I ran across a timeless book written by Mickey—"10 Essential Principles of Entrepreneurship You Never Learned in School."
The handwritten inscription inside the front cover read—"For Greg—columnist, publisher, fellow collaborator and friend. Thanks for working with me." Signed Michael S Maurer, 12-14-12.
And I'm appreciative of you, IBJ readers and customers. My enthusiasm and optimism for the future have never been greater, and I look forward to our next chapter of success as we serve you in the years ahead.•
__________
Morris is publisher of IBJ. His column appears every other week. To comment on this column, send email to gmorris@ibj.com.
Please enable JavaScript to view this content.