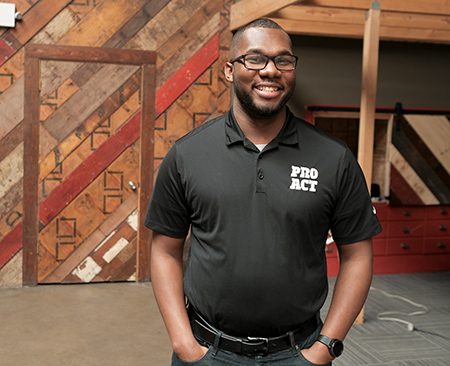 ProAct, an Indianapolis not-for-profit that focuses on engaging at-risk youth and corporations in public service projects, is trying to rebuild after a challenging year in which the entire board quit over disagreements with founder and CEO Derrin Slack.
Slack, who remains with ProAct, admits he made mistakes—namely, providing board members false proof that he had secured insurance for the organization—which is what led the eight directors to resign en masse in September.
Amid the turmoil, the organization cut back and retrenched. Now, Slack, who founded ProAct in 2010, is trying to re-establish trust with partners and funders and build it back up.
"Any mistakes and decisions I made as a leader, I've learned from," he said. "I want and need accountability and, moving forward, we are going to have that. … I'm not giving up. I'm here to stay, and I'm confident."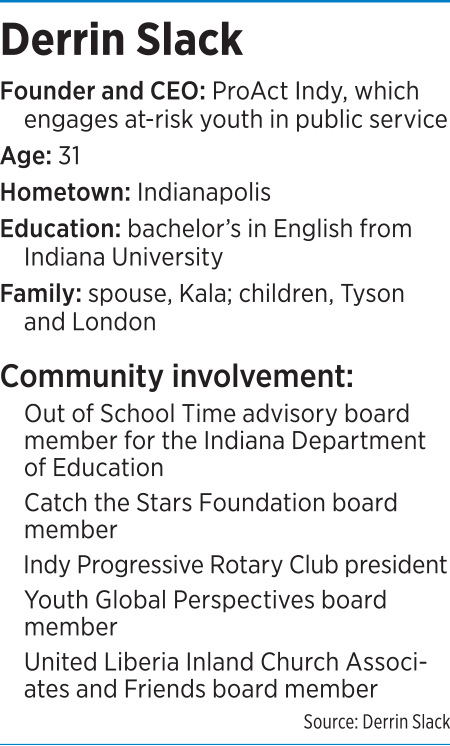 Slack, 31, has been seen as a rising star in the not-for-profit world. In 2017, Junior Achievement of Central Indiana named him a finalist for its Best and Brightest award, and last month IBJ named him a Forty Under 40 honoree.
His organization had gained the support of prominent local funders, including the Central Indiana Community Foundation and the Lilly Endowment.
But Slack said the organization grew too fast—in part because he was saying "yes" to nearly every request to partner and create new programs. He was also having trouble managing the group's finances. He created a $350,000 budget last year—but brought in just $310,500 in revenue.
At its height in 2017-2018, ProAct was serving a total of 10,000 students at 10 schools, through big group service projects, with a bare-bones staff of four full-time and eight part-time workers to pull it off. The previous fiscal year, according to its 2018 annual report, its programs reached 2,000 students.
"With that growth," Slack said, "we broke down."
Slack knew he didn't want to give up or leave the organization—but he realized after the board quit that he needed to start over and scale back.
ProAct now has four new board members, and no paid staffers. Slack is not taking a salary—and the organization let go of the $1,000-per-month space it was renting on the east side in favor of a $75-per-month membership at The Speak Easy, a Broad Ripple coworking studio.
As he scales back programming and ramps up fundraising again, Slack is getting help from some powerful community allies.
The organization's finances and back-end operations are being managed by Shepherd Community Center. Jay Height, Shepherd's executive director, said he is also helping Slack with his management skills.
"I've been here 23 years, and so I've made all the mistakes," Height said. "I can help him learn from them. He made some bad choices last year, so we're learning from that and helping set him up for success, while making sure the organization can build the infrastructure to accomplish the mission."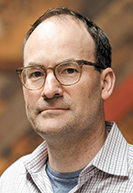 Banner
Jeb Banner, cofounder of web marketing company Smallbox and CEO of board management software company Boardable, is serving as interim board chairman.
Banner, who met Slack shortly before the board's resignation, said he remembers being a young entrepreneur and sees himself in Slack.
"He got out over his skis, if you will, and made some mistakes, but not malicious mistakes," Banner said. "Just cash-flow management mistakes and juggling too many balls while trying to also manage so many new kids coming into the program.
"From my perspective, every young entrepreneur goes through this moment of truth at some point, where they make a mistake and they have to either own up to it and learn and grow, or they double down and reject the truth.
"Part of the reason I stuck around was Derrin's willingness to say, 'I screwed up.'"
Board resignation
The dispute between Slack and the former eight-member ProAct board came to a head in August, according to Slack and documents obtained by IBJ.
According to an internal board timeline, Slack on Aug. 24 provided a board member a "forged insurance document that shows liability coverage through Goldstein Insurance," an Indianapolis agency run by agent Sam Goldstein.
Goldstein independently confirmed those details to IBJ, stating that "it was brought to my attention in August of 2018 that fraudulent and forged certificates of insurance had been presented for policies that were clearly out of force."
The policy Slack had presented to the board member was actually a copy of an old policy for ProAct, but the date had been updated. Slack told IBJ he had "asked a friend of mine to update the document for me until we got insurance."
"I knew I was being deceptive in that," Slack told IBJ. "I let my pride get ahold of me in that moment of crisis."
Slack said he was in the process of seeking insurance providers at the time the board asked about coverage, but, "we couldn't find anyone who understood a nonprofit enough to work with us."
"I really wanted to look good in front of them, to be honest," he said. "As a young leader and founder, I didn't want to look bad. That's the god-honest truth."
In emails between Goldstein and former board member Rebecca Henry in late August, Goldstein told Henry a certificate of insurance she had sent him "is very concerning since it is a forgery."
"The general liability policy listed has been out of force since May 28, 2015, and I have had no contact with Mr. Slack since that time," Goldstein wrote on Aug. 28.
Henry replied the next day to thank Goldstein, stating in part: "We are looking into this an [sic] believe it is an internal issue. There were no claims made."
The board days later put Slack on unpaid suspension, according to a letter obtained by IBJ.
The letter also alleged that "organizational finances have been and are currently being mismanaged."
Two former board members contacted by IBJ—Michelle Green, an Indiana University School of Education faculty member who served as chairwoman, and Greg Stowers, Key Club international director at Kiwanis International—responded with identical written statements.
"Differences of opinion between the board members and the executive leadership of the organization regarding business and financial management were irreconcilable, resulting in the board's collective decision to resign," according to the statement.
The statement said board members still believed in ProAct's mission, but did not elaborate further, stating that "no other comments or details will be shared."
Other former board members did not respond to IBJ's requests for comment. Reached by phone, Henry told IBJ "our board president has already made any comments that we are prepared to make."
Rebuilding
An Indianapolis expert on not-for-profit management, Dave Sternberg, a partner at Loring Sternberg and Associates and senior governance consultant with BoardSource, said a board's quitting in unison "is a rare occurrence" in the not-for-profit world.
He also said it's "exceptionally important" for not-for-profits to carry appropriate insurance.
"Every nonprofit is accountable to its donors and supporters," Sternberg said. "They need to make sure that they are adequately covered for people who have invested in the work and organization."
However, Sternberg said, organizations can "move beyond" mistakes "if people own them."
"I certainly applaud anyone who owns a mistake," he said. "We can all make mistakes. If you don't own it, it's hard to get beyond it."
Slack said the organization's finances got off track because checks from donors came in later than expected. That resulted in negative bank account balances, and ProAct accrued late fees, he said.
But he said that has all been rectified. He said the organization has insurance through American Family Insurance and that ProAct's bank account is "in the black now."
New board members are giving Slack "more hands-on support," Banner said.
"Our desire now as we reform the board is to be that more-integrated team that's looking closely at what he's doing," Banner said. "We're getting back on track and we're putting things in place to ensure it doesn't happen again. We are rebuilding."
Part of that process is refining ProAct's mission and vision. Slack said it's bigger than just being "another dot on the map of non-profits doing good" but "connecting all of those dots."
"Moving forward, our messaging and our marketing is going to change, to encompass a broader vision of how we can impact the community as a whole," Slack said.
Banner said ProAct wants to have "fewer offerings and execute better on those offerings."
The group works with at-risk youth and corporate employees to connect them to community service projects, something it will continue doing.
The corporations pay for ProAct's services in coordinating the projects, which is what financially supports their youth programming and work in schools.
"The heart of the mission is building relationships," Slack said. "These corporate employees are working alongside inner-city kids. Those relationships will help us overcome racism, sexism and the things that keep us apart. These relationships can transform the individuals in our community."
Keeping support
As ProAct and Slack regain their footing, they seem to have retained backing from many supporters.
ProAct will be putting on a summer camp for high school students with the University of Indianapolis' Center for Service Learning, as it did last year.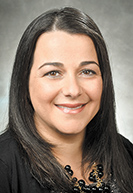 Foulkrod
Marianna Foulkrod, the director of service learning and community engagement for the university, said it "never considered not continuing our collaboration" with ProAct, which began in 2015.
"We work with a lot of nonprofits," she said. "You see a lot of successes, a lot of failures, and that's just the world of nonprofits.
"We just have to keep going. Especially with Derrin leading this, his passion for engaging the youth in such significant ways is still there. He can rebuild his vision if he has partners like us to help support that."
It's not clear whether the Lilly Endowment or CICF still would be willing to fund the organization. CICF noted that it hasn't received a grant application from the group since funding one in 2017. Lilly Endowment, which awarded a grant for a summer 2018 youth program, said it has "invited ProAct to talk with us about the possibility of support for capacity-building."
Even after learning about the board resignations, the Ohio-based Thomas J. and Marjorie S. Gray Foundation granted ProAct "legacy project" status, meaning the organization could receive funding for at least five years if it keeps meeting targets.
The Gray Foundation has given at least $160,000 to ProAct since 2017, according to Executive Director Jon Gray.
"We're still sticking with it," Gray said. "There's almost no stopping him. He just needs to have the structure around him to be able to move on and to become a true, sustainable organization. We want to see him succeed, help him out through the rough spots if we can."•
Please enable JavaScript to view this content.