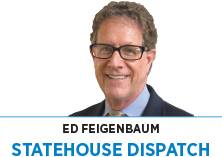 Welcome to another one of those stretches in the legislative session when it seems like nothing constructive is happening—at least with Job One for lawmakers: building a biennial budget.
While it might appear that there is little public action on the budget, rest assured there is no shortage of activity behind the scenes. Some of it, however, is perhaps a bit more difficult to interpret this year because of assorted leadership changes—both at the top of two of the respective four caucuses and with legislative fiscal musical chairs.
Indeed, for the first time in recent memory, the most senior member of the majority fiscal team is not a legislator, but a gubernatorial staffer. That's important because budget-process experience is irreplaceable, not only in program knowledge, but also with personalities and "strategery"—understanding what works with what other players, leaders, caucuses, cliques and the lobby … and calculating the assorted impacts of any given tweak.
We've already seen how the so-called "school runs"—plugging new education budget data into new models—have changed perceptions about how some lawmakers and affected school superintendents view the proposed budget.
So what should you expect budget-wise between now and conference committee time?
The key budget variable is the early-April revenue collection forecast, the bipartisan process that delivers a formal figure telling solons just how much money they can expect to disburse during the biennium.
While that number is the agreed-upon bottom line for spending, it's not the last word.
Since the fiscal crisis of 2008-2009, fiscal leaders have been wary about getting caught short on revenue and publicly erred on the side of caution. On the Senate side in particular, leaders had traditionally believed the forecasts of the past decade to have been too optimistic and pre-emptively discounted potential increases in collections (or lowered surplus preferences).
There are concerns about assorted national and regional economic indicators that could portend decreased revenue for at least the first year of the biennium.
We don't know how Senate Appropriations Chairman Ryan Mishler, R-Bremen, will perceive the April forecast. His reaction to December's forecast can't be a good predictor because he wasn't relying upon those numbers to build his first actual budget.
Mishler just this month—backed by first-year Senate President Pro Tem Rodric Bray, R-Martinsville, already exhibited an independent streak from both the Holcomb administration and the House of Representatives on what had been assumed since December was an untouchable figure: another $286 million annually for the Department of Child Services. Mishler now questions whether caseloads are starting to shrink and simply throwing more money at DCS will solve its problems.
This will be one of two substantive big-ticket line-item fights with the House (and potentially the governor).
The other will be over education funding and the direction of some of that money, particularly between school districts with special needs (low-performing students such as in large urban districts; large percentages of non-English-speaking students, a majority in some rural schools as in Clinton County; and those hard-hit by defections to charters, private schools and home-schooling) and with respect to teacher pay—a lightning rod yet to play out. Mishler has also indicated his willingness to part from House education concepts.
House Committee on Ways and Means Co-Chair Todd Huston, R-Fishers, thrust into the fiscal forefront for the first time, must also keep learning on the fly while processing potential policy changes—such as with criminal sentencing—that could force major fiscal alterations.
The inter-chamber dynamics are fascinating, but there's no time for petty politics in shaping this budget. Throw out all your previous assumptions and pay close attention to any clues—but we'll all probably remain clueless for a few more weeks.•
__________
Feigenbaum publishes Indiana Legislative Insight for Hannah News Service. He can be reached at EDF@hannah-in.com.
Please enable JavaScript to view this content.