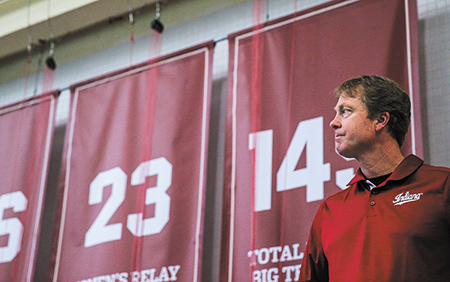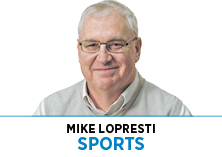 You don't have to be a magna cum laude graduate to understand that happy days are here again for Indiana University swimming, but that's what IU's coach is. He's a Rhodes Scholarship finalist, too.
But before we get to Ray Looze's academic record … or how he once came close enough to swimming in the Olympics to smell the chlorine … or how he has the Hoosiers a living, breathing, backstroking national powerhouse again … we need to discuss his missing lunch.
This was 16 years ago, when he arrived as a young Californian, assigned the task of making IU swimming great again, as it was with IU's legendary coach, Doc Counsilman, and Mark Spitz's gold medal rush. Counsilman was in fading health, but Looze wanted to pay his respects, and was invited to lunch by Counsilman's wife, Marge.
Two things to add here. Looze was an all-American at the University of Southern California, and that school had been Indiana's most bitter rival during the Counsilman glory days. Looze can take it from there.
"I'm sitting at the table and Marge gives me a sandwich and says, 'Ray, dear, where did you go to college?' I tell her I went to USC. She reached over and took my sandwich away and said, 'Oh, dear. We've hired a Trojan.' I was thinking, 'OK, this is a joke; she's going to give my sandwich back.' But she never did."
Welcome to Bloomington. A Subway is just down the street.
But she learned to like him, and why not? Look where Indiana swimming is now. The Hoosier men just three-peated as Big Ten champions, a feat not seen in more than 30 years. They finished third in the NCAA last season, the highest spot for IU in 43 years. They'll go into the March 27-30 national championships ranked No. 2 behind California and just ahead of Texas, with a chance at the title, which Counsilman's swimmers won six times in a row back in the 1960s and '70s, when he was John Wooden in deck shoes.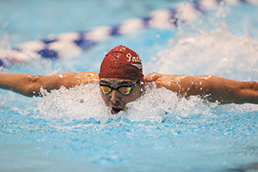 Swimmers like Brazilian Vini Lanza— who was just named Big Ten Swimmer of the Championships for the third consecutive year—are helping set the stage. (Photo courtesy of IUHoosiers.com)
Looze also coaches the IU women, who won the Big Ten as well, not to mention producing one of America's young stars at the 2016 Olympics, Lilly King. In short, nobody is yanking away Ray Looze's uneaten tuna salad these days.
"It's been a longer journey than I thought," he said of Indiana's climb back to the top. "I was a young guy when I took this job—now I'm sort of a middle-age dude—and I thought, 'OK, we'll whip these guys into shape and get this thing moving really quickly.' We won a Big Ten title in 2006 and I thought, 'We'll take off from here.' It just goes to show you it takes a lot longer to build than it does to tear something down.
"It's been a humbling process for sure."
And now?
"We're getting there. We've got the studs. We just need a little more depth, and then we've just got to win the big one."
It's a challenge, with the emphasis in college recruiting much more tilted now toward the South and West—places where they talk about the beach in January, not wind chill factor.
"We've had to look under literally every nook and cranny on the face of the planet to assemble this team, because we get said no to a significant number of times," Looze said. "Most of the time, it's weather."
Indeed, imagine a warm-weather recruit turning on the television and hearing about Winter Storm Nadia. "I hope they're not watching The Weather Channel," Looze said.
"I've tried to change, through social media, our institutional image. It's still one of, 'It's cold here, it's cornfields, it's the Rust Belt.' But if you come to Bloomington and see Indiana, it's really not that. It's a cool, hipster place.
"We try to fashion ourselves as the tip of the South, or the Florida of the Big Ten."
So the phrase "bomb cyclone" doesn't appear in much IU recruiting material. Innovative training techniques get more attention.
Something must be working. The men's roster includes 17 Indiana natives, but also swimmers from 14 other states and six countries. That includes Brazil, home of Vini Lanza, who just made Big Ten history being named Swimmer of the Championships for the third consecutive year. He chose Indiana for its close-knit atmosphere.
"I'm so far away from home, I needed a team I could consider a family," he said.
"I came in January and left Brazil where it was about 100 degrees. And then my first day here we had a snowstorm and it was like zero degrees. I had never seen snow before. I was happy; the snow was really awesome. The first week. But after that, man, this is really, really cold."
Lanza is aware of Indiana's aura from decades ago, but Looze said those days don't mean much to the average 18-year-old recruit.
"Zero," he said. "I can't use it. I tried a little of that when I first got here, and I realized there are 50- and 60-year-old men that means something to."
He focuses more on the examples of King, Cody Miller or Blake Pieroni, Hoosiers who medaled for the United States in Rio.
But the iconic picture of Spitz wearing his seven gold medals from 1972 means something to Looze. It was on the wall when his parents introduced him to swimming. "That's the first image I have of walking into a pool."
The Olympics became his dream, and he nearly got there in 1992, as one of the fastest 400 individual medley swimmers in the world. Problem was, he was third-fastest on the U.S. team, and only two got to go to Barcelona.
Looze watched the Games on TV. Part of them.
"I couldn't watch my events. That was a little too painful," he said. "I think it really gave me some great foundation as a coach to know how to fail, because I'm really good at failing. I've probably done more of it than I've done anything else in life. But it's made me a lot more resilient. When somebody does something that's really special, like Lilly winning the gold medal or setting a world record, the sense of joy and pure elation is off the charts, because I know what could happen."
He rolled through college as a magna cum laude in business finance, so law school or commercial real estate was a possibility. "But I felt a lot of dread in leaving the sport," he said. So he became a coach. Flash forward to 2016, when he was named assistant for the U.S. team in Rio.
He'd see the Olympics, after all. When he was chosen, he went into a room and cried.
His thriving Indiana program includes a freshman named MacKenzie Looze. She swims the individual medley, just like her father. One day a couple of years ago, Ray came home and his daughter was waiting with a question: "Daddy, are you not going to recruit me?"
What father could shake his head no?
So now MacKenzie, who was coached by her mother in high school, is a Hoosier, and under the wing of Lilly King. Meanwhile, Ray Looze goes to Austin hunting for a national championship next week. Doc Counsilman would be proud, even if Looze is an old Trojan.•
__________
Lopresti is a lifelong resident of Richmond and a graduate of Ball State University. He was a columnist for USA Today and Gannett newspapers for 31 years; he covered 34 Final Fours, 30 Super Bowls, 32 World Series and 16 Olympics. His column appears weekly. He can be reached at mjl5853@aol.com.
Please enable JavaScript to view this content.