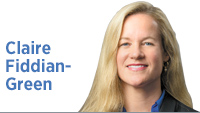 Brandon George is one of the fortunate ones.
After battling heroin use for four years, he committed to 11 months of residential treatment, which he paid for out of pocket with family support. Now 10 years into recovery, George is a husband and father of two who advocates for others suffering from substance use disorder.
Hundreds of thousands of Hoosiers have misused opioids, but not all share in George's ability to access high-quality treatment. Indiana's policy leaders and health officials have made significant strides to battle the opioid epidemic, but workforce dynamics and market forces are driving a persistent and growing gap in treatment capacity.
In fact, Indiana falls 7,000 workers short of the need for trained specialists to treat those battling addiction, ranking our state among the bottom 10 in its capacity to meet medication-assisted treatment needs. As a result, many who need help—especially those relying on low-cost, community-based care—struggle to obtain it.
Addressing this worker shortage is a foundational step to overcoming Indiana's opioid epidemic and will require innovative solutions and policy changes.
Health care and education providers have begun to pilot creative approaches. Community Behavioral Health at Community Health Network—in partnership with Ascend Indiana and the schools of social work at IUPUI and University of Indianapolis—recently launched the Community Behavioral Health Academy, which offers candidates a path to get dual licensure as a social worker and clinical addictions counselor. That ensures they receive the addiction-focused training they need and can be reimbursed for treating those with substance use disorder.
The academy is designed to combat some of the hurdles to attracting and keeping talent in the behavioral health field, such as low pay, high student debt and cumbersome licensure processes. Participants receive up to $10,000 in incentives, support with licensure and built-in opportunities for employment.
Partners expect to train an additional 15 to 30 workers each year through the academy. That's a step toward connecting thousands more Hoosiers with treatment, but it falls far short of what's required to fill the talent gap. Two major changes are needed.
First, health care systems and educational institutions should consider similar partnerships. This would help health care leaders meet a need for talent so they can better serve patients and also strengthen institutions' curricula.
Second, common-sense changes to public policy—such as addressing low salaries for those delivering behavioral health services by raising rates for Medicaid reimbursement—can combat obstacles to entering and remaining in the behavioral health profession. Other financial incentives would also make an impact. In 2014, for example, Indiana launched a state loan-repayment program to help address the shortage of professionals in the mental health field, which significantly improved retention and could serve as a model.
Those who graduate from behavioral health programs also need a quick and reliable path to licensure, and the current process can be cumbersome. Indiana can identify ways to reduce red tape and should also consider a mandatory timeframe for licensure to give new graduates certainty and ensure a speedy process.
Tackling the shortage of behavioral health workers demands a multi-pronged approach. Health care leaders, education institutions and government can build on their existing efforts to address the opioid epidemic by making this talent gap a priority, so that positive outcomes like Brandon George's can become the norm.•
__________
Fiddian-Green is president and CEO of the Richard M. Fairbanks Foundation and a former adviser to then-Gov. Mike Pence on education issues. Send comments to ibjedit@ibj.com.
Click here for more Forefront columns.
Please enable JavaScript to view this content.