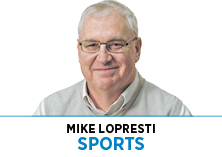 Up on the scoreboard at Bankers Life Fieldhouse during the state basketball finals is an Indiana High School Athletic Association-sanctioned advertisement, appealing for new officials. There's one in the game program, too.
In the stands below, a mother and daughter from—the school name will be withheld to protect the guilty—are angrily tearing into the guys blowing whistles. Sometimes, the language is bluer than the Colts' home uniforms.
The above two paragraphs are not disconnected. Not at all. Coaches, fans, parents—most especially parents—should consider this an urgent warning.
Bash the refs? OK, but what happens if there aren't any?
The news from the IHSAA is a little alarming. The average age of officials in this state is now more than 50. Fewer young people are getting involved; fewer still are staying. "When you talk about recruiting, it has to go hand in hand with retention. Otherwise you're just wasting your time," Assistant Commissioner Sandra Walter said. "We're having a hard time retaining."
The news from the National Association of Sports Officials ain't great, either. In 1976, the national average age of new officials was 22. By 2016, it was 44.
"What that tells you is this is a very graying industry, when it should be going the other way," said Barry Mano, president of NASO, which represents officials in all sports. "What they're experiencing there in Indiana, folks are experiencing really all across the country. We're having a very difficult time getting enough warm bodies into this undertaking."
Mano has seen states where games had to be called off over the lack of officials. Is that the future?
Walter and Mano could talk for hours. The toxic nature of a culture where people get murdered over road rage, social media giving the most poisonous among us the loudest megaphones … what kind of a landscape is that for an official? Not a good one.
Walter: "The No. 1 reason they leave the profession is because of the way they're treated. Not by our coaches and certainly not by our kids—even though it is a kids' game—but by our fans in the stands. And the criticism that now leaks out into the social media world is absolutely ridiculous. We're dealing with an official today [getting harassed]. I have another (similar case) on my desk to deal with the same issue in the very near future."
Mano: "They didn't come into this for very little money to be verbally assaulted and chased and all the things that are going on in this society when it comes to sports. They look around and think: 'Why am I doing this?'"
Walter: "These folks have full-time positions elsewhere and choose to work on behalf of our student-athletes in their spare time. To be quite honest, many of them spend more time with our student-athletes than they do with their own children at home. And I think that point is lost on a lot of people who think their $5 ticket is a license to disparage the folks on the floor who are just trying to give back to the game."
Mano: "I've been quoted several times that sports in many ways is life with the volume turned up, so why are we surprised? We're brasher, we're louder, we're less forgiving, we're less civil, and that plays out in sports.
"There's not a week that goes by in this office that we do not get a bonafide report of a physical assault on a sports official. People are physically assaulting folks who are working eighth grade soccer games."
Walter: "Now with the emerging social media presence, there's no official out there that's safe. We're dealing with a swim issue now. Who would think, swimming? It's hard to criticize officials when there's a stopwatch on the event."
Mano told the story of a wrestler—not in Indiana—losing a tournament match over unsportsmanlike conduct. His parents went to court and got him reinstated.
"In effect, the circuit court judge became a replay official. Are you going to want to referee in that environment? No. Hell, no."
He also mentioned the widely-watched video of former Green Bay Packers Coach Mike McCarthy chasing after the officials at his stepson's basketball game.
"Mike McCarthy, for crying out loud. Are you kidding? How have we gotten to this?"
NASO recently took a survey of nearly 18,000 officials. Almost 40 percent answered that parents are their biggest problem, with coaches at 29 percent and athletes 10 percent. And nearly 60 percent said it is all getting worse.
Walter: "Let's try to know them as a person. I've always said the person who just installed your garage door is the person who drove 10 miles to officiate a basketball game. They're your local plumber or bus driver. You loved them all day while they finished your project at home. But, all of a sudden, put the striped shirt on and put a whistle in his mouth, he's the enemy. It makes no sense."
So, let's meet a few. The music from "Hoosiers" is playing in the Paoli gym as the crowd starts to pour in. Three of the men working the regional tournament have just arrived. They have come to be doubted and berated—and that's by grandmothers in the stands.
Scott Arthur has been doing this for 27 years. He's seen younger officials come and go, either because they weren't promoted quickly enough, or had other things to do, or just wanted to avoid the confrontation that sometimes comes with it.
"High school basketball, especially in Indiana, it's an emotional game. The emotions take more control over what they're doing than what their common sense would do. When you encounter it, it might feel like a nightmare, but when you go back and look at it, it's just part of the game."
"There have been times when I've thought, 'What was I thinking?' getting into this. And there's been other times I wouldn't trade it for anything. When we're out there, we're enjoying ourselves. We wouldn't be doing this if we didn't enjoy it."
Greg Kirkham has been an official for only seven years. Didn't take him long to wonder if it was worth it, with some of the rough stuff he took.
"The first couple of years I thought that a lot, but not now. You just have to consider the source. There's a point at which you have to get experience and you have to get over that.
"Whenever a young kid comes up and says, `I want to be an official'—which is not very many—I try to take him on some games. I try to work some junior high school games with him. We owe it to pay back because somebody helped me. With me, it's just a career in love of athletics and the kids. I do it because of them. Someone did it when I played, and without us, you don't have a game."
Jay Slater has officiated 28 years, and seen younger colleagues vanish.
"They don't want to take all the abuse. The fans are worse now than they've ever been. They think they can pay $5 and come in and say whatever they want for the next hour and a half.
"I've had officials say the more you do games, you don't hear. You hear every word. It just depends on whether you want to address it or not. Kids now will look at us and mouth off and not think a thing about it. That's not the coaches' fault, it's just the way they were raised."
These three understand the problem. But they're all here on a Saturday because they want to be, and if enough of them change their minds, what happens then? Think of that the next time you hear someone shout words toward an official he'd never say to his plumber.•
__________
Lopresti is a lifelong resident of Richmond and a graduate of Ball State University. He was a columnist for USA Today and Gannett newspapers for 31 years; he covered 34 Final Fours, 30 Super Bowls, 32 World Series and 16 Olympics. His column appears weekly. He can be reached at mjl5853@aol.com.
Please enable JavaScript to view this content.