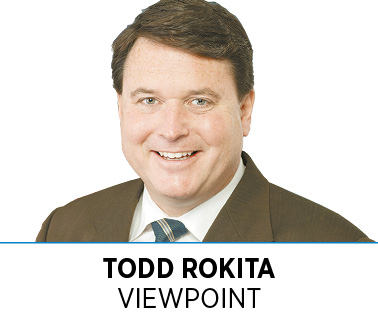 Here is the scene-setter: Numerous self-interested parties involved in prescription-drug distribution and reimbursement are increasingly pointing fingers at one another for the high cost of medications. But while manufacturers, pharmacy benefit managers and health insurance monopolies are all redirecting blame away from themselves, the reality is, they're all complicit.
It's time to call out these industry players who place the blame for the increasing cost of medicines on others while ignoring their own exorbitant profit levels that free-market pricing would never tolerate.
In his State of the Union Address, President Trump did just that. And recently, Alex Azar, the nation's Health and Human Services secretary, proposed "safe-harbor" reform rules to better pass drug-manufacturer rebates through to Medicare consumers. Then, Indiana Sen. Mike Braun filed legislation with similar ideas. These three are leading.
Between rounds of finger-pointing, though, the self-dealing industry players immediately claimed that these proposals won't—by themselves—bring down prices. But it's hard to imagine price increases as the result. And for those who understand the need for more transparency to bring down prices, at least one of the "shells" in the rebate shell game would be taken off the carnival table. The reforms also are likely to have a positive ripple effect on the employer-provided private-insurance market, the source of most prescriptions.
But really, it's those employers who want to retain a good workforce by being responsible for the quality and cost of their employees' health care that must lead by demanding more transparency up and down the line. There are several actions employers can take to lead the prescription-drug industry in the right direction.
◗ Increase awareness. Many pharmacy benefit managers claim employers understand contract terms and knowingly enter into their agreements. As third-party pharmacy benefits consultants, we at Apex see every day that most employers in fact do not understand how much they're paying for these services. Ask your PBM to separate the cost for its fees from the cost of the medicines and dispensing fee.
◗ Find an advocate. If an employer relies solely on its PBM for guidance, it might be allowing a conflict of interest to drive costs up or quality down. And traditional benefits brokers do not solve that conflict when they themselves are taking incentives from the PBM and/or the carrier for signing up the employer. Engage a resource that will help objectively assess the PBM contract, such as a fee-for-service advocate that accepts no revenue from the sale or reimbursement of medicines.
◗ Voice opinions. Be a leader for employees and Indiana's taxpayers by engaging lawmakers to make changes that bring true consumer price transparency. Maybe start with a review of the current safe harbor provisions for the drug-manufacturer rebates that are such a source of PBMs' tremendous, unearned profits. But don't stop there. We need more transparency in all facets of health care to reach the most efficient health care pricing.
It's the cold, hard truth that there isn't one simple solution for eradicating the complexities of the pharmacy benefits industry. But with price transparency comes positive transformation of the industry. So, real value for employers will be found if they are committed to educate themselves, disrupt the status quo, and fight for themselves and their employees ahead of their brokers, the PBMs, manufacturers and carriers.•
__________
Rokita, former Republican U.S. congressman and Indiana secretary of state, is general counsel and vice president of external affairs for Apex Benefits.
Please enable JavaScript to view this content.