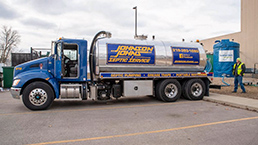 A septic tank empties the Grind2Energy tank at Notre Dame's Center for Culinary Excellence. (Photo courtesy of the University of Notre Dame)
The University of Notre Dame is using a new food-waste system that it says will reduce non-consumable food waste on campus by more than 2,000 pounds a day while contributing to the clean-energy needs of a local farm.
The university has installedGrind2Energy systems at its Center for Culinary Excellence, part of the university's catering operating. The system, made by St. Louis-based Emerson Electric, consists of a processing sink, grinder and a 5,000-gallon outdoor holding tank, which is anchored to a concrete pad. The 15-foot-high holding tank is heated from the inside and has a heated cover to keep contents from freezing.
When it's time to empty the tank, a septic hauler attaches a hose to a valve at the bottom of the tank, pumps the waste into a septic truck, and transports it to a local farm where it is converted to energy, the university said. The pumping process takes about 20 minutes. A "seed" of waste is left behind in the tank as a starter for the next batch of slurry.
Two additional Grind2Energy systems will be installed in the North and South dining halls soon.
"Our implementation of this solution to tackle a large portion of our non-consumable food waste enables us to take a big step toward meeting our waste diversion," said Carol Mullaney, senior director of sustainability at Notre Dame.
Combined, the three systems will reduce non-consumable food waste from the dining halls and catering operation by 99 percent, and will reduce waste campus-wide by 10 percent, or 700,000 pounds per year, the university said.•
Please enable JavaScript to view this content.