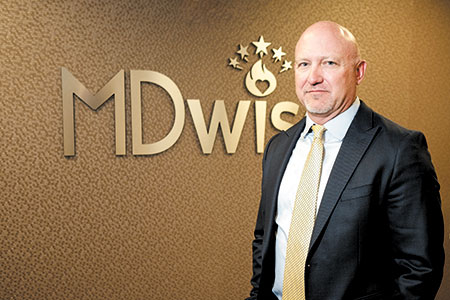 The last two years have been bumpy for MDwise Inc.
The Indianapolis company—which provides health insurance, food, career help and other services to low-income people—racked up tens of millions of dollars in losses, cut more than 80 workers, pulled out of the Obamacare insurance exchanges, dropped a state program that helps blind and disabled people, and got sold by its longtime local owners to a buyer in Michigan.
It also had to deal with a revolving door in the executive suite. The company is now on its fourth CEO (or interim CEO) in five years, and has recently brought in a new chief medical officer and new chief financial officer. Meanwhile, in the past two years, the number of workers has dropped by about one-quarter, to 250, and membership has fallen about 20 percent, to 300,000.
Bruce Hayes, who took over as president and CEO last summer, acknowledges he has a big job stabilizing and re-energizing the operation. But he said the goal remains the same.
"Our mission has not changed one iota through the last 24 months," he said. "We're still all about taking care of the members."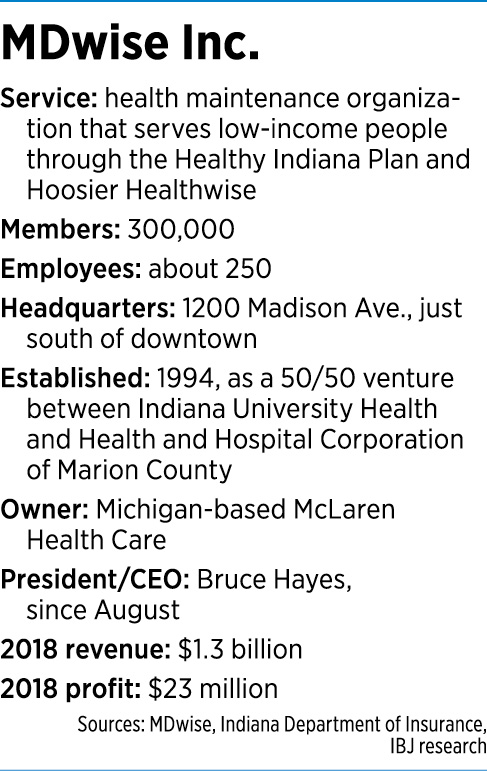 What MDwise does is connect low-income residents with doctors and clinics all over Indiana through its health care plans. It also sets up informational events throughout the state where needy Hoosiers can get connected to public housing and learn about food pantries and other community and social services.
The organization offers benefits under the Healthy Indiana Plan (for people not eligible for traditional Medicaid or Medicare) and Hoosier Healthwise (a Medicaid plan for children under age 19). MDwise is the second-largest provider of Medicaid health insurance in Indiana, behind only Anthem Inc.
MDwise has long been a curiosity, sometimes hard to explain to outsiders. It was set up in 1994 as a 50/50 venture between Indiana University Health and the Health and Hospital Corporation of Marion County. It built up a network of thousands of doctors, clinics and hospitals across the state.
The goal was to help needy people and try to improve public health in low-income areas, which typically have high rates of chronic diseases such as diabetes, asthma and high blood pressure.
Demand was huge, and membership grew to six figures, with revenue topping $1 billion. But along the way, it began bleeding red ink. In 2016, it lost $60 million. The following year, it exited the state's Hoosier Care Connect program, which serves older, blind and disabled people, saying it could not reach an agreement with the Indiana Family and Social Services Administration over payment rates. That move cost 80 MDwise workers their jobs, including case managers, nurses, care managers, tech employees, health advocates and coordinators.
A few months later, in June 2017, MDwise said it would pull out of the Affordable Care Act exchanges at the end of the year, citing growing losses and financial uncertainties over the future of the federally subsidized exchange. That move stranded 30,900 members, who had to find other health plans.
New owner, new plans
By this time, its two owners decided the operation was no longer a good fit, and they began shopping the company. In November 2017, McLaren Health Care of suburban Flint, Michigan, announced it was buying MDwise as a platform for expanding into Indiana. McLaren, with annual revenue of $4 billion and 24,000 employees, provides health care benefits to more than 260,000 commercial, Medicaid and Medicare beneficiaries across Michigan.
McLaren leaders vowed to maintain MDwise's Indiana operations and said MDwise members would not experience any changes to their benefits or provider network.
Now, Hayes says he is making good on the new owner's promises—and the company might even jump back into some programs it dropped under its previous owners.
"We are interested in growing the number of members that we serve in Indiana," Hayes said. "And the route which we would go to do that is getting back into the Hoosier Care Connect and the [Obamacare] marketplace at some time."
But either route could take a few years. The current contracts for Hoosier Care Connect—now held by Indianapolis-based Anthem and St. Louis-based Centene Corp. (under its Managed Health Services unit)—don't expire until March 2021. The program serves about 90,500 people.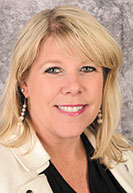 Dodson
Hayes said he would first like to get back into the Hoosier Care Connect, "and then once we've got that under our belt, look to get back into the marketplace."
Some health care and social service providers in Indianapolis say they are rooting for MDwise to become a robust player again. Kim Dodson, executive director of The Arc of Indiana, a not-for-profit that helps people with intellectual and developmental disabilities, said she has always felt MDwise was a good partner.
"They've always reached out to us to get our advice and comments regarding the best way for them to move forward with any program," she said. "I think that's a really good approach and not all insurers do that. For them to have that as a staple for how they treat clients has always meant a lot."
Susan Jo Thomas, executive director of Covering Kids and Families, a not-for-profit focusing on health care, said she was gratified that McLaren kept the MDwise operation in Indiana, under local management, rather than micromanaging it from Michigan.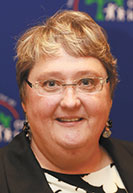 Thomas
"It's nice to have someone from the hometown team at MDwise who is committed to Indiana," she said.
Path to MDwise
Hayes is definitely from the hometown team. Since graduating from Ball State University with a bachelor's in finance and risk management, he has spent his entire career in Indianapolis—the last 24 years at Anthem, working in a variety of roles in accounting, billing, information technology and national accounts. In his last two years there, he was vice president of integration management, managing the deal to buy competitor Cigna Corp. under former Anthem CEO Joseph Swedish.
But that ambitious acquisition, valued at $49 billion, fell apart in 2017 over antitrust concerns. Suddenly, Hayes found himself without a big project. "When you're working on something like that full time and the deal dies, then your position is eliminated," he said. "That's pretty much what happened."
He eventually landed a job in February 2018 as chief financial officer at MDwise. Then, when CEO Jim Parker left two months later to take a job with the U.S. Department of Health and Human Services, Hayes decided to apply for the top job. He got it in July.
His first task, he said, was to stabilize the operation, which was gushing red ink. He said he did that by untangling a series of complex, money-losing arrangements with providers that had slowed down claims payments and added too much expense. He also reduced head count—mostly, he said, through attrition.
His next job was to standardize procedures and contracts to get a better handle on the finances.
He also brought in some new senior leadership, including Dr. Daniel Spitzberg, an eye surgeon who took the position as MDwise's chief medical officer. In that role, he will review medical procedures and discuss claims appeals with outside physicians. He said the purchase by McLaren was a chance for the operation to make a fresh start.
"There are always pluses and minuses," Spitzberg said, "but my attitude is, new ideas should be considered carefully and not just say, 'This is how we did things in the past and it is good enough.'"
Finally, Hayes said, he wants to energize the company's workers "who stuck through all of this." One way to do it, he said, is with a change of scenery. This summer, MDwise is leaving its longtime home on South Madison Avenue, just south of downtown, and moving about four miles north to 2955 N. Meridian St., kitty-corner from The Children's Museum of Indianapolis.
The new location, Hayes said, will be more convenient and accessible to employees, with amenities that include a fitness center, bikeshare, gated parking, cafes and a nearby IndyGo Red Line station.
"We really wanted to get a place current associates would embrace," Hayes said, "and, as we go forward, make sure we're attractive enough that we can compete for talent locally."•
Please enable JavaScript to view this content.