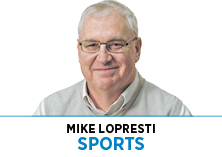 Now that college and high school basketball are over, would you like to see a collection of iPhone shots speaking to some problems from the season?
Warning: Don't expect many happy endings.
This one is of a crestfallen man standing outside his shaken locker room, manfully answering a bottomless supply of questions from strangers with tape recorders and cameras.
Since I've been down the NCAA Tournament road a few times—this made the 42nd for your graying correspondent—allow me an observation: Many, many coaches would not have handled the Virginia loss as well as Matt Painter.
A coach gives his life to a game, and it treats him this cruelly, almost yanking a Final Four ticket out of his hands? What did he have to say about that just afterward? "It's difficult, but I think, if you keep perspective, Tennessee could have been here just like we could have been here. I think that's important to make sure [the Boilermaker players] know that … We got a break then. Tonight, [Virginia] got a break. That's just part of it."
Yep, Purdue did unto Tennessee what Virginia did unto Purdue. That's the golden rule of the NCAA Tournament, or any tournament.
Perspective. It usually gets lost in the heat of the moment by many coaches and almost all fans. But not by Painter. That was a keeper from what happened to Purdue.
This is Carsen Edwards, sitting at his locker …
He handled the post-Virginia media onslaught well, too, considering his team had just had its collective heart broken. He said, despite it all, he found too much joy in playing basketball not to love it. His performance was among history's best losing efforts in an NCAA Tournament game. Boy, is that the quintessential bittersweet honor.
One what-if. Edwards had 139 points in four tournament games. The all-time record for an NCAA Tournament is 184. Had the Boilermakers advanced and played two more games, you do the math about the chances of a Purdue player's being at the top of that list in the record book.
This is the NCAA Tournament bracket; let's count the teams from the state of Indiana: Purdue …
Well, that didn't take long. It wasn't a shutout like 2014, but it's a little depressing, considering Virginia had five. Another unsettling number: The 10 Indiana Division I teams went 4-10 in their conference tournaments. Nobody won more than one game.
Next year certainly feels like a crossroads in a lot of places.
Indiana doesn't want to have another basket case of a season, where—after all the theories, conjectures and hypotheses—one fact of life explains a lot: This is a hard game to win if you can't shoot, Romeo or no Romeo.
And next time the Hoosiers get a hyper-hyped freshman, maybe all concerned—public and press—should let him just be a really good player, which is what Langford was. Not immediately make him into a first-name-only Magic-like icon, which is what Langford wasn't. Anyway, Archie Miller could certainly use a big season.
Butler doesn't want to finish tied for last again, and must prove it can bring in the talent to compete for the long haul in the Big East. The Bulldogs, with a bunch of close calls, seem to almost be teetering on the edge of a razor blade. A play here or there, and things could have been so much brighter. On the other hand … next year is the 10th anniversary of the first Butler Final Four. Can it possibly be that long ago?
Notre Dame has to find more bodies not to be rolled over in the ACC. Suddenly, that program seems on the fragile side. Ball State must dig up its long-lost tournament mojo. In 15 years from 1986-2000, the Cardinals went to the NCAA Tournament six times. They haven't been back in the 19 years since.
Can Valparaiso—former power of the Horizon League—compete in the Missouri Valley? Early signs are cloudy. When will IUPUI, which showed promise but still ended 16-17, stop the string of losing seasons—now eight years long?
Then there's Purdue, pondering life without Carsen Edwards.
Been a while since this state's basketball was so border-to-border question marks.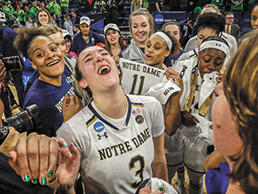 Notre Dame's Marina Mabrey exudes in the glory of reaching the Final Four. (AP photo)
These are the Notre Dame women, celebrating winning the regional in Chicago, on their way to trying to defend their national championship at the Final Four.
Here's probably the single most astonishing number in this state in basketball this season: The five Irish starters just went over 10,000 points in their careers. Give or take, that's 1,500 more points than any other starting lineup in the nation—ever, male or female. "It's pretty amazing, but it really doesn't mean anything except they get a lot of shots," Coach Muffet McGraw said. The five horsewomen of Notre Dame?
This one is from the high school boys' state finals.
See Carmel. See Ben Davis. See the empty seats.
Attendance for the two sessions of the state finals was 22,476. That's the lowest, as far as records go back, to before the finals were moved to the new Butler Fieldhouse in 1928. At. Least. 91. Years. The argument over class basketball is old and settled, but the permanent fallout haunts the event to this day—it turned the tournament into a local-only attraction.
Translation: The public once was interested in and followed the tournament as a state event. Now, it is interested only in the local team. Once that team is out, a very large chunk of fans loses interest in the tournament.
A one-year snapshot is not the end-all, be-all. Attendance tends to ebb and flow, depending upon which schools are involved. Carmel, for instance, wins trophies in about everything but crowd size. But still. When the state finals hit a near-century low, you have a problem that needs to be discussed. Better marketing. Different scheduling, away from the NCAA Tournament. Something.
This is Hinkle Fieldhouse in March. Barren.
While we're on the subject of high school basketball, not one tournament game is in Hinkle Fieldhouse anymore. Not one. Sad. Also, unfathomable. The building is advertised as a state treasure, which it is. And a state treasure in basketball doesn't host any part of the state tournament? Who came up with that idea?
If it's the IHSAA not trying hard enough to work something out, that's turning its back on history. If it's Butler playing hardball because it no longer wants to host the tournament, that's wrong-headed. Lest we forget, the reason Hinkle was built was to make a bigger home for the high school tournament. Nine decades later, it's now too good for it?
A lot of the woes in the pictures above can't be helped—or are hard fixes. The last one isn't.•
__________
Lopresti is a lifelong resident of Richmond and a graduate of Ball State University. He was a columnist for USA Today and Gannett newspapers for 31 years; he covered 34 Final Fours, 30 Super Bowls, 32 World Series and 16 Olympics. His column appears weekly. He can be reached at mjl5853@aol.com.
Please enable JavaScript to view this content.