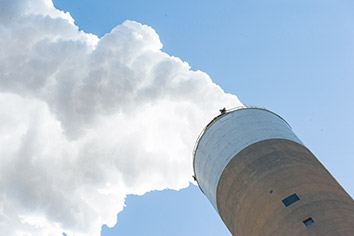 In a sudden legislative move that is raising alarms for utilities and environmentalists alike, Indiana Republicans want to put a moratorium on new, large power plants just as several large electrical providers are gearing up to retire aging coal-fired generating units and replace them with renewable energy and natural gas.
The House Utilities Committee passed an amendment along party lines Wednesday that would prohibit state regulators from approving any new power plants, new power contracts or changes in fuel sources until Jan. 1, 2021.
The moratorium would apply to generating capacity larger than 250 megawatts, meaning huge generating plants.
The measure also would require the Indiana Utility Regulatory Commission to conduct a comprehensive study of the transition away from coal to other fuel sources, including their impact on the electrical grid.
Rep. Ed Soliday, R-Valparaiso, the committee's chairman, introduced the amendment, saying the state needs to take a close look at whether a big shift from coal to natural gas and renewables would throw the grid out of balance, make it less reliable or less resilient. He said the moratorium has the support of Gov. Eric Holcomb.
The amendment was attached to an unrelated Senate bill on sewer and water connections. The committee passed the amendment without taking any testimony. It must still go before the full House and the Senate for a vote.
The move comes just a few months after two major utilities announced plans to retire much of their coal-fired generating capacity and shift to cheaper fuel sources, and other utilities are still drawing up plans for how they will generate power. Utilities can sometimes qualify for millions of dollars in tax credits if they switch to cleaner energy.
"We're very concerned about this," said Mark Maassel, president of the Indiana Energy Association, which represents large, investor-owned utilities. "The interruption of the normal flow of things at the utility regulatory commission is problematic for us." He added that his association has expressed its concerns to Soliday.
Northern Indiana Public Service Co., based in Merrillville, wants to retire four of its five remaining coal-fired electricity-burning units within five years and the other within a decade. The company has said the move will save it $4 billion over the next 20 years.
NIPSCO said it is still reviewing the legislation, and declined to say whether it would jeopardize its upcoming projects.
"It is too early in the process to comment on the potential impacts of this legislation," NIPSCO spokesman Thomas Stevens said in an email on Thursday. "As we have done in the past, we will continue to work with all stakeholders to find electric generation options which provide the most reliable and affordable electricity for our customers in northern Indiana."
Vectren Corp., based in Evansville, plans to retire three of its four coal-burning generating units by 2024, increase the use of natural gas as a fuel source and build a 50-megawatt solar farm. The company did not return a phone call seeking comment.
Whether the moratorium would affect any current plans by Indiana utilities is unclear. Maassel at the IEA said the measure could "potentially" stall plans that are now before state regulators. The bill contains an exception for emergencies, but does not define what would constitute an emergency.
"All utilities, frankly, are evaluating this amendment to see how it impacts them," he said.
The Office of Utility Consumer Counselor, which represents the interests of Indiana's electrical customers, declined to comment. "We're still reviewing the amendment and are not ready to weigh in," spokesman Anthony Swinger said.
Several environmental and consumer groups blasted the moratorium, saying it could slow down investment in cleaner fuel sources, including wind, solar and natural gas. They also say it would prop up Indiana's struggling coal industry, just as utilities are on the verge of retiring coal-fired generating units and switching over to other fuels.
"This could dampen utility-scale sustainable energy interest and investment in Indiana," the Hoosier Environmental Council said in a statement. It also said the amendment was "rammed through with no public testimony."
Citizens Action Coalition of Indiana, a grassroots consumer group, said the moratorium makes no sense because it flies in the face of a widespread national move toward cheaper, cleaner electricity.
"The only winner here is coal," said Kerwin Olson, the group's executive director. "This is absolutely a decision to slow down, if not stop, the planned retirement of multiple coal-fired power plants in Indiana and directly interferes in decisions Indiana utilities have already made to transition away from coal."
The Indiana Coal Council, an advocacy group for the mining industry,  did not have an immediate statement on the moratorium.
The coal industry in Indiana, like much of the nation, has been struggling as electric utilities have been retiring aging coal-burning units and moving to cheaper fuels. In recent months, two major utilities have announced plans to shift hard away from coal.
Indiana has been moving away from coal for years, but the shift has accelerated recently. In 2016, Indianapolis Power & Light Co. converted its Harding Street Station power plant—which used to burn 2 million tons of coal a year—to natural gas. It has also converted its Eagle Valley power plant in Martinsville to natural gas.
In 2010, Indiana had 26 active coal-burning power generating units. By 2016, that number had fallen to 13.
Please enable JavaScript to view this content.