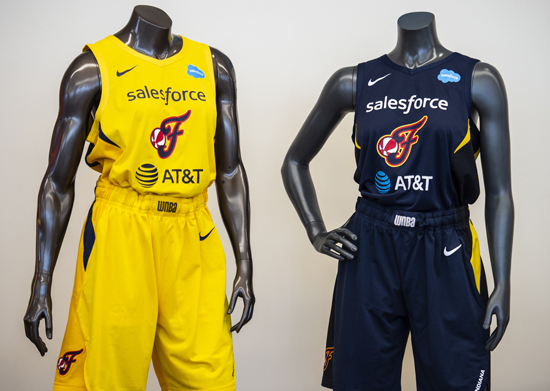 The Indiana Fever on Wednesday announced a multiyear sponsorship with Salesforce that will make the tech firm the team's new jersey sponsor.
The Fever jersey will feature the Salesforce name across the front and the Salesforce logo on the shoulder beginning with the upcoming WNBA season.
Financial terms weren't disclosed.
The Fever-Salesforce sponsorship is an expansion of a multi-platform agreement reached last fall with Pacers Sports & Entertainment, which expanded its use of Salesforce to personalize digital interaction with fans.
Salesforce also will be the presenting sponsor of the Fever's Pride Night, a June 9 event to celebrate diversity and inclusion.
"We are absolutely thrilled to have a partner that aligns so well with our organization's culture and values," Indiana Fever President and Chief Operating Officer Allison Barber said in written comments. " As we enter our 20th season, the Fever have been a model franchise and we look forward to an exciting future with Salesforce as part of our team–allowing us to further connect with our incredible fans and continue growing our brands together."
Salesforce, a San Francisco-based cloud computing pioneer with major operations in Indianapolis, bills itself as a global leader in "customer relationship management," which uses data analysis about customers' history with a company to improve business relationships with those customers.
Bob Stutz, CEO of Salesforce Marketing Cloud, told IBJ the move "wasn't really about business, it was about doing the right thing socially."
Salesforce generally refrains from sponsoring sports teams or venues. The company does not have any jersey-related sponsorship deals with the NBA's 30 franchises, or other WNBA teams. It does have an agreement with the Sacramento Kings focusing on fan engagement and interaction, similar to the PS&E deal.
Retailer Finish Line previously held the marquee sponsorship on the Fever's jerseys, dating back to 2013, when the WNBA first allowed such deals.
The league didn't previously have sponsorship shoulder patches, which the NBA introduced ahead of the 2017-2018 season, but this offseason adopted a new design through a partnership with Nike. The deal does away with player numbers on the front of the jerseys, replacing them with each team's logo. Player numbers will still be visible on the back of the jerseys.
The Salesforce announcement comes two days after the WNBA announced a sweeping deal with AT&T that includes placement of the company's logo on all 12 team jerseys, sponsorship of the All-Star game and integration of AT&T technology into the league's website, social media streams and game broadcasts.
Please enable JavaScript to view this content.