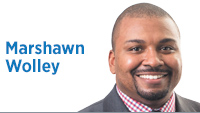 When it comes to Indiana's new bias crimes law—Georgia is on my mind.
While many people are concerned the law won't protect some of those who need it most, I'm alarmed it could end up being overused to protect or punish too many people. Irony at its worst.
Which brings me back to Georgia – sadly without any echo of Ray Charles' crooning of the "old sweet song." Fifteen years ago, the Georgia Supreme Court unanimously struck down its hate crimes law because it only identified "prejudice and bias" as evidence of a hate crime without noting particular groups. One of the justices wrote that any person could be convicted of being prejudiced and biased, such as rabid sport fan attacking a fan for an opposing team.
Some Georgia legislators tried to pass a more specific law in their session that just ended, but it failed in the last days to come for a vote.
Now consider the vague language in Indiana's hate crimes law:
"The person committed the offense with bias due to the victim's or the group's real or perceived characteristic, trait, belief, practice, association, or other attribute the court chooses to consider, including but not limited to an attribute described in IC 10-13-3-1."
If this law covers bias crimes committed against trans women of color, for example, as proponents of SB 198 seem to hint that it does, then why couldn't the General Assembly just be clear and include gender or gender identity?
But the other challenge is that if this bill does include trans women of color, which I don't think it does, might it also include rowdy fans that get into a fight at a college basketball game? Maybe a game where one school uses a colloquialism to proclaim the other school's incompetence in basketball?
If those college students fight—does a prosecutor now have grounds to charge the students with bias crimes?
Since education and training for law enforcement on how to identify and investigate a bias crime was not included in the bill, will law enforcement just dismiss the altercation as kids being kids? Maybe.
But would a prosecutor now charge gang members with a bias crime if perpetrated against a rival gang?
If my "practice" is to leave my front door open at my home, is a burglar committing a bias crime if he robs my home?
For many people a MAGA hat (Make America Great Again) is like a confederate flag— a symbol of hate. If someone with a MAGA hat attacks a protester—say at one of those rallies our president likes to have where he sometimes advocates violence, can we charge the Trump supporter with a bias crime based on the assailant's political affiliation?
What about someone who defaces a political yard sign? Is that a bias crime now, too?
Will Black Lives Matter advocates, who have a set of beliefs about law enforcement practices, be subject to bias crimes prosecutions now?
In the rush to pass the bill without a hearing in the House, no one was able to ask a legislative committee to address the fact that only 162 of the 482 Indiana police departments report bias crimes to the FBI.
Nor was anyone able to ask a House legislative committee to update reporting requirements to make them consistent with state police practices.
Gov. Eric Holcomb did show leadership on this issue—even though advocates like myself wanted more from him.
Had we held a hearing we could've had a better bill—now we are left with all these questions.
Until next legislative session—Georgia will be on my mind.•
__________
Wolley is a lecturer at the School of Public and Environmental Affairs at IUPUI. Send comments to ibjedit@ibj.com.
Click here for more Forefront columns.
Please enable JavaScript to view this content.