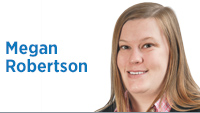 Editor's note: The print version of this column contained edits that mischaracterized Robertson's position. The corrected version is below.
Ask groups advocating for a bias crimes law why we need it, and they will tell you the same thing.
First and foremost, we need to protect Hoosiers from bias crimes. Specifically, we need to protect Hoosiers we know are targets of bias crimes, and we need to clearly list those groups out in the law.
Secondly, we want to repair Indiana's reputation for Hoosier hospitality and show we are a welcoming state despite the RFRA embarrassment.  
This month, the Republican-led Indiana Legislature passed a bias crimes law that accomplishes neither goal—and didn't even come close.
Gov. Holcomb signed this lackluster bill almost as soon as it reached his desk. Leaders at the Statehouse might be disappointed by the criticism they are rightfully receiving, but they are not nearly as disappointed as the advocacy community—which has fought for years to move Indiana in the right direction toward protection for all.
What's wrong with our new law? First, the Anti-Defamation League raised a red flag on the language being so broad that it does not meet the criteria to be an effective law.
Second, the list specified in the bill is not inclusive. Lawmakers left gender, gender identity, sex and age off the list that advocates supported in the original Senate Bill that came out of committee.
The truth is the Legislature did not even want to include a list. Speaker Brian Bosma actually said his goal was to get Indiana off the list of the states without a bias crime law without including a list. Once lawmakers finally got the message that would not work, they chose to ignore the part where the list needed to be fully inclusive.
Let's dig a little deeper on why they are leaving these groups out. In the middle of the bias crimes debate, the Bureau of Motor Vehicles announced it would allow a non-binary gender option for driver's licenses or state ID cards with an amended birth certificate or physician's statement. Many lawmakers were infuriated, and their anger that a state agency would dare to recognize transgender Hoosiers seeped into the discussion on bias crimes legislation.
Let that sink in: There are people at the Statehouse who dislike or fear the trans community so much that the idea of trans Hoosiers getting a driver's license matching their identity led them to block legislation that would increase penalties against violent criminals who attack them for being trans. It is horrific.
Sadly, people like Micah Clark, an architect and backer of the RFRA mess, were sending out emails calling this bill a victory. If you are trying to show that our state is a welcoming place that learned our lesson from RFRA, these are not the people you want to be part of the crew doing a victory lap.
This was no victory, and advocates will be back at the Statehouse until this issue is resolved once and for all. But make no mistake—there was a clear blueprint detailing what needed to happen to protect all Hoosiers, and it was ignored. The question remains: How many times do we have to miss the same easy layup before we learn from our mistakes and score a win for everyone who calls Indiana home?•
__________
Robertson is the executive director of Enterprise Republicans and runs her own consulting firm, Frontrunner Strategies. Send comments to ibjedit@ibj.com.
Click here for more Forefront columns.
Please enable JavaScript to view this content.