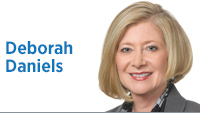 Indianapolis is an entrepreneurial city. Since the 1970s, community leaders have taken a series of calculated risks.
We built a convention center, hoping eventually to become a major convention city. We knew that would take years, but we had to start somewhere. Multiple times, we have expanded it, attracting larger and larger conventions and retaining those that were outgrowing our space. This also required building other amenities to attract convention planners. The strategy has been very successful: USA Today now calls Indianapolis the "number one convention city in the U.S."
We also made a series of investments to build our reputation as an amateur and professional sports hub. In 1973, Market Square Arena opened, a then state-of-the-art venue for the Indiana Pacers, saved from extinction through the Simon brothers' generosity, which continues today.
In 1987, we hosted the Pan-American Games, an investment that helped cement our reputation as an amateur sports capital. But perhaps our biggest gamble came in the early 1980s, when Mayor Bill Hudnut pushed for the construction of a domed stadium—an extension of the convention center—with the hope of attracting an NFL football team. Many thought this was folly, and he was criticized for committing public money and incentives to an effort with no guaranteed pay-off.
The result? We recently celebrated the 35th anniversary of the move of the former Baltimore Colts to Indianapolis. In 2012, after replacing the RCA Dome with Lucas Oil Stadium, we hit the big time, hosting Super Bowl XLVI.
Through years of ambitious-but-well-considered investments, this entrepreneurship has resulted in a vibrant downtown, with millions of visitors who spend billions each year and support tens of thousands of jobs. Innovative revenue tools have helped support multiple expansions of our ability to host ever-larger conventions, leading to ever-greater economic impact. The sales tax from out-of-towners, and the income tax from over 80,000 people whose jobs are supported by the convention industry, assist not only Indianapolis, but also the state as a whole.
Essential to each expansion has been the provision of sufficient hotel space. Based on a professional study, the JW Marriott was built as a complement to the multiyear convention center expansion effort that led, among other things, to bringing the Super Bowl to Indianapolis.
To win that bid in 2008, Indianapolis had to commit to the construction of hotels to house future anticipated visitors. This was feared by some to be dangerous, potentially driving down occupancy of existing hotels, but our downtown hotels have instead enjoyed 72% occupancy—above the national average of 66%.
Now our community's leadership has again embarked on a convention center expansion effort, critical to retaining hugely lucrative events such as the ever-growing GenCon and FFA conventions and attracting others we cannot now draw. As with prior expansions, new hotels will be needed to house the additional convention-goers.
A market analysis was conducted by HVS, the global leader in such studies, giving officials confidence that the city can sustain the necessary hotel additions. Hilton, seeing the results, has offered to open two hotels that will share significant additional meeting space with the convention center and generate revenue to help fund the overall project.
Based on the HVS study and customer feedback, officials are confident of growing the economic impact of our convention business, while maintaining competitive occupancy rates for existing and new hotels.
The alternative to growth is stagnation. Moving forward is the only road to future success. Let's do this.•
__________
Daniels, a partner at Krieg DeVault LLP, is a former U.S. attorney, assistant U.S. attorney general, and president of the Sagamore Institute. Send comments to ibjedit@ibj.com.
Click here for more Forefront columns.
Please enable JavaScript to view this content.