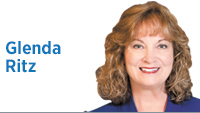 House Bill 1404 has advanced to the Senate for consideration. The General Assembly must pass a school-accountability bill to reflect newly proposed accountability indicators.
However, two sections of this bill need to be more carefully considered and adjusted.
In this bill, high schools will be judged for their A-F grades based upon students:
◗ completing graduation-pathway exams successfully.
◗ participating in work-based learning experiences.
◗ fulfilling career experience activities.
◗ passing, for non-native speakers, an English proficiency test with a target score, determined by the student's time and level of language study.
◗ fulfilling postsecondary outcomes six months after graduation.
◗ graduating on time based upon credit or skill attainment.
First, I hope that the "on time" stipulation will capture the data for students on track to graduate in four or five years. After all, the goal is to be sure students graduate from high schools and that high schools work their hardest to support students to graduate.
Life gets in the way for many students during their high school years. Students needing that extra year to graduate should get support, and schools should be rewarded for providing it.
But the most controversial portion of this bill is the last part. High school educators are upset with the proposal that they will be held responsible for student post-secondary outcomes six months after graduation.
The role of the schools is to provide the proper education and training for our students to be productive citizens in our postsecondary world. Schools accept accountability for what they can provide in their schools. But they do not have power over what students choose to do during the six months after graduation.
The indicators for post-graduate success in the bill as written include employment, military enlistment or further education.
This student six-month post-secondary data measure for school accountability has many flaws.
Just consider the following scenarios regarding student decisions. A student:
◗ decides to travel abroad before entering college.
◗ decides she must look after her ailing grandmother before entering employment.
◗ becomes ill and can't participate in employment or school.
◗ applies for several jobs but does not get hired.
◗ moves to another state for employment or education, leaving no data in Indiana.
Yes, the postsecondary data on students is important because Indiana should want to know how students are progressing after high school graduation in the postsecondary world. This data can fuel great discussions regarding employment and education opportunities that Indiana needs to offer its young adults.
But using postsecondary data to hold high schools accountable is not fair or right.•
__________
Ritz, a Democrat, is a former state superintendent of public instruction. Send comments to ibjedit@ibj.com.
Click here for more Forefront columns.
Please enable JavaScript to view this content.