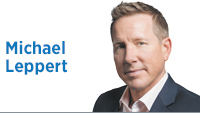 Two months ago, I made predictions regarding two expected presidential candidates that I now stand by proudly. With today's news cycles and the nature of national campaigns, that is an uncommon streak. Especially for me.
First, "Pete Buttigieg is legit and will do well in this race."
Second, "Joe Biden's best days are behind him, and he is not the right person for the job in 2020."
It's easy to get excited about Mayor Pete if you are a Democrat in Indiana. His brand is as refreshing as there is on the national stage. This progressive presidential candidate with Hoosier roots gives our state's image a bigger boost than any tourism department's best marketing dream.
"Come to Indiana and be like Pete. Then Re-Pete."
His recent fundraising numbers, coupled with rising polling numbers, have taken the South Bend mayor from severe underdog to serious contender. That's great for political theater here in his home state. But I am more impressed that his popularity is growing for the right reasons. He is comfortable on the big stage, genuine in his positions, and arguably smarter than anyone in the room. Regardless of the room.
Former VP Biden, on the other hand, is having some modern problems with his long and storied past.
The #MeToo movement is not treating him kindly. Women have been coming forward, alleging that he's made them uncomfortable when he's touched or kissed them in public without their permission—though anyone who has followed Biden's career at all cannot be shocked by it. While the longtime senator can certainly learn, change and grow with the rest of our citizenry, his outmoded habits shine a light on my main objection to Biden's expected presidential campaign:
This is not his time.
Democrats must not work overtime to find a way to tolerate any candidate with this kind of baggage. It clouds what the choice really needs to be next year: a choice between the past and the future of our nation.
Biden will turn 78 in November 2020. Yes, he has progressive credentials. And, yes, he served in the Senate 36 years and then two terms as vice president. I'm a fan. But even to me, he represents the past.
Speaking of days gone by, President Trump's slogan is "Make America Great Again." If that doesn't personify a campaign designed to attract voters who just want our nation to be the way it once was, I don't know what might.
Democrats need an alternative; and, luckily, they have strong ones at the table.
While not the only choice, Buttigieg seems like the best. He will turn 39 the day before Inauguration Day 2021. If elected, he would be the youngest president by more than three years—Theodore Roosevelt was 42 when he took office in 1901.
Mount Rushmore and the Nobel Prize tell great tales of how that turned out.
Mayor Pete is also gay. Almost 70 percent of Americans are comfortable with that today. So, let's move on.
Yes, I am a homer and, with the loss of Birch Bayh, I now look forward to the next great progressive political leader in Indiana's history. It is insulting to Bayh to compare the two men at this stage of the game, but the late senator was also one who did bold work as a young man.
I am optimistic that Buttigieg's campaign can be a chapter in the next story about Hoosier and American progress. His path is how greatness begins.•
__________
Leppert is an author and governmental affairs consultant in Indianapolis. He writes at MichaelLeppert.com. Send comments to ibjedit@ibj.com.
Click here for more Forefront columns.
Please enable JavaScript to view this content.