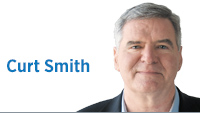 The most interesting political development in Indiana in 2019 is the savvy and cerebral presidential primary campaign of South Bend Mayor Pete Buttigieg.
One wonders whether the Democrat will be more successful than other recent Hoosier hopefuls for president, including the late U.S. Sen. Birch Bayh; his son, former U.S. Sen. and Indiana Gov. Evan Bayh, on the Democratic side; or former U.S. Sen. Richard Lugar for Republicans. It's fair to wonder whether the mayor's political skills and fortunes will exceed such Hoosier icons.
But Mayor Pete (his preferred nickname) is off to a start that's more than impressive; it is stellar. That stellar start brought in $7 million in campaign contributions in just three months, an eye-popping number.
His only misstep so far involves misguided attacks on Vice President Mike Pence. They are so strident and over the top, one wonders if it signals this campaign is really about the vice presidential nomination. Is Mayor Pete sharpening attack lines for the fall 2020 vice presidential debate as the Democrat-designated Pence nemesis?
Whether the 37-year-old mayor thinks his first national campaign is best suited for president or vice president, he has shown considerable media savvy, including rebranding himself, beginning with his distinctive last name. Buttigieg, which is translated from Maltese for "father of chickens" or "father of poultry," is now prominently noted in all his campaign material as being pronounced BOOT-edge-edge. That is even painted on the wall of his campaign headquarters.
Hoosier journalists who covered his unsuccessful 2010 campaign for Indiana treasurer pronounce his name "but-a-judge." But BOOT-edge-edge evokes his military service (boots on the ground) as well as being an edgy, cutting-edge candidate.
This is just one of many signs of sophisticated marketing behind him, complete with former Obama campaign operatives' support.
Which brings us back to Pence. Mayor Pete frequently denigrates the vice president. This quote, from The Daily Beast, demonstrates his assaults on Pence's faith and character, not his policies or politics.
"If he's [Pence] serious about his understanding of his faith, I would think that it would preclude joining forces with somebody like this president," Buttigieg said. "When you see somebody who engages in sanctimony and has as rigid a view of religion as he does, only be willing to throw it out the window completely and get on board with a project that is an affront not only to my understanding of Christianity, but also to his own, that's the kind of hypocrisy for which Scripture reserves some of its very harshest words—the idea of professing faith but taking worldly steps that fly in the face of that faith for the purposes of gaining power."
Mayor Pete espouses this from the progressive wing of the Democratic Party, where the greatest sin is judging others.
So his target is Pence, either personally (The Daily Beast's conclusion) or politically, which would make sense for a new candidate on the national scene. It also suggests his campaign for the presidency is what literary critics call a "MacGuffin," a device for storytelling.
Perhaps the most famous example of a MacGuffin is the Maltese falcon, a large, jeweled, golden bird sculpture in the eponymous novel and movie. John Huston's cinematic directing debut, however, is not about the prized, valuable sculpture—the Maltese falcon. It is about what people do in pursuing that prize, especially Humphrey Bogart as private eye Sam Spade, which reveals true character and intent.
That's why, should these two candidates debate, the Secret Service code names might be Maltese Falcon vs. Hoosier Hawk. I'll bet on the Hawk.•
__________
Smith is president of the Indiana Family Institute and author of "Deicide: Why Eliminating The Deity is Destroying America." Send comments toibjedit@ibj.com.
Click here for more Forefront columns.
Please enable JavaScript to view this content.