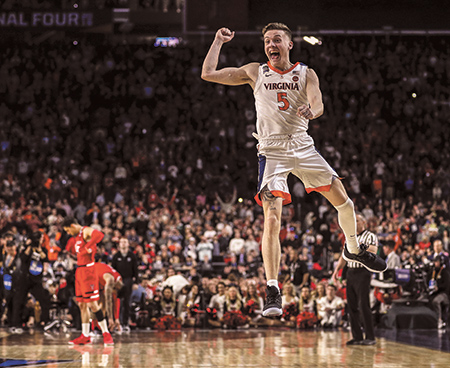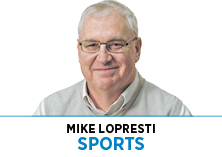 MINNEAPOLIS—The NCAA tournament ended with Kyle Guy leaping the rail into the stands to hug his family. There in the middle of 72,000 people, a group of folks from Indiana shared a moment that spoke of redemption and deliverance—and, most of all, how a dream can come true, while shoving pain from the past out of the way.
Or as Katy Fitzgerald, his mother, put it, after drying her eyes from all the crying. "What a story … what a story."
Here's how the 2016 Mr. Basketball from Lawrence Central spent the weekend of his life in Minnesota.
THURSDAY
12:30 p.m.: In the Virginia locker room, the cameras gather around Guy. "I've always wanted to be on this stage," he says about the Final Four. "And now I'm here."
Someone wants to know about the reaction when he left Indiana to play college in Virginia. "Not a lot of people were happy. Growing up, all you wanted to do was go to IU, Purdue, Butler or Notre Dame, one of the big schools in Indiana. I was fortunate enough to get recruited by pretty much all of them, but I didn't feel the gut feeling that everyone says you were going to feel, and I felt it when I was on grounds at UVA."
Another popular topic is Virginia's infamous loss to UMBC (that's University of Maryland-Baltimore County) in the first round of the 2018 NCAA Tournament, as the first No. 1 seed to ever lose to a No. 16. And how Guy still has a picture from that game on his cell phone and as his Twitter Avatar.
"I use it as inspiration," he says. "I just think it was a life-changing moment on and off the court, and I didn't want to forget it."
One other thing. Guy is engaged to be married, and it seems he has been told to get his wedding registry taken off line. Could dishes really be an NCAA violation?
3:30 p.m.: NCAA President Mark Emmert's Final Four press conference. First question: Did the NCAA really tell Guy to take down his wedding registry? No, that was the Virginia compliance people, and the NCAA has no problem with toasters and such.
FRIDAY
11:15 a.m.: Guy is in breakout room 4 for his individual media session. Among the issues of the day is his reaction to the story his coach, Tony Bennett, just told about picking Guy and Ty Jerome to do the post-game press conference after the UMBC loss, partly to protect Virginia's seniors, partly because he thought that would help Guy and Jerome start the road back.
"All I wanted to do was put my face in my hands and cry. We just tried to be strong for our families and the program and just tried to answer questions as well as we could. We got a lot of stupid questions, which was beyond irritating. Sometimes people forget that we're just 18- to 22-year-old kids trying to have fun. I'll never forget that."
About the anxiety issue that came to light after that game, and his willingness to discuss it publicly:
"I didn't even want to come out about it. I just wanted to stay in myself. My wonderful fiancé said, maybe you should write it down. I tried it and it was amazing. That's when I decided, you could help somebody. That's all I wanted to do. It's much bigger than basketball for me."
Noon: Several thousand spectators have come for the open practices, which means basically watching Virginia's players shoot around for 50 minutes. Up above, covering all the windows in this glassy place, are the dark curtains that cost more than $4 million—or else this would be like playing in a greenhouse.
SATURDAY
7:23 p.m.: Can you truly identify a moment as one of the most dramatic in a young man's life? Well, yes. There are 0.6 seconds left, Virginia is behind by two points, and there Guy stands at the line for three free throws, with 70,000 people looking over his shoulder. This is light years from Lawrence. He buries them as if he is out in the driveway on Sunday afternoon. It's quite possible that no player ever, anywhere, had to make more clutch free throws with so many humans watching live.
As the game ends, the Virginia players lift him up, but after that, he hustles over to shake the hands of the Auburn players—with an appreciation especially for Samir Doughty, the player who fouled him and will have to live with it. He need only think back one year to understand what Doughty is feeling.
Now, everyone wants to talk to Guy.
"I can't lie to you and say I knew I was going to hit them," he says on TV. "I was terrified, but I had confidence in myself."
After a golf cart whisks him to a mass press conference: "I just literally told myself that we dream of these moments, and to be able to make one happen was special."
The golf cart takes him back to the locker room. He rides past the Auburn room, still closed to the outside world, while the Tigers inside try to accept what Guy has just done to them.
SUNDAY
12:20 p.m.: Back in breakout room 4, Guy is center stage again. He has become a hit this weekend with his thoughtful, candid quotes. "I'm as open a book as you're going to find," he says. "I try to be very transparent and genuine, which is a page out of Coach Bennett's book."
Everyone wants to know about those free throws. Guy covers the gamut.
His childhood dreams back in Indiana of doing something dramatic: "Playing with my buddies in the back yard, we had the five-second game. Someone had to inbounds it, and you had five seconds to score."
His day-after thoughts about the free throws: "I think all of my life has led to this. I said I was terrified. It was a good terrified, though."
What was going through his head when he finally tried to sleep Saturday night: "It wasn't so much the free throws, it was before the free throws, looking at my family [his mother would later say he smiled], looking at 70,000 people looking at me. And then it was after—my teammates rallying around me, and in the locker room coach saying we're not done yet. That's kind of what was playing in my head. Pinch me, but we've got one more."
A recurring theme this weekend has been how much his Indiana basketball roots mean to him. "I've thought a lot about this over the last three weeks, having an opportunity to bring this home not only for UVA but my hometown and my family would mean a lot."
He also mentions another basketball disappointment—never winning a sectional at Lawrence Central.
"I'm sure probably everyone that's playing tomorrow got out of their sectional, or whatever they call it. It was hard. But that picture that's on my wall and on my phone it's not just that [UMBC] loss, it's previous losses, it's previous hardships I carry everywhere I go."
MONDAY
10:47 p.m.: The championship is won, the confetti is falling, and the long, long road to redemption is over. Kyle Guy knew exactly what came next. He has always known.
"When we lost last year that's the moment I was waiting for," he would say later. "To be able to run in the stands and hug my family. "
A year ago, Katy Fitzgerald and father Joe Guy had watched in misery as their son went to his knees on the court, in shattered desolation as the UMBC game ended. Now he was coming over to embrace them as the Most Outstanding Player of the Final Four. Katy, Joe, their spouses, his fiancé Alexa Jenkins. One big mass hug of joy.
"This is an out-of-body experience," Katy says. "It's been a struggle for all four of us. It's been a struggle for his fiancé, it's been a struggle for him. But it's worth it in the end."
Joe says the contrast between last year and this is like between death "and a lot of life."
How to explain what had just happened in a weekend? "I wish I had the words," Kyle Guy says. "I just watched One Shining Moment, and I was on the stage watching it, I wasn't at home."
So, is it time to change the picture on his phone and Twitter account? "I'll get around to it."
One last thought as they turned out the lights. Where might IU or Purdue have been this year had Kyle Guy not gone 500 miles away?•
__________
Lopresti is a lifelong resident of Richmond and a graduate of Ball State University. He was a columnist for USA Today and Gannett newspapers for 31 years; he covered 34 Final Fours, 30 Super Bowls, 32 World Series and 16 Olympics. His column appears weekly. He can be reached at mjl5853@aol.com.
Please enable JavaScript to view this content.