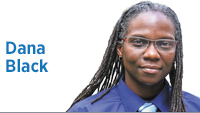 Katherine Black, my mother, a woman wise beyond her formal education, was the rock of our extended family. She bestowed enough of her wisdom on us that we could make it through the hard times and celebrate the good. Her best and most memorable line: "Common sense ain't so common."
Common sense has left the Indiana Statehouse. When we elect leaders from across the state, we do so with the assumption that they can balance partisan desires with the needs of all Hoosiers. Based on their actions this session, one could assume Republicans don't want or need any of the votes from some 56,547 public schoolteachers and their families struggling to make ends meet.
Over the past month, multiple amendments have been introduced in the House and Senate to address teacher pay. Yet each and every one of those amendments to give teachers necessary pay increases were voted down by the Republican supermajority.
What is it Republicans have against public schoolteachers? The better question: Why are Republicans so dead set against public school students getting the best education from the best-qualified teachers? What is it they have against 1 million-plus Indiana public school students whose futures depend on being prepared by the best the industry has to offer?
We are fully aware of the Indiana teacher shortage. We already know Indiana has a brain drain and our state ranks 48th in quality of life. What does our 2019 General Assembly think is the best way to resolve these problems? Deny teacher pay raises, but find funding for House Bill 1253, which would allow the state to pay for every school staff employee to receive firearms training. That's right, folks. The Republicans have found enough money to provide instruction on how to fire a gun, but not enough money for teachers to do their actual job—teach.
Gov. Holcomb, tax-paying citizens want to know: Was arming teachers a side note to your 2019 Next Level Plan? Where is the true leadership in our state government?
The disappointment felt from this 2019 session has been at times a bit overwhelming. Who is advocating for everyday, working, tax-paying Hoosiers and students? At times, it feels the supermajority has completely forgotten they are supposed to represent the people. All of the people, not just the ones they like.
Just some of the examples:
◗ Hate crimes legislation that doesn't actually protect the most vulnerable among us—victims targeted for their gender, gender identity and age.
◗ An amendment to lower the current minimum age a person can be tried for attempted murder from 14 years old to 12. History and statistics tell us what that means for black people.
◗ An anti-abortion bill that the ACLU has stated it will sue Indiana over. More of our tax dollars going to fund the ACLU.
◗ A Senate version of the budget with fewer dollars committed to the Department of Child Services than the governor proposed.
◗ No real debate on marijuana. Citizens of Indiana want a real conversation about legalizing recreational marijuana use.
The Republican supermajority and the governor are failing to prepare Indiana for an ever-changing and uncertain future. They are not taking the required steps to keep Indiana competitive because they are constantly neglecting the needs of the citizens of our state.
By passing bills that limit a woman's right to choose her proper health care, by not protecting the vulnerable, and by not doing what is necessary to attract the best talent to our state, they have proven they are not interested in growing all of Indiana, only the fortunes of a few.•
__________
Black is deputy chairwoman for engagement for the Indiana Democratic Party and a former candidate for the Indiana House. Send comments to [email protected]
Click here for more Forefront columns.
Please enable JavaScript to view this content.