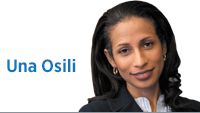 Like families around the world, ours watched in shock as an inferno engulfed the Cathedral of Notre Dame, a nearly 900-year-old sanctuary.
Notre Dame holds a special place in our family's memories. My husband and I visited the cathedral after we were newly engaged. We paid homage to this world treasure and marveled at its spiritual, historical and architectural significance.
Notre Dame has endured as a triumph of humanity for eight centuries. Its history embodies how people of faith and purpose work together to surpass human potential and overcome setbacks.
Starting in 1163, it took almost two centuries to build the Gothic cathedral, but its roof was engulfed in flames in just a few hours.
French President Emmanuel Macron visited the devastation and vowed to rebuild this global architectural treasure. Responses immediately followed. In just 24 hours after these tragic circumstances, more than $700 million was raised by donors.
Leaders including Paris Mayor Anne Hidalgo have called for new models of global collaboration among government, philanthropists and restoration experts to support the reconstruction of Notre Dame.
Some of the most substantial donations ever made in France were announced in the aftermath. French billionaire François-Henri Pinault and his family have pledged $113 million. Bernard Arnault and his family announced donations of $226 million.
Closer to home, U.S. companies and institutions, including IBM and Apple, have also announced donations. The University of Notre Dame contributed $100,000 to the reconstruction efforts.
When global tragedies strike, the need for collaboration across borders becomes urgent and vital. Drawing on research findings from the Global Philanthropic Environment Index, which brings together more than 100 experts in policy and philanthropy, here are key insights leaders should consider to maximize their efforts.
First, global philanthropy exists at the intersection of government, individuals, civil society and the corporate sectors. Maximizing efforts will capitalize on each of these sectors as we have already seen in the response to the Notre Dame fire.
Second, tax incentives matter. Tax policies have the potential to influence contributions to causes and charities worldwide.
France has one of the most generous tax incentives for individual charitable donations in Europe. The current value of income tax deduction is 66 percent of the value of the gift (and as high as 75 percent for donations earmarked to fight poverty) within a limit of 20 percent of the taxable income.
Third, legal barriers to cross-border flows can impede philanthropic engagement. Legislation that seeks to address money laundering and counter-terrorism might have the unintended consequences of restricting giving.
Fourth, newer forms and hybrid approaches to philanthropy—including crowdfunding, mobile giving, impact investing and venture philanthropy—are expanding and provide innovative opportunities.
Perhaps the lasting positive impact of this global tragedy is that it will encourage us to protect sacred spaces, historical treasures and monuments of architectural significance.
Social media platforms recently announced that nearly $900,000 was raised through crowdfunding to support the rebuilding of black churches in Louisiana.
We need to learn from the Notre Dame tragedy and the swift global action that has occurred in the aftermath. To unleash more resources to worthy causes, we need leaders and policy environments that will facilitate rather than limit philanthropic capital.
Let us seize this moment to bring attention to deserving local and global issues that can benefit from global generosity.•
__________
Osili is professor of economics and associate dean for research and international programs at Indiana University Lilly Family School of Philanthropy. Send comments to ibjedit@ibj.com.
Click here for more Forefront columns.
Please enable JavaScript to view this content.