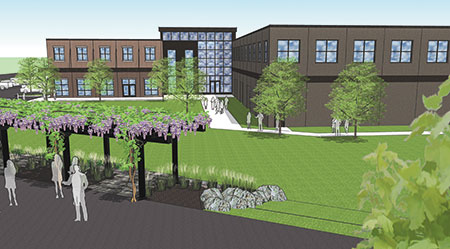 A soon-to-be-built design center in Fishers has a lofty goal: Help solve workforce challenges plaguing the skilled-trades industry.
The $14 million, 92,000-square-foot Hub & Spoke, planned for East 106th Street and Lantern Road along the future Nickel Plate Trail, will connect building and design industry tenants to clients and makers all under one roof, creating an ecosystem its founders hope will chip away at daunting statistics about labor shortages in the design and construction industry.
The facility will include a retail showroom, offices for industry tenants, a coworking space and a 16,000-square-foot makerspace that can be used by students and community members.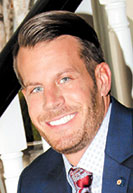 Decker
Founders David Decker, CEO of ACo, a kitchen, bath and flooring dealer in Carmel, and Travis Tucker, president of Fishers-based OnPoint Real Estate Solutions, have teamed up to bring the facility to Fishers. Project partners include the city of Fishers and Hamilton Southeastern Schools.
They hope their initiative helps solve labor shortages by eliminating the stigma that construction jobs are low-skill and low-paying, and by illustrating the opportunities for careers the industry creates.
Hub & Spoke's marketing material lays out the concern at hand: The design and construction industry's unprecedented labor crunch leads to higher costs and delayed jobs.
A survey by Associated General Contractors of America showed that, in 2018, 72 percent of surveyed Indiana contractors reported having a difficult time finding skilled trade workers to fill open positions, despite growing business.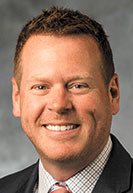 Tucker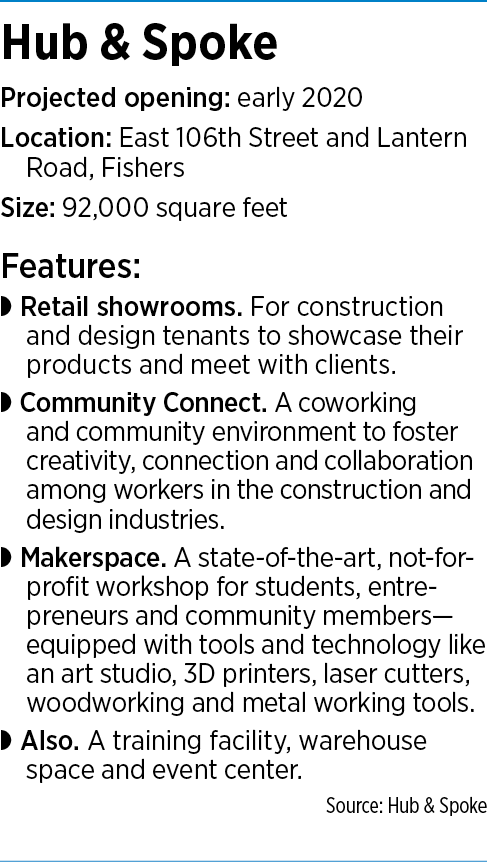 And Indiana isn't alone. Across the country, more than 90 percent of contractors surveyed by the U.S. Bureau of Labor Statistics in 2018 reported similar experiences.
The shortage of qualified workers has forced some builders to turn down projects, accept new orders at slower rates than in the past, and cancel sales, according to the National Association of Home Builders.
The problem became tangible for Decker and Tucker when they learned materials they need for their project wouldn't become available until November, pushing out their construction timeline. Only after another project fell through were they able to secure a more timely groundbreaking, Decker told IBJ.
The pair hopes to break ground in July, with an opening slated for the end of the first quarter of next year.
In the meantime, they're mulling ways to get students into the design center and excited about their industry. They also want to educate parents and the larger community about the importance of the skilled trades and what career opportunities their industry provides.
Statistics show that nearly half of the people currently working in construction are 45 or older and therefore nearing retirement age. The Bureau of Labor Statistics estimates 200,000 construction jobs will open each year through 2026 because of people leaving the workforce for retirement and other reasons.
Decker said that, to overcome the labor shortage, the industry has to be attractive and interesting to young people.
"We believe it's going to take something like the Hub & Spoke that's this really magnetic atmosphere to bring them in," he said.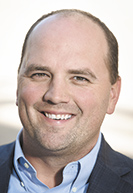 Fadness
He and Tucker had started looking for a location for their project when they met Fishers Mayor Scott Fadness, who last year introduced a partnership between the city and Hamilton Southeastern Schools to create a program called Curiocity. The initiative aims to connect employers with students to provide them real-life job experiences inside and outside the classroom.
Fadness told IBJ the idea for Hub & Spoke complements that ongoing effort to help residents, primarily students, find their purpose and passion earlier in life.
"What we want to create is this continuous exposure to different career paths starting as early as elementary school," he said. "Places like the Hub & Spoke project are epicenters for that kind of experiential learning."
Decker and Tucker have already met with leaders at Hamilton Southeastern Schools and plan to meet with them again next month to identify ways the school and the design center can partner to give students experiences in the skilled trades.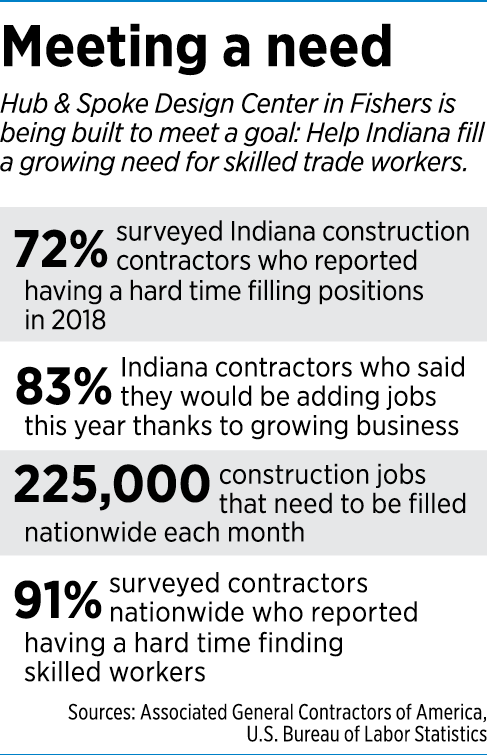 Hub & Spoke will provide work- and project-based learning experiences and allow students to work with and alongside industry professionals who can teach them trade skills.
Those experiences will be helpful to students whether they plan to immediately enter the workforce after graduation or go on to college, Decker said.
Among ideas he's considering for student projects is fabricating tiny houses, which would expose students to all aspects of home building.
The students would have an opportunity to create something that might help solve a problem facing the community (homelessness, veterans housing or workforce housing). In addition to designing and building the tiny homes, they'd also have to develop a business plan, figure out where to place the homes, determine how they'd be marketed and sold, and address any problems that pop up along the way, Decker said.
"Those are all skills they can learn that are never going to go away," he said. "Whether they go to college or they decide to stay in the workforce, they'll always have that."
Matt Kegley, director of secondary education at Hamilton Southeastern Schools, said the philosophy behind Hub & Spoke dovetails well with the experiential learning opportunities the school system is already trying to provide.
Hub & Spoke, he said, presents myriad possibilities, from class study trips to student-run businesses operating out of the design center.
"We're not leaving anything off of the table," Kegley said.
Decker's and Tucker's willingness to partner with the district enables it to show students how what they're learning in the classroom is used in the real world, Kegley said. Take, for example, geometry. Students can visit Hub & Spoke to see how construction professionals use angles to build houses.
Hamilton Southeastern and the design center's founders say those learning experiences wouldn't be for high-schoolers only. They are also looking for ways to get elementary students to Hub & Spoke.
"Getting our students exposed before high school to the possibilities that exist, I think, [is] really key long term to graduating students with a desire to go into that industry," Kegley said.•
Please enable JavaScript to view this content.