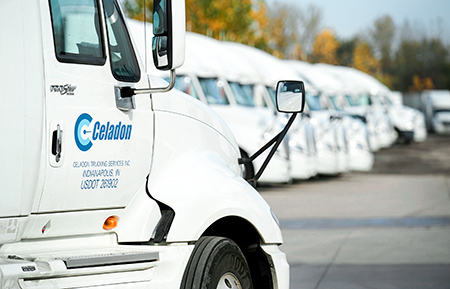 Indianapolis-based trucking company Celadon Group Inc. has agreed to pay $42.2 million in restitution to settle securities fraud charges announced Thursday by the U.S. Department of Justice.
Under the settlement, the company acknowledged "filing materially false and misleading statements to investors and falsifying books, records and accounts," federal prosecutors said.
The restitution will go to "shareholder victims," according to the agreement.
In addition, Danny Williams, former president of Quality Cos.—a Celadon subsidiary that owned trucks and leased them to drivers—has reached a plea agreement with prosecutors after being charged with one count of conspiracy to commit securities fraud, making false statements to a public company's accountants, and falsifying books, records and accounts of a public company.
The charge is punishable with up to five years in prison. The agreement does not stipulate a sentence. That will be determined by federal Judge James Sweeney II. Bernard Pylitt, an attorney for Williams, did not immediately respond to a phone message.
The settlement calls for Celadon to pay $5 million within 90 days, then pay the remainder annually through June 2023, with amounts tied to the company's financial performance. If a balance remains as of June 2024, it will be due then as a lump sum. Celadon is allowed to credit toward the restitution the approximately $3.5 million that shareholders are expected to receive from a class-action suit the company settled last fall.
According to court documents filed by prosecutors, Celadon grew its Quality Co.'s division as a torrid rate from 2013 to 2016, with its tractor fleet swelling from 750 to more than 11,000.
That year, Quality began to struggle because of a slowdown in the trucking market. In addition, Quality owned a significant number of truck models with mechanical issues, which many drivers did not want to lease. By 2016, many of Quality's trucks were idle, unleased and overvalued on Quality's books by tens of millions of dollars, according to prosecutors.
They charge that instead of owning up to Quality's problems, Celadon's and  Quality's senior management engaged in a series of trades as a means to dispose of aging and unused trucks. In order to avoid disclosing the losses connected to these trucks, executives used inflated invoices to hide millions of dollars in losses from investors, prosecutors charged.
Also on Thursday, the Securities and Exchange Commission charged Celadon with civil accounting fraud. The SEC said the company avoided recognizing at least $20 million in impairment charges and losses between mid-2016 and April 2017 by selling and buying used trucks at inflated prices from third parties. The company settled with the SEC, agreeing to disgorge $7 million. It is allowed to count restitution paid to the Department of Justice toward the SEC settlement.
Celadon admitted last July that it was under criminal investigation over financial-reporting issues dating back to 2013.
In October 2017, the company revealed that it was under investigation by SEC. And, in April 2018, Celadon said its problems were much older and deeper than expected, and that the company had likely overstated earnings by as much as $250 million during a three-year period that ended in 2016.
The company has replaced most of its senior leadership team, including its CEO and chief financial officer. The firm also has refocused on its core trucking business and exited several other lines of business.
"With these legal issues resolved, we will focus on continuing to strengthen our corporate controls and procedures and pursuing a long-term capital structure and the operational turnaround of our core, asset-based truckload transportation business," Celadon CEO Paul Svindland said in a statement Thursday.
In a press release, the Department of Justice praised Celadon's current management for cooperating with the probe and taking "extensive efforts at remediation." It said executives now at the helm "display a commitment to building an ethical corporate culture."
Thursday's settlement is structured as a deferred-prosecution agreement, which essentially puts Celadon on probation. Over the next five years, the company must display good conduct to avoid being prosecuted.
The company has been selling off assets and reining in costs to regain its financial footing. In 2017, the company canceled plans to complete a $28 million headquarters in Greenfield. In April, Celadon agreed to sell two subsidiaries for $139 million.
The company's troubles have decimated its stock price. Celadon's shares were trading above $26 four years ago. The stock was delisted from the New York Stock Exchange last year. In midday over-the-counter trading Thursday, the shares were fetching $2.25, down 7 percent on the day.
Please enable JavaScript to view this content.