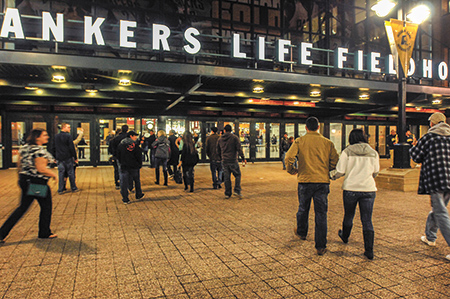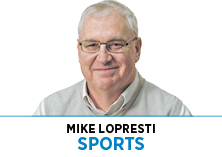 The last shot in Indiana Pacers history in a building called Bankers Life Fieldhouse was a 3-pointer by Darren Collison. Not that it mattered much in the Boston Celtics playoff sweep, but it will do as a segue into the following question.
Where will the Pacers play their next home game? The name of the place, that is? The question applies for all future basketball games to be played downtown. The Indiana Fever will host the Minnesota Lynx on June 25 in Bankers Life, then be back home July 10 to play the Las Vegas Aces in (Insert Name) Fieldhouse. The Pacers' 2019-2020 season will begin in October in (Whoever Pays Up) Fieldhouse. And the Big Ten men and women will stage their conference tournaments next March in (We're Still Waiting to Hear) Fieldhouse.
Yes, that well-regarded edifice of windows and bricks and pretzel stands on Pennsylvania Street needs a new sponsor name after June 30. You've seen the Pacers in Conseco and Bankers Life, but when Victor Oladipo returns next season, he'll be taking the floor in (Your Guess is as Good as Mine) Fieldhouse. Come to think of it, given the number of Pacers free agents—four started on April 21—there could be a lot of new names that night in (Call 1-800-YOUR-NAME-HERE) Fieldhouse.
Anyway, they're out shopping for a name donor now. So we should have a brief primer on the art of naming rights for professional sports venues in the 21st century. Here's the Stadium/Arena Name Book of Lists.
Four stadiums still named after a person, instead of because a corporation sent in a check …
◗ Paul Brown Stadium in Cincinnati, for the founder of the Bengals. Not that it's helped much in the playoffs. The Bengals are 0-4 there.
◗ Lambeau Field in Green Bay, for the founder of the Packers. He gets his name on the stadium; fellow Green Bay legend Vince Lombardi gets his name on the Super Bowl trophy.
◗ Wrigley Field in Chicago, for and by the then-owner. Amazing how far a few million sticks of chewing gum can take a guy.
◗ Kauffman Stadium in Kansas City, for the founder of the Royals.
Three names that share the same sport in different places, so just be sure what city you're actually in …
◗ American Airlines Arena in Miami and American Airlines Center in Dallas. If you think that's confusing under normal circumstances, you should have seen the 2006 and 2011 NBA Finals, which were played in both of them.
◗ Mercedes-Benz Superdome in New Orleans and Mercedes-Benz Stadium in Atlanta.
◗ Scotiabank Arena in Toronto and Scotiabank Saddledome in Calgary.
Two tradition-rich names you have to love for being simple and to the point …
◗ Yankee Stadium. Tells you who plays there. Nothing more is required.
◗ Dodger Stadium. Ditto.
Minor-league ballpark that has stuck to its sponsor-less name …
Maybe you've heard of it. Victory Field.
Three stadiums that go the extra words to give their location …
◗ Globe Life Park in Arlington.
◗ Oriole Park at Camden Yards.
◗ Angel Stadium of Anaheim. Though they've lately taken to cutting off the Anaheim part. But if they really wanted to be precise, it would be Angel Stadium Just Down the Road from Disneyland.
Good name change …
Capital One in Washington. It used to be the Verizon Center. There was a problem with that, at least for someone who once covered an NCAA Tournament there and couldn't get cell phone reception in the lower level. In other words, you couldn't make a call on a Verizon phone in the Verizon Center.
Bad name change …
The Portland Trailblazers once played in the Rose Garden. Fine name, especially in a town called the City of Roses. Now they play in the Moda Center. What's a Moda Center? (A health insurance company bought the naming rights, if you must know).
Stadium name that used to be a little odd …
The Arizona Cardinals now play in State Farm Stadium, but it was once called the University of Phoenix Stadium, which always seemed a tad strange. The University of Phoenix doesn't have a football team.
They don't make dignified stadium names like this anymore …
Soldier Field in Chicago. It got that title in 1925 as a tribute to the veterans who fought in World War I. Been lots of wars since then, and a lot more veterans for Soldier Field to honor.
Stadium names that have something in common …
Joe Robbie Stadium, Pro Player Park, Dolphins Stadium, Land Shark Stadium, Sun Life Stadium, Hard Rock Stadium.
Hey, wait a second. That's all the same place. The ground in South Florida where the Colts both won and lost a Super Bowl has changed names more often than an escaped felon.
Stadium named by a guy who was pretty good at naming things …
Arrowhead Stadium in Kansas City. Owner Lamar Hunt came up with the idea, since his football team was the Chiefs. Logical enough. Hunt is also the fellow who hit upon a new and improved name for the AFL-NFL World Championship game. He called it the Super Bowl, after watching his son play with a toy called a Super Ball. It kinda stuck.
Stadium name that's been around forever and never changed …
It was Fenway Park when the place opened in 1912, six days before the Titanic went down. It's Fenway Park now.
Stadium that picked up a swell nickname …
Little Caesars Arena in Detroit. The old place, Joe Louis Arena, was affectionately called the Joe. Some have gone to calling this new monument to pizza consumption the Dough Joe.
Stadium with one of the best all-time names, even though it's not used much for sports anymore …
The Cow Palace, south of San Francisco. It was designed to be a livestock exhibition center, but when local officials were seeking funds to build it at the end of the Great Depression, a newspaper took them to task, writing that, in hard economic times, money shouldn't be spent on "a palace for cows." Bingo. Oscar Robertson played his final college basketball game there, by the way—for Cincinnati in the 1960 Final Four.
Possible temporary names for Bankers Life Fieldhouse, if no sponsor is in line by June 30 …
◗ Market Square Arena. Yeah, there was already one of those and this isn't even in Market Square. But you could say the exact same thing about Madison Square Garden and look how that's turned out.
◗ The House That Reggie Miller Built. Because it is.
◗ The Fieldhouse Formerly Known as Bankers Life.
◗ The Brick House. Something similar to that works pretty well out on West 16th Street.
◗ Or maybe just the Indianapolis Fieldhouse. True, that's a lot of syllables, but not as many as the Oakland-Alameda County Coliseum.
Meanwhile, who here would like to go to the I-65/70 split and hold up a sign?
"Honk, if you want your name on a building—and happen to have $80 million or so."•
__________
Lopresti is a resident of Richmond and a graduate of Ball State University. He was a columnist for USA Today and Gannett newspapers for 31 years. He can be reached at mjl5853@aol.com.
Please enable JavaScript to view this content.