IBJ took home 11 awards—including top honors in six categories—on Friday at the 2018 Best in Indiana event hosted by the Indiana Professional Chapter of the Society of Professional Journalists.
Reporter John Russell won four awards, while the newspaper's art team swept the Page 1 design category, led by winner Jill Doyle.
IBJ competes in the category for the state's largest newspapers, digital publications and wire services.
IBJ's sister publication, The Indiana Lawyer, won eight awards competing in a category for newspapers with fewer than 30,000 subscriptions.
For IBJ, reporter Hayleigh Colombo won the top award in the category for series and non-deadline stories for her work on "One City, Worlds Apart," a series about the economy, poverty and growth in Indianapolis. The series examines the gap between those who are achieving in Indianapolis and those who struggle to get by.
"By combining data and human anecdotes, the reader gets a sense of how tough one must work to climb out of poverty without a helping hand from government or society," the judges said of the series.
IBJ placed first in the breaking news reporting category, for a story about a planned health center complex at 96th Street and Spring Mill Road by reporters John Russell and Lindsey Erdody, with help from editors Greg Andrews and Lesley Weidenbener.
At the time, St. Vincent had not publicly announced its interest in the property, but the IBJ story showed that real estate companies were amassing land and seeking to buy additional residential property for a $1 billion health complex. St. Vincent eventually acknowledged it had options to buy much of the property—and later did so—but has said it has no specific plans to build there.
The SPJ judges said IBJ "pulled off a small miracle with this comprehensive, well-sourced, solidly-written story. They launched full-on attack on a potentially dull, one-dimensional subject, and gave it life with local resident interviews, photos, relevant statistics and official comments."
Russell also placed third in the breaking news category with a story about Endocyte's $2.1 billion deal with Novartis.
In addition, Russell won the top award in the medical or science reporting category for his work on stories about Eli Lilly and Co., Anthem Inc., Roche Diagnostics and other companies.
The judges said Russell "tackles some of the most critical issues in health care with sweep and authority. But what really sets him apart is his ability to write about complex topics in a clear and accessible way. His writing is crisp and engaging, something you don't always find in health and medicine writing."
Russell also won third place in the business or consumer affairs reporting category for his health care coverage.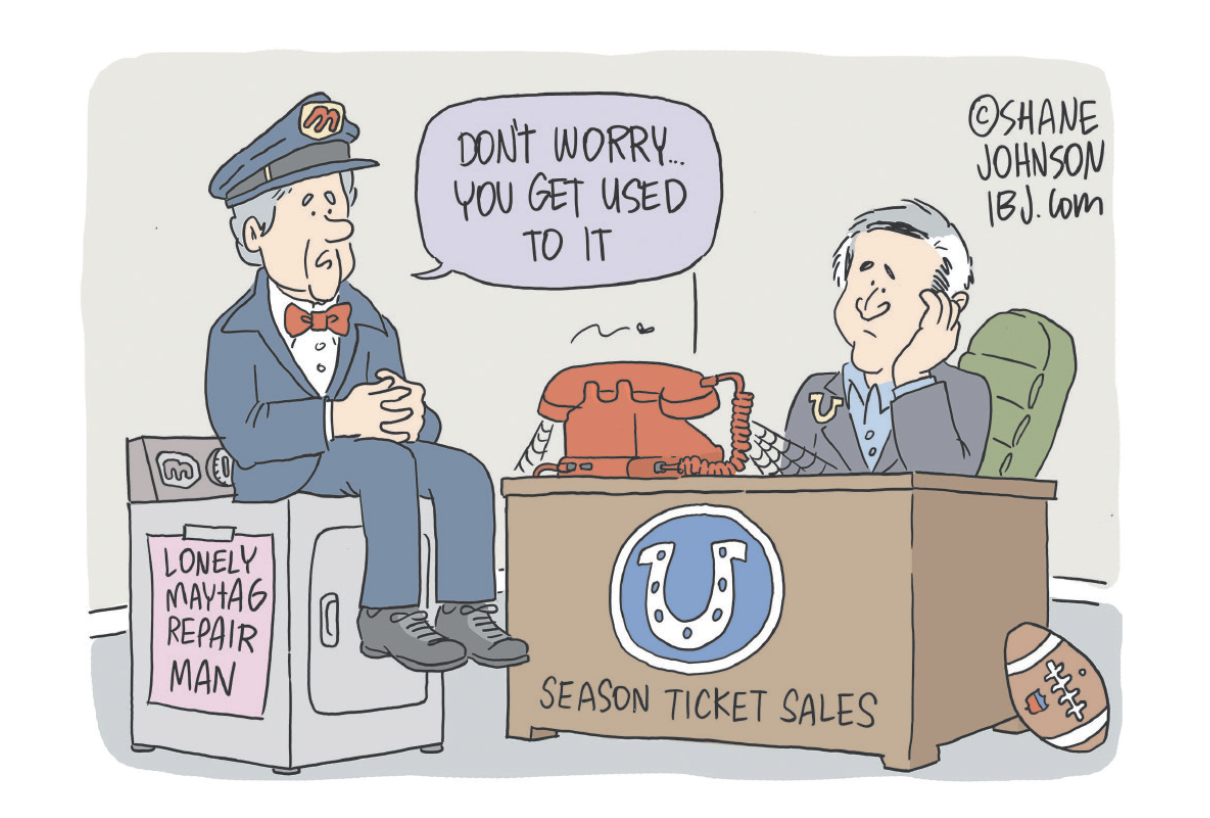 Sam Stall won top honors in the personality profile category for a story he wrote for IBJ about philanthropist Frank Basile when he won the newspaper's Carroll Award, which honors community engagement. The judges said the story "is next to the word 'profile' in the journalism glossary."
"Basile's biography becomes a colorful mystery tour, peppered with anecdotes from friends, humor and pearls of wisdom, the highlight being his twist on philanthropy that the people whom he gives to are actually doing him a favor by allowing him to make a difference," the comments said.
Cartoonist Shane Johnson won the top award in the editorial cartoon category for a cartoon about Colts season ticket sales (see at right). The judges said the cartoon was "a simple and humorous look at the struggles faced by Indianapolis Colts employees after their 2017 struggles. By the way, the repairman may disappear after their recent improved season."
IBJ swep
t the category for Page 1 design, with first place going to Jill Doyle, whose entry included her work on IBJ's "One City, Worlds Apart" series (see image at right). The judge in the category said Doyle's work "clearly tied all of the design elements into a user-friendly piece."
IBJ's creative director, Wendy Shapiro, placed second in the category and designer Audrey Pelsor finished third.
Andrews, IBJ's editor, won second place for editorial writing for an editorial—headlined "Legislative leaders seemed OK to sweep Hill scandal under rug"—about the way Indiana House and Senate leaders reacted when they learned that a lawmaker and legislative staff had accused Attorney General Curtis Hill of groping them.
At The Indiana Lawyer, Managing Editor Olivia Covington won or was part of a winning entry in four categories.
She took first and second place in the criminal justice reporting category. Top honors went to her story headlined "Elkhart wrongful conviction case latest in county's justice system." She won second place for a story about an Indiana forfeiture case—and the man behind it—that went to the U.S. Supreme Court.
Covington and reporters Marilyn Odendahl and Katie Stancombe were part of a team that took top honors in the government and politics category with coverage of the accusations against Hill.
Odendahl and Covington also won first place in the business or consumer affairs reporting category, with a story about the confusion around rent-to-own home contracts, which the judges called "gripping work."
Stancombe won second place in the category for a story about female attorneys who find freedom opening their own firms.
Odendahl won second place in the children's issues category for stories about the problems in Indiana's child welfare system.
IBJ artist Brad Turner won third place for his illustration called "Pleading the fifth."
A full list of winners is available here.
Please enable JavaScript to view this content.