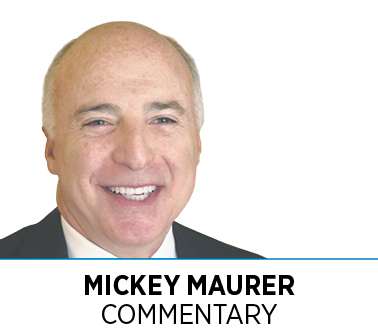 Editor's Note: This column was originally published in the Sept. 13, 2004, IBJ.
One night last month, I was in the presence of two outstanding men. The occasion was a dinner at which the keynote speaker was Indiana Sen. Richard Lugar, the longest-serving U.S. senator in Indiana history. Lugar is one of the most powerful men in Washington through his leadership as chairman of the Senate Committee on Foreign Relations.
He's an unwavering advocate of U.S. leadership in the world, strong national security, free trade and economic growth. He is particularly known as a leader in reducing the threat of nuclear, chemical and biological weapons. In 1991, Lugar forged a bipartisan partnership with then-chairman of the Senate Committee on Armed Services, Sam Nunn, D-Ga., to destroy these weapons of mass destruction in the former Soviet Union. To date, the Nunn-Lugar Program has deactivated more than 6,000 nuclear warheads.
Even before he became Foreign Relations Committee chairman, Lugar was known as a leading foreign policy voice in the Senate and a tireless worker for human rights. In the 1970s, he was an outspoken advocate for free emigration from the Soviet Union. In his capacity as a powerful senator, he applied continual pressure on the Soviet government by relentlessly raising names of specific families who, probably as a result of Lugar's intervention, were later allowed to cross the Iron Curtain.
Also attending last month's dinner was Alex Nelson. In 1980, Nelson was a citizen of Dnepropetrovsk, Ukraine. Although he was a vice president of a construction and development company, at the age of 33 he grew weary of the lack of freedom and opportunity in his country. He was particularly concerned with the religious persecution of friends by an oppressive society and a non-caring and essentially lawless government. He saw no future for his family in Soviet Russia.
Nelson had a high-security clearance from the government that made it almost impossible for him to emigrate in the best of circumstances. In desperation, he quit his job and prevailed upon his superior, a good friend, to nullify the government's clearance. He then commuted to another town and worked as a common laborer. From this new venue and through this low position, he applied for an exit visa and waited. The wait would be 1-1/2 years.
Nelson settled with his family in Indiana and is now the vice president and a partner with Gibraltar Design. His fulfillment of the American Dream included opportunities to return to Russia on two occasions, one with Gov. Evan Bayh as a member of the board of the Indiana/Russia Consortium. He is happy and proud to be a Hoosier. He became a citizen of the United States of America at his earliest opportunity.
In the time allotted for questions and answers at the conclusion of Lugar's speech, a voice from the corner caught the senator's attention. In articulate English that belied the fact that English was not his native language, Alex Nelson stood and saluted Lugar as a champion of freedom. He told Lugar he was partly responsible for the Nelson family's good fortune to be in America today.
In a hushed hall, Nelson thanked the senator for "carrying the torch of freedom for him and his Russian brethren and for all mankind." Nelson proceeded to the center of the floor and embraced the senator in what can only be referred to as a Russian bear hug. The entire assemblage provided a standing ovation.
I was in the presence of two outstanding men, one born into all the advantages offered in America who parlayed those advantages to lead us and to create advantages for others around the world, and one born to few opportunities who fought his way to America with a young family, learned a new language and achieved success. The lives of these two men are intertwined. The memory of their embrace will last a lifetime.●
Maurer is a shareholder in IBJ Corp., which owns Indianapolis Business Journal. To comment on this column, send email to mmaurer@ibj.com.
Please enable JavaScript to view this content.